Review round-up: acoustic guitar amps
Four amps go to war
When it comes to the excitement of buying new gear, we'll take a guess that shelling out for an acoustic guitar amp is probably not going to be up there on the thrillometer along with your overdrives, delay pedals and guitars.
Acoustic guitar amps can, however, make an enormous difference to how you sound on stage as well as how much control you have over it. It's a wise investment that can change a battle into a victory when it comes to being heard and hearing yourself live - especially when you're in a band situation.
The last few years has seen the market for acoustic amps tip in players' favour - from the higher end, limited choices to a range of more affordable options that would suit a variety of needs. The four we have here on test in this issue are two channel, dual input - and that means vocals or another acoustic instrument, so effectively you have the option of your own PA with you as the soundman for low-key performances.
We're going to be honing in on how each amp can shape your tone and deal with some of the less desirable characteristics of electro-acoustic sound, helping your acoustic sound more, well... acoustic!
To investigate players' needs, we'll be testing with a guitar fitted with a Fishman Sonitone piezo pickup system - one that's popped up on a few sub £500 electros we've tested in these pages - and another fitted with the popular LR Baggs M1A magnetic soundhole pickup.
Fishman Loudbox Mini
Ah, Fishman is an acoustic expert, right?
Pickups, preamps, pedals and amps: Fishman has a lot of experience when it comes to providing acoustic players the means to play live. The Loudbox series is the company's core amp series with the 60-watt Mini being the smallest, alongside the 120-watt Artist and 180-watt Performer models.
What features does it offer?
Input one offers a 1/4" jack for guitars, while the second is designed for XLRs (usually your vocal mic or a second source mic'ing your guitar). Alongside gain and a three-band EQ (low, mid, high) there's digital reverb and chorus effects for the instrument channel and another reverb for the mic channel.
It looks like the smallest too…
Yes but this 8.6kg combo is punchy enough to handle gigs, especially if you use the DI out to get to the mixing board. The amp effectively becomes a dedicated monitor for your guitar if you want and it's subtly angled too - with the DI output in use you could place it in front of you on stage.'
At a glance
Type: Two-channel acoustic combo amp
Power: 60-watt
Key features: Three-band EQ on both channels, digital reverb and chorus effects for instrumental channel, phase switch, gain control, master volume, independent reverb for mic channel, AUX input and balanced XLR output, headphone out
Fender Acoustic 200
Is Fender pretty new to acoustic amplification?
Fender has dabbled before but enthusiastically entered the fray with the Acoustic Pro and SFX models in late 2015 and this striking design with blonde finished plywood and seductive curves. They're now joined by the lower-priced 100 and this 200 model.
So what doesn't this 200 have compared to the PRO and SFX?
The Pro's sweepable mid frequency (a way of fine-tuning the mids in your sound) or a fitted cover. But amongst the expected three-band EQ and phase switch, it does have an extensive range of effects like the SFX model (but lower spec speakers) including Vibratone (a modulation effect inspired by Fender's old Vibratone amps with rotating speakers) and delay + chorus and delay + reverb combos.
Where's the handle?
The handle is integrated into the curve at the top to be part of the overall aesthetic. Yep, it really is quite different and there's also a tilt-back kickstand that pops out at the back to allow the Acoustic to lean back on stage in a more effective position for monitoring. Neat.'
At a glance
Type: Two-channel 2 x 8 acoustic combo
Power: 200-watt
Key features: Room and hall reverb, echo, delay, chorus, Vibratone, delay + chorus, delay + reverb with FX level control, phase switch, USB port for recording, balanced XLR out, headphone out, Bluetooth, mute button, footswitch
Boss Acoustic Singer Live
Isn't Boss an effects brand?
Parent company Roland developed the Jazz Chorus clean amp beloved by everyone from Andy Summers to James Hetfield; there's the Cube range, plus the new Boss Katana series. Now its new acoustic amps step into the light with the Acoustic Singer Pro and Live combos, following on from the ME-8 Acoustic Singer pedal.
So the singing part is important here?
It can be if you wish. The vocal channel can be used to mic your guitar for an extra sound source as well as the pickup and features phantom power to run condenser mics with echo, delay and reverb effects for vocalists or guitar. There's even a vocal harmony mode that creates live harmonies as you play and sing.
What about the guitar side of things?
Guitarists aren't left out in the features department. The two most notable are the Acoustic Resonance Button that offers three modes to restore some natural resonance to piezo guitars. The Tweeter Attenuator button applied a filter to high frequencies to mellow out your sound. Oh, and there's a looper too.
At a glance
Type: Two-channel acoustic combo
Power: 60-watt
Key features: Three-band EQ, reverb and chorus effects, Acoustic Resonance, phantom power, delay/echo and harmony function, built-in looper, anti-feedback phase switch and notch control, Tweeter Attenuator, mute button. DI outputs: mic/mix and guitar / mix jack, USB output
Laney A-Duo
That's a different shape…
There's a very simple reason for it; Laney wants you to sit on this 10.5kg combo. The small stage footprint dimensions and access for the control layout at the side are designed with this in mind. It can even be pole-mounted like a PA speaker.
Laney is a big name for electric guitarists, but what about acoustic?
We were really impressed with the A1+ wedge combo in 2015 and it proved that Laney knows exactly what it is doing in this market, especially in terms of value. We're hoping the A-DUO can deliver in a similar style.
What's different apart from the stool design?
There are similarities like the shape button (a preset EQ circuit to give a brighter top end and scooped mid when engaged) but this focuses on chorus and reverb rather than the multi-FX of the A1+. That combo's front panel mid-sweep control is absent but snoop around the back to find a cabinet EQ switch to select one of four pre-defined EQ curves for quick access to tonal combinations.
At a glance
Type: Two-channel acoustic combo
Power: 80-watt
Key features: Reverb and chorus on both channels with ability to store chorus setting, phase and mute buttons, four digital EQ presets, balanced XLR output, headphones output, auxiliary input, permanent phantom power, effects loop, FS2-Mini footswitch (sold separately)
Head to head
There are clearly differences in wattage between these amps, but the XLR balanced-out features these combos share make that less of an issue.
What's vital is how they handle the key point of amplifying an acoustic guitar and the features they offer to shape that tone. Piezo and magnetic soundhole pickups often need help to sound more organic, with less of the plasticky quack that can plague the former, and toppy zing with the latter.
The Fishman doesn't offer any added means to shape beyond three-band EQ and effects, but its clear and balanced sound and familiar user-friendly layout are reassuring. Its character is more suited to our piezo-fitted dreadnought but that's not surprising because they are primarily what these amps are designed for.
Boss's Acoustic Singer may look similar with its slightly angled wedge design but it's packing a lot more features in, and the benefits of the Resonance in combination with the Tweeter Attenuator soon become clear. Both our piezo and soundhole pickup guitars mellow with the latter activated - the plasticky high-end quack of the piezo rounded out into something more organic; together the Resonance seems more effective here than it did when we tested it on the Boss AD-2 pedal in adding body.
Laney's secret weapon is the shape switch for instantly mellower tone and the cabinet EQ switch around the back. Moving from the flat first preset to higher mids in the fourth, it gives you options to deal with different scenarios that may need an extra push to cut through and then tweak from with the three-band EQ.
The Fender Acoustic is tricky to tame. There's a lot of low-end boom and we found ourselves rolling it back to 9 o'clock. Taking out bottom end isn't the key to an organic sound and the dynamics dulled as we tried to strike a balance with a little quack creeping in at the top end.
The final verdict
It's not a cop-out to review all these amps well, because they all have different strengths.
Fender brings an original look to the marketplace and the most user-friendly controls here - especially considering the impressive array of effects that are easily activated.
While it's tempting to call the Fishman 'solid', its performance here deserves better than that, especially as we're seeing street prices nearly £150 under its RRP. What it lacks in extra EQ control, it makes up for by delivering well straight out of the box. Though a mute button would have been nice.
Laney wins big on value and performance, making some of the competition look shaky on that front. But there's the rub: if you're not planning on sitting on it for gigs, the A-DUO's design starts to frustrate. Especially when you need to make fast, on-the-fly changes during a gig. Placed horizontally and it seems too low to the ground; placed upright and you'll struggle to see the control labels. But in terms of actual performance, it's a worthy brethren to the A1+.
Boss might be the new kid in town (and the second priciest on the street) but its features pay dividends. Both our piezo and soundhole acoustics sounded their best through it - though the lack of delay on the guitar channel is an odd omission. If you're planning on adding vocals, the harmony function could seal the deal for your next step on stage.'
Easiest to use: Fishman Loudbox Mini
4 out of 5
Best for effects: Fender Acoustic 200
4 out of 5
Best for tone: Boss Acoustic Singer Live
5 out of 5
Best value: Laney A-Duo
4 out of 5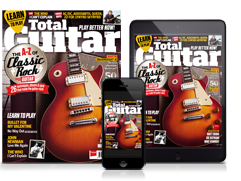 Stay up to date with the latest gear and tuition.
Subscribe and save today!