Plini talks technique, creative solos and that Vai endorsement
Introduction
We meet Australian progressive fusion wizard Plini, whose tasteful musicianship and blistering talents made last year's debut an absolute tour-de-force in modern instrumental guitar…
When Steve Vai says your debut album is "one of the finest, forward-thinking, melodic, rhythmically and harmonically deep instrumental guitar records I have ever heard," - the guitar world takes note. Be that as it may, the accolade is something Australian solo musician Plini is still struggling to let sink in…
"I don't think I can pinch myself enough when it comes to what Steve Vai has said about my playing," the 24 year-old guitar prodigy beams, a few hours before his performance at the recently refurbished Borderline venue in London's West End. "Somehow the guy I idolised growing up has become a casual supporter of what I'm doing!"
Over the last five years, the Sydney-based progressive future-shredder has made a name for himself within the international guitar community through his unique compositions and fret-burning wizardry. Even while touring with fellow fusion metallers Animals As Leaders across North America last year, playing to the biggest crowds of his career, such high praise coming from his biggest hero seemed almost too good to be true.
"Real Illusions: Reflections is the one that came out around the time I was getting into his music," continues the guitarist. "So it's probably the album that means the most to me. I especially love the song Freak Show Excess because it's got everything thrown into it, with a crazy arrangement of weird sounds.
"I'm also a huge fan of Guthrie Govan and Brett Garsed - whose solo on the Planet X song Alien Hip Hop is probably my favourite guitar solo of all-time. I got to meet Guthrie when he came to Australia with The Aristocrats; we had a pretty long, boozy evening after that show… it was good fun!"
Under the influence
Perhaps the most impressive aspect of last year's Handmade Cities debut is its mastermind's control of dynamics - often the weakest link to many a solo guitar album.
There are moments where the guitars are barely prominent at all, lost in a quiet ocean of samples and whispers, as well as a healthy dose of brain-bursting riffs and distorted devilry.
It's this delicate balance that makes the young composer's first offering such a joy to behold and worthy of wide endorsement - yet, most remarkably, it's something he learned far outside the world of heavy metal or virtuoso guitar music…
"I'm heavily influenced by [Armenian folk fusion pianist] Tigran Hamasyan," reveals Plini. "His whole approach to songwriting is really inspiring - somewhere in between world and traditional piano music… honestly, the music feels like Meshuggah played by a jazz trio, ha ha!
"Obviously he's the bandleader and star of the show, but his own piano parts are sitting within the band in a more democratic way… That's something I try to do with my own music. It makes the arrangements much more interesting - considering everything that happens around the guitar, which tends to get overlooked a lot by guitarists. We all want our guitars to sound interesting, but it should be about the context.
"You could play one note on the guitar and have a million things behind it that make it a memorable and special note… I think that sort of thinking is overlooked compared to playing a billion notes as far away from each other as humanly possible!"
Recording technique
Ask Plini for the secret behind his wide range of techniques and control, and it's something he struggles to articulate an answer for.
Instead of being sat alone staring at sheet music with nothing but the tick-tock of a metronome for company, he chose to fine-tune his craft in front of the computer, learning his weaknesses and strengths through recording - where the inevitable honesty of every take lays any musician as bare as can be…
Development of any technique will come from wanting to commit it to a recording and not being able to
"There was never one big revelation in developing my style," he continues. "The main realisation came from recording so I could listen back and find the little details I like or don't like.
"Everyone has their heroes, I've definitely tried stealing vibrato from certain players, tapping licks from others etc. I guess in the process of doing it all in a jumble and istening back, there have been certain things I liked more than others, which get kept. Whatever I'm less keen on gets thrown away.
"The openness to disliking things in your playing is as important as celebrating the bits you like - it could be bends or slides or just about anything. The more you do this, the more you refine your own sound and end up sounding like you, rather than anyone else.
"I've never been a huge metronome guy; recording was what forced me to play in time. You can listen back and hear if you suck or need to go back to do it again. Development of any technique will come from wanting to commit it to a recording and not being able to - as you're simply not good enough right at that moment. I guess eight hours later, if I haven't collapsed under my table, I'll hopefully be able to play it!"
Storytelling
There is a lot more to be learned, however, from the modern fusion maestro's understanding of chords - looking at the tonalities of every extension to spice up leads, or indeed any other instruments that seem fit for purpose.
As Plini explains, his thirst lies in the ones containing some degree of internal clash - when, even though they are technically correct, voicings of notes close in proximity can yield the most intriguing and ear-catching results.
"One chord I use way too much is the major ninth," laughs the musician, "For example, try fretting the 7th fret on the G string, 5th fret on the B string and 9th on the E - so you get the root, second and major seventh. There's the weird dissonance to those notes; it's happy but it's not cheesy happy… it's an intelligent happy chord!
"Another type I use could involve the 6th fret on the D with the 5th frets on the B and E strings, muting the G string. Raising that 6th fret note one semitone up gives it a nice resolution. There are various tonalities like that which I enjoy implementing.
"It's the same concept with my lead playing, I like to take a note that isn't quite the one you want it to be… it might be next to it. That's appealing because you can string the listener along without ever getting to the destination. It's almost like a rambling story when people don't land on the root. That's what I find satisfying. That's what makes me want to hear a guitarist keep playing."
Solo work
Another thrilling peculiarity to Handmade Cities - and, indeed, there are many - is how the guitarist never seems to lean heavily on any particular technique.
Sure, there's a bit of legato here, alternate picking there, some string-skipping, a few sweeps, but everything is used in very much restrained moderation. It's comparable to the Guthrie Govan approach of having everything at your command but only utilising a small part of it - ultimately, cherry-picking what sounds best.
"I tend to use whatever feels most comfortable and will yield the best results," notes Plini. "I'm using my fingers more and more these days. I prefer exploring the different tones from how you attack the strings, especially with more mellow, lighter gain leads. It's amazing how much difference there is between picking hard and softly plucking with a finger.
"I actually like the sound of the guitar alone; it's everything it needs to be and nothing more. I wouldn't say I'm lazy when I play less notes; I'd like to think I'm efficient in a more musical way."
Being the only person in the driving seat of his musical career is something Plini has found to suit his creative endeavours. Through his eyes, there is much less expectation and a lot more freedom that comes with being a solo artist…
"I think I can get away with being more creatively open than a band could," he concludes, as a queue starts to build for tonight's show outside the venue doors. "Groups tend to become more like a brand after a few albums, with an identity people have certain expectations of.
"Not that I plan to anytime soon, but I'm free to rotate my band members as I wish or collaborate with whoever. It wouldn't shock anyone if I decided to play with different musicians, but if this were a band everyone would start crying, ha ha! Being just a guy doing stuff, it's easier to do whatever I want… I'm more of a person."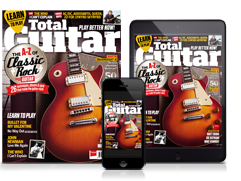 Stay up to date with the latest gear and tuition.
Subscribe and save today!