Phil Spalding talks 70s Denmark Street, Elton John and his most memorable sessions
Introduction
Session legend Phil Spalding has played more top-line gigs than you or I have changed strings. Mike Brooks meets the master for a look-back across a life at the low end...
A cold autumn night in a local hostelry on the edge of London may not sound particularly enticing, but we've been looking forward to this one, having been invited for a chat by none other than session supremo Phil Spalding, a man with a few stories to tell from his recording career of 43 years and counting.
"I'm still learning all the time," he tells us, "but a lot of how you fit your lines around parts or vocals or melodies becomes muscle memory. You instinctively know what does and doesn't work in most situations. It's very intuitive."
Having worked for some of the biggest names in music, including Ray Charles, Robbie Williams, Elton John, Tina Turner, Mike Oldfield, Mick Jagger and Right Said Fred, Spalding has seen the stars creating their craft at close quarters.
"A lot of the big artists have been on the session, which I think is very important," he says. "Elton, Mick Jagger, Tina Turner, they would talk to you about your bass-lines while you were playing them. I remember Tina shouting across the room, because she was listening to the bass and we were trying different things out that worked with her vocals.
"For the Lion King material, Elton was always enquiring about what I was playing, as he's a busy piano player and his left-hand playing is phenomenal. Freddie Mercury told me that he always listened to the bass. Recording in the studio next door to Queen in 1986 led to me getting to know their drummer Roger Taylor. I used to go down to his place in Surrey to write and record, and I'd disappear for days on end. Whenever I was around Queen, there was a party atmosphere!"
70s Soho
Those days are long gone, says Spalding with a chuckle. "The career is far more enjoyable now than when I was partying all the time. It was rather frantic! I grew up thinking drugs made me play better but it's not true. I can play my arse off, I don't need that stuff, but it took me many years to find that out.
"Ultimately, it was a destructive lifestyle. That reflects in the business today, because it's largely unacceptable, but when I started, it was everywhere and it was part and parcel of the business."
Spalding was located in central London when his career took off in the mid-70s, which led into a burgeoning session career before stints with Toyah Willcox and Mike Oldfield - who he describes as a genius - brought him to the public's attention. Fill us in, Phil!
"I was working in Soho part-time so I could get to the Marquee easily," he recalls. "You could see Thin Lizzy, Nazareth and Rory Gallagher: they had acts of that calibre on every night. You would see all the stars walking around Denmark Street because all the musical instrument shops were there: Fender had the Soundhouse, which was huge. Seymour Duncan would be in the back, fixing guitars.
"I used to spend all my time in there: they had a coffee bar, and you'd see Clapton and Townshend popping in. All the London studios were close by, too, so you'd see all the top session players. So much networking occurred, but it wasn't about being a player, it was just the intoxicating ambience of seeing the business ticking away, with real musicians who you looked up to."
'Lizzy licks
Before punk changed the musical landscape, young Spalding was influenced by the bass gods of the 70s.
"I was into Stanley Clarke," he says. "I learned melody from Chris Squire: I loved the hard, chunky treble end of his sound. The guy I think I play most like is Phil Lynott, because he plays bass like a guitarist and he's a singing bass player. I've actually put loads of Phil-influenced lines on sessions; the chorus of Kids by Robbie and Kylie is Thin Lizzy all over.
"My ultimate hero was Alan Spenner of Roxy Music, who had been in Joe Cocker's Grease Band at Woodstock. Glenn Hughes is another great player and singer. When punk came along, I just had to play straight eighths: that's how I learned strength and discipline for stuff you can't do on bass unless you have the physical strength to do it. I learned a lot from Roger Glover of Deep Purple. Try playing Highway Star for six minutes - it's hard!"
"I'm a complete ELO fiend," he adds. "From listening to ELO, I learned how to play bass on slow records, with minimal long notes that cover the low end - simple but continuous. A perfect example would be the chorus of Feel by Robbie Williams: the bass-line was designed to sound like there was a constant flow of bass with minimal hitting of the strings."
The early 90s saw Spalding work with those cheeky chappies Right Said Fred, as he recalls. "The Right Said Fred party lasted two years, from 1991 to 1993 - and what a party that was! I was asked to play on the initial recordings but they didn't have any money, so I played on I'm Too Sexy and here we are today. It pays me every year and the best thing about that track was that it's been on The Simpsons!"
PB & J
Spalding has used a varied arsenal of instruments, FX and amplification over the years but he seems fairly settled with his current choices.
"I'm still using Precisions," he tells us. "My number one has a hybrid '62 Precision body and '73 Jazz neck: it's put together from pieces smashed up by John McCoy. I've never been that fond of Jazzes because the strings are too close together for me, but this particular bass sounds fantastic. I'm very happy with the Bass Collection basses that I've been using courtesy of the Bass Centre, and I use Elite Strings too, they've never let me down.
"Amp-wise, I'm really happy with my Trace Elliot AH1200 from 2010, and a 4x10 cabinet. I've also got an Ampeg B12, and I've used a Fender Rumble 60 recently for smaller acoustic gigs with Roger Daltrey. I don't use five-string basses, but I have a four-string with a .120 E string, so I can detune if I need to."
Spalding has spent many an hour in the company of Robbie Williams, particularly in the studio, where many of his parts have been single takes.
"When we did Robbie's song Supreme, I listened to the track once, started to play it through and then decided to take it. The next play-through made it to the record. I was in and out of the studio in about 40 minutes.
"Let Love Be Your Energy was also one take. They had nine other bassists play it, but I did something that none of the others did: I hit the melody at the start of the chorus. Why did I do it? I have no idea. I just did it because it felt like the right thing to do!"
Proof, once again, that feel is often what it's all about.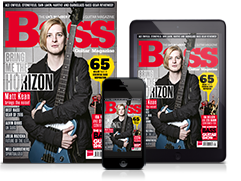 We're the UK's only print publication devoted to bass guitar.
Subscribe for star interviews, essential gear reviews and killer tuition!