Parkway Drive's Ben Gordon: "No one else in the band knows anything about drums"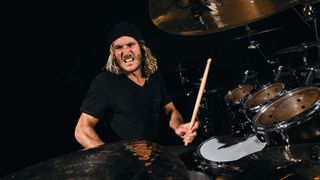 From humble beginnings to the Cage of Death
When we meet Ben Gordon, it's the afternoon before Australian metalcore kings Parkway Drive play a special one-off show in Camden's The Underworld.
Although they've long outgrown the subterranean venue, it was their regular London haunt when they were first breaking out of Australia a decade earlier and so it still holds a special place in their hearts. Unsurprisingly, the show sold out in 20 minutes.
Both the drummer and the band hail from Byron Bay, New South Wales, not exactly a bustling metropolis of music. "Our town has so few people and our scene was so small, from the age of 13 I was the only drummer in town so I was in every band," says Gordon, who tried drum lessons but couldn't wait to get stuck in. "I just wanted to learn punk beats and play fast."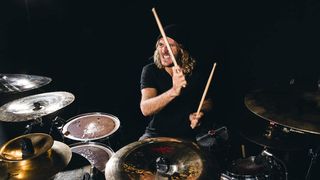 Hitting the road
What did you learn over the first five albums that informed your approach to Reverence?
"I think our sound has changed a bit on the last few records. Now we've got more of a bigger sound so we're tuning down a bit and basically want a bigger, rockier sound to suit the more open spaces in our music now. Whereas, with our older songs with lots of blast beats, we wanted more of a high-tuned sound that would cut through. Everything we've done in our career, you're learning.
"We've been together for 15 years now, we're not a new band, 15 years no matter what profession you do is a pretty long time, so basically, I've learned a lot. As far as recording, it's just a matter of being comfortable. If you're good live, then you should be good in the studio. It's really important to be good with a click. When we first started I didn't play with a click, I was pretty terrible, I used to speed up and slow down.
"About seven or eight years into the band I had this realisation, this is my career now, we're only growing, so I probably should learn the fundamentals. I had to go back and learn how to play with a click, learn how to do rudiments and fill in all the holes in my playing. It was pretty funny."
Do you use a click live?
"Yeah. We're starting to get pretty tight with Ableton Live. If you use any samples at all, which we do in some of our songs, you have to have a click. We don't play our old songs to click but I prefer playing songs to a click now because you just don't have to worry about it.
"We used to have a problem, like many, many metal and rock bands, of playing too fast. You know the tempo but when you get in front of thousands of people and your adrenaline is so high, your perception says, 'This is the tempo,' but you watch it back and you're 10, 15 bpm faster and it doesn't sound good."
Do you have a particular vision of how you want to develop in the future?
"To be honest, my main focus is on Parkway at this stage. For a few years there, I was really focused on my drumming as a whole and I wanted to start doing clinics and things like that, but we're just too busy now and the band takes up so much of my time.
"Really, I just want to get tighter live and condition myself more so I can play our set seamlessly. Then for future stuff, a lot of it is playing more classy rather than more technical. I find myself watching lots of YouTube videos of different jazz fills, different styles of music, and accents and dynamics.
"I feel like in my younger years I got as technical and as fast as I could really go. For metal, anything over about 220bpm just doesn't sound good to me. It's doesn't sound musical, it just sounds like a show-off. I'm finding myself less and less into the constant double kick, which used to be all I was into.
"Now even for the old songs we play, I prefer to do better patterns and groovier patterns. Anyone can do constant double kick if you're fit enough and have the muscle memory, but it takes actual skill to do syncopated rhythms and it takes creativity to come up with different patterns that sound good. That's where I see my playing going."