Strokes bassist Nikolai Fraiture on his new band Summer Moon
Introduction
Strokes bassist Nikolai Fraiture returns with a new band, Summer Moon. Julian Marszalek gets his skinny tie on.
Nikolai Fraiture, bassist with New York rock'n'roll aristocrats the Strokes, is explaining his relationship with his instrument. For him, bass is a never-ending journey where points of interest and spots of scenic beauty determine where he goes to next - and though he's uncertain of the final destination, the experience is about constant learning, experimentation and application.
"I'm definitely becoming a more adventurous musician," he says from a cold and snowy New York City. "In the beginning I knew that it was going to take time to get there; you don't get there overnight. I knew that you'd have to lay down the foundation and know what you're doing. You have to walk before you run, and right now I feel like a long-distance marathon runner. You might want to sprint in the early days but you find out that there's so much to learn that you have to keep going."
With the Strokes on an extended hiatus, Fraiture's ongoing musical journey - along with a desire to keep busy - has led to the formation of indie supergroup Summer Moon. Initially featuring members of Au Revoir Simone and the Like, the new band has settled on a line-up that includes Uh Huh Her's Camila Grey on keys and vocals, guitar by Noah Harmon from Airborne Toxic Event, and Jane's Addiction drummer Stephen Perkins, with Fraiture holding down the low end and providing the vocals.
Crucially, the bassist views this as a band rather than a solo project and, as evidenced by debut album With You Tonight - which encompasses indiepop, electronica and heads-down rockers - that's a difference that yields results.
"I got back from LA last night where I was playing with the band. We're now writing and jamming and working out our parts together, as opposed to me coming in with the album which was mostly done," he explains. "Now it's a lot more collaborative, with more of a band feel."
It's a situation that's left a deep impression on how Fraiture applies his skills. With the album demoed at home using a drum machine, locking in with Perkins has not only changed his playing but also how the new songs, with their variety of styles, are approached.
"Playing live with a drummer beats any other process. You can hear that in the music and the feeling and the tone," he enthuses. "Having other people in the room is essential to creating something that is living and breathing. The pinnacle of drum and bass parts, for me, is getting a groove from unconventional beats.
"I've played in a pretty straightforward rock band, but over the years it's developed into something that rhythmically isn't just kick-snare. Working with Stephen Perkins, experimenting with drum beats is very much his thing. We've just spent the whole of the last weekend working out how to develop a groove - but not in a typical rock way."
New challenges
Not that it's been plain sailing. Singing and playing bass at the same time has presented Fraiture with a number of challenges, but that's just the way he likes it.
"I don't want to make things simpler for myself when I'm writing for Summer Moon - and that's part of the fun," he states. "There were a number of rhythmic things that I had to focus on when I was putting the bass and the vocals together. I don't like to feel too comfortable, as I need the challenge. I want to push my limits to see where I go overboard, and then bring it back to where it feels good for everybody."
It's a refreshing take from someone who's been playing bass for over 20 years. He was given his first bass, a Mexican Fender Jazz bought from a pawnshop in Connecticut, by his grandfather when he graduated. He started playing with future Strokes Julian Casablancas, Nick Valenti and Fabrizio Moretti several years later, and while that experience helped him get to grips with his instrument, Fraiture also credits his bass tutor for widening his musical horizons.
"My teacher in New York was called Buddy Booker: he was like a life guru to bass players. He was essential to my development and I owe a lot to him. I was into bands like Nirvana and Pearl Jam when I started playing, but he really opened up my eyes to a lot of other styles of playing."
It was these other styles that introduced Fraiture to bassists as disparate as Weather Report's Jaco Pastorius, the flamboyant Bootsy Collins, and the hard drive of the Funk Brothers' James Jamerson, all of whom left an indelible mark on the young bassist.
"Obviously, that stuff isn't all over our albums, but elements of those artists seep through," explains Fraiture. "The most challenging part is deciding when it works and when it doesn't. Once I started experimenting, then bass playing became really fun. When I first started playing it was much more straightforward rock and easy to pick up. It was bands like Nirvana who fi rst made me want to pick up the instrument, but then you dive deeper into the history of the bass."
He continues: "I love that film Standing In The Shadows Of Motown. The Funk Brothers played relentlessly, night after night, in bars in Detroit and then the following morning they'd be in the studio. There was that constant exposure, playing together and experimentation. That was the great thing with the Strokes; we all learned our instruments together. I think that's the best way to learn, as well as keeping it going."
Different Strokes
Moreover, Booker infused Fraiture with a deeper appreciation of his chosen instrument.
"What I really love about playing the bass is the marriage between rhythm and melody," he elaborates. "You build that bridge for the music and that's something that I really enjoy. With a guitar, I just don't get that power that you get when you lock in with the drums and the melodies are floating over the top of that. That's what I enjoy the most."
As Fraiture's experience has grown steadily over the years, so has his rig: "I now play a '58 reissue Fender Precision: live I play that through an SVT-810. Over the years I've added the REDDI, which I use for live and recording because it's got a really smooth tone to it.
A few years ago I added the MU50 pedal, which I mainly use for compression. It's a great balance of tone and not being too inyour- face, but you can still hear everything. I've also been using an EHX Microsynth on the later Strokes releases."
As Fraiture reveals, the seeking of new directions has led him to some unexpected equipment destinations and results.
"For some of the Summer Moon album, I've been using the Tony Franklin fretless Precision bass. I love it!" he says. "I've been playing it for quite a while - I used it when the Strokes covered Walk On The Wild Side and we played it live with Lou Reed. Obviously, it's a different beast and a little bit more challenging. It forces you to play in the feel.
"I like the fact you're never quite 100 per cent on pitch. That gives a little bit of a human touch to the music, which is always nice. It was an honour for me to play with Lou and replicate the tone of that bass-line, because the original was a mix of stand-up bass and electric. With the fretless I did my best to bridge the two into one instrument. It impressed Lou and he gave me an approving look!"
Above all, Fraiture stresses the importance of having fun with different musicians: "It helps with the creative process. It's cool to play in a different way and in a different setting." He's right: every journey should be fun. Which way are you headed?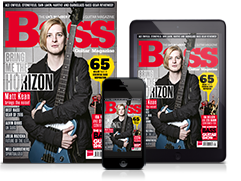 We're the UK's only print publication devoted to bass guitar.
Subscribe for star interviews, essential gear reviews and killer tuition!