Matt Skiba talks recording California, guitar gear and the future of Blink-182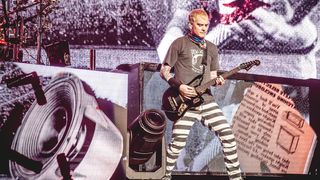 "I'm not doing something I haven't ever done before; it's just on a different scale..."
Back in March 2015, Matt Skiba stepped in to Blink-182, filling in for two shows in the wake of Tom DeLonge's departure from the band.
What began as a temporary arrangement quickly became a full-time fixture. The chemistry between Skiba and his new bandmates Mark Hoppus and Travis Barker was so apparent that the trio jumped into the studio under the watchful eye of producer John Feldman and had a new studio album on the shelves by the summer of 2016.
Read more: Xotic California Classic XSC-2
The album, entitled California, marked a reassuring return to form for Blink after the disappointing, pieced-together Neighbourhoods. The band had clearly regained its mojo, so much so that they have just dropped a deluxe edition of California.
That's no great surprise in itself - a ton of bands tack on a new track, the odd remix and maybe, if you're lucky, a smattering of demos and repackage it as a must-have deluxe version. The difference here is that the all-singing, all-dancing version of California has a whopping 11 new tracks, plus an acoustic, live re-working of Bored To Death.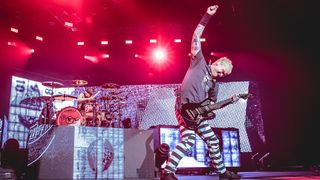 "We had so many songs that we thought about doing a double album"
Was the musical chemistry there between the three of you right from the off? The fact that you've just released a deluxe version of California with 12 extra tracks suggests that it was…
"Yeah, we had so many songs that we thought about doing a double album. That discussion didn't last very long! We knew that we had a lot of really good songs, though. We had a progress chart so we could see what we had tracked drums on, guitars, etc.
"We had all of these songs and we would take a song and give it a sister or brother song where they were similar tunes but maybe with a different progression or a different drum beat or a different song completely but we felt we couldn't have both because they had a similar feel. We had these twin songs, and when we decided to do the deluxe thing we had those to use.
"We could have held onto them and put out a brand-new record with those, but I like to write music that is time-stamped; you're writing for yourself and the fans in the present. If you're a working band you want to be relevant to the time. Plus, this crazy fucking world that we're living in is always changing; there's never a shortage of inspiration."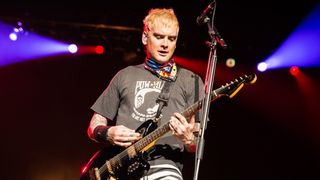 "I've had some bad shows so I don't drink before a show any more - I just don't do it"
Was there any crossover between your studio gear and what you use on tour?
"The stuff I used in the studio for Blink is the stuff that I'm using on tour. I also brought in a couple of my Alkaline Trio amps: a Bogner Shiva and a Fender Super-Sonic.