We're big fans of KVR Audio here at MusicRadar. Since before this website even existed, they've been busy tirelessly building an online community for music-makers and audio nerds to discover, discuss and explore software, plugins and all things music tech - and to buy it too.
As a result, we were excited to see that they'd released an annual end-of-year round-up of the year's best-selling audio software, spotlighting the most frequently purchased products in the KVR Marketplace. They've described it as "an eclectic mix which includes a few surprises", and we'd be inclined to agree, as the list features a few somewhat unexpected best-sellers that we've not come across in any other EOY round-ups.
OUR TOP PLUGINS
The best new plugins and software of 2022, as voted for by you
Coming in at the top spot is The Orchestra Essentials from Best Service. While we've previously been wowed by their enchanting Forest Kingdom sample library (which we described as no less than a "meticulously-crafted, leafy kingdom of aural amazement") we haven't had the chance to experiment with their orchestral libraries just yet. Judging by its prime spot on this list, though, The Orchestra Essentials is a worthy purchase for anyone after rich, colourful and realistic orchestral sounds to play in Kontakt.
Place number two was taken by the pleasingly retro 80s Spaces, from developers Nomad Factory. This unique processor seeks to capture the nostalgia-laden reverb sounds used by iconic artists of music's golden era: Michael Jackson, Duran Duran, Tears for Fears, David Bowie, Depeche Mode, George Michael and more. We're told that definitively '80s gated reverbs, sweeping tails, chorused verbs and lush, cavernous spaces are all but a click away.
When it's not delighting in '80s nostalgia, the music tech world is often preoccupied with the fresh, the new, and the cutting-edge. There's often very little room for anything in-between those two polarities - plugins that may be a few years old, but are still worth their salt.
That's why we were pleasantly surprised to see AIR Music's Xpand!2 coming in at number three on KVR's list, a virtual instrument and ROMpler from way back in 2014 that first saw the light as a bundled plugin with the Pro Tools DAW, but has since transformed into an eminently capable musical tool in its own right. We're told it's packed full of a versatile array of highly playable sounds that can be layered to produce multi-timbral tones and evolving soundscapes.
READ MORE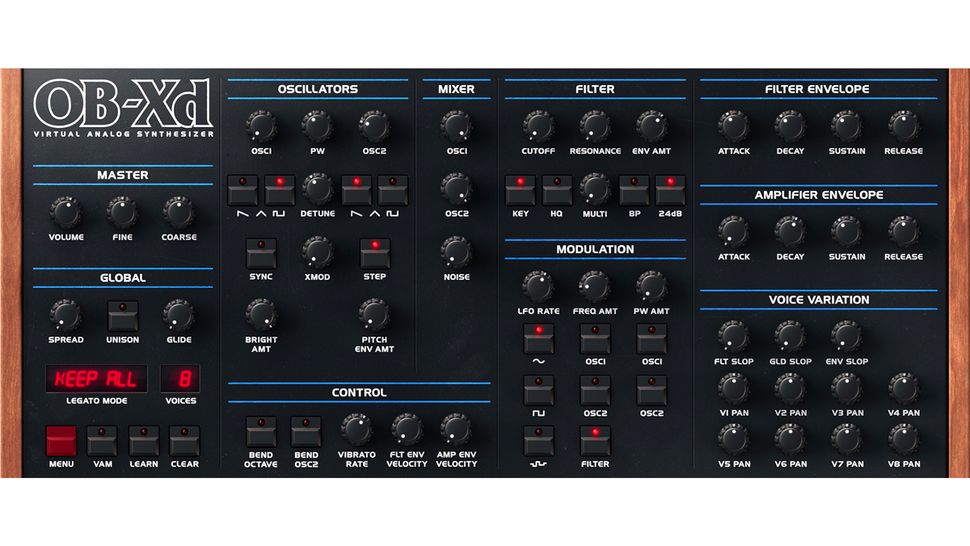 Following Xpand!2 in fourth place is the venerable DiscoDSP OB-Xd, a synth we've recently explored in our series of free synth tutorials. This powerful Oberheim emulator is based on the iconic OB-X, and it's one of the most affordable virtual analogue instruments out there, owing to the fact that it's actually offered up for free: DiscoDSP only ask that you part with a modest $49 if you're using the software for commercial purposes.
Coming in at numero cinco we've got one of the lesser-known tools in KVR's list: IrcamLAB's TS2 audio editing software. Primarily aimed at timestretching, the software's capable of transforming and manipulating audio in a variety of other ways, including pitchshifting, transient shaping, and spectral clipping. Most modern DAWs are equipped with similar capabilities, but it seems that TS2 delivers a more advanced level of control for in-depth sound design.
Elsewhere in KVR's top ten, you'll find not one, but two packs of Arturia Pigments presets from Vicious Antelope. While we've not sampled their sounds, the folks over at Vicious Antelope must be doing something right, as their atmospheric and experimental winter-themed Tundra and Arctic packs have landed the sixth and ninth spots on KVR's year-end round-up.