Joe Bonamassa on playing with Eric Clapton, Live At Carnegie Hall and why the acoustic guitar is his Kryptonite
Introduction
Known primarily for his pyrotechnic Les Paul-infused electric blues outings, Joe Bonamassa recently returned to the acoustic for his second unplugged tour…
We're sitting in Joe Bonamassa's dressing room at London's Royal Albert Hall. It's around 45 minutes before showtime and tonight Joe is in full-on blues rock mode. He's got a vintage Gibson Explorer worth a fortune on his lap and it's plugged into an amp that is stowed away in the en-suite facilities. So our interview is regularly punctuated by some fearsome blues licks, with built-in, real bathroom reverb.
"At my age, I need to warm up before a gig," he tells us, whilst putting the Explorer through its paces and talking about turning 40 in a few weeks. But we're not here to talk about electric guitars. Joe has an acoustic CD and DVD set (out now) and we're eager to hear details.
Recorded live at New York's Carnegie Hall in January 2016, the concert sees Joe accompanied by a nine-piece band and some rather tasty acoustic guitars. The concert was part of an all-acoustic tour and featured, among others, Tina Guo on cello and Egyptian percussionist Hossam Ramzy, who has performed with Led Zeppelin's Robert Plant and Jimmy Page.
There's piano, drums, mandolin, hurdy-gurdy - in other words, an eclectic mix of instruments that are miles away from the type you'd generally see Joe take to the stage with. "It was a typical Joe freak show," Bonamassa says, but, despite the ambitiousness of the concept, "it came out great".
Before we can transport Joe back to that night in the New York winter 18 months previously, he's clearly undergoing a bout of nostalgia, looking around his dressing room and reminiscing about the first time he played at the Albert Hall when the room we are currently talking together in was designated for the instruments belonging to Joe's special guest that night, Eric Clapton...
Reminiscing
"Almost 10 years ago there was a sign on this room, it said 'Lee Dixon Tuning Room'," he remembers, talking about Clapton's guitar tech.
"My dressing room was around the corner. It was 4 May 2009 and little did I know that when I walked through those very doors that the next two hours would change my life.
"For me it was either the beginning of the beginning or the beginning of the end. There was no middle ground. Either fail or succeed or just play and nobody would care, but somehow that gig turned into something that people would remember and we recorded it and that was really the beginning of this modern time in my career. It was incredibly moving and I don't remember much about the experience because I was nervous."
There are no camera crews tonight, though. On this occasion Joe's performance will remain only in the memories of the capacity crowd - and the odd shaky phone video loaded up on social media later on.
"I'll tell you, what the world doesn't need is another Joe Bonamassa DVD," he deadpans. "To me it's more of a joy to just come out here and play and not have to worry about cameras and all this other stuff that goes along with a DVD shoot."
The Carnegie Hall acoustic gig must have been a blast as well, surely?
"It was great. Carnegie was a life-long dream because I was a born New Yorker. I was born in upstate New York and we've played Radio City and we've played The Beacon but Carnegie was this mystical place, you know?
"They don't run many non-classical concerts through there. So to make it there and to do two nights with this incredible nine-piece acoustic band really means something to me and it was great. I mean it was really one of those nights…"
Acoustic again
This will be the second live acoustic DVD you have released, the first being recorded in Vienna's famous opera house. What was the motivation to return to the land of the unplugged?
"Well, I think we had enough new material to service it to where it wasn't just the 'same old', even though we repeated a few songs. We had a completely different approach, band-wise.
"Where Vienna was four-piece stripped down as bare bones as it gets, this was an ensemble: three singers, cellist, extra guitar player and mandolin, drums and percussion, Reese Wynans on keyboards. It was a big band. We've got into the sound of big bands lately. I'm sure I'm going to strip it down eventually where I don't want to deal with a nine-piece band any more and do just a trio or something and do a tour like that."
You're well known as a guitar collector, with a warehouse full of vintage instruments. Does this extend to acoustic guitars as well?
"I collect as many acoustic guitars as I need for a specific purpose. Acoustic guitars are really just tools for me. I need a mahogany Martin, I need a Rosewood Martin, a Gibson, a bunch of Grammer guitars. I probably have 20 acoustic guitars, maybe 30. That seems like a lot but when you're talking about a collection that includes over 700 guitars and amps it's a small percentage; it's not even 10 per cent.
"My issue with collecting acoustic guitars is what most of my friends who do it call 'the case of doom'. You put the guitar down, put it in the case, you go away, do your thing for five or six months, you don't get to it, you don't get to it, you open it up - a big fucking crack. And you're talking about a $100,000 Martin.
"These big ticket guitars, it swings the value of them. How did that crack happen? Well, it got hot, got cold. So solid body electric guitars, I use them. I love them and they don't crack when I put them back in the case. But Norm, over at Norm's Rare Guitars, he's always threatening me. He's all 'You're going to get into it one day,' and I'm, 'Nah, nah, nah'. Plus I'm going deaf, I think, from the stage line out there and I can't cure it. But anyway I do love them; they're harder to play, though."
A few of the songs on the acoustic album have made the journey from your electric set. What sort of difference was there when the mighty firepower of your usual amplification was taken away?
"The first thing you realise very quickly when you decide to do an acoustic version of an electric song is your solo either becomes either very truncated, very different, or non-existent, because even if you play a clean solo it's different with the Kryptonite… with the acoustic."
Making the switch
So there has to be a considerable adjustment in terms of technique when switching from electric to acoustic?
"Usually with electric guitar, with a clean sound you lighten up the right hand and you need a bloom. You can get the bloom out of a pickup. With the acoustic guitar I feel like I hack at them. Tommy Emmanuel: that's an acoustic guitar player. That guy knows how to get the most out of the guitar and he really lives and breathes this stuff.
"Rodrigo y Gabriela - these guys know what they're doing, you know, and unfortunately I don't have that skill set when it comes to that instrument. To me it's tuned the same way but it's a different instrument. I find I barre a lot of stuff and I always play more like Chuck Berry on an acoustic guitar than I do on electric because I'm constantly searching to fill out this sound. Single notes on electric bloom and it sounds thick and you can roll the tone off and adjust.
"If you're playing on the acoustic you're trying to cut through a nine-piece band without a cable and, if you are plugged in, to me it sounds like you don't have the right pickup system and it sounds like rubber bands. You can quote my father if you want; he goes, 'Joe, you have your electric sound together, but you probably have the world's worst live acoustic sound'. I go, 'Thanks, dad'."
What were the guitars used at the Carnegie Hall gig?
"There were some stage props; there was some stuff from the '20s. I brought a Gibson harp guitar from the '20s, I had the Robert Johnson acoustic one - L1, or whatever they call it. I had a Cat's Eye Gretsch archtop, that was pretty nice.
"As far as the functioning guitars are concerned, I used the Grammer Johnny Cash. I used a '50 D-18 Mahogany… I believe the mahogany guitars mic so much louder and the proof's in the pudding. When I would sit with a mahogany guitar I would hear the guitar twice as loud sitting at the same position at the mic with any other. It's like I used one ear in, one ear out [ie in ear monitoring] for Carnegie. I don't use in ears in general but I did it to keep the feedback down.
"I used a '47 D20, 00028 - that was cool. It had 'Uncle Jake' on it, somebody had painted it on there. Some new Gibsons like a J-200, J-45. The new Gibsons sound fine to me and their necks are good. A lot of those banner headstock ones from the '40s, if you find one that isn't cracked and looks like it's been dragged behind a truck, you find yourself with a neck that's about the size of a two by four - you know, it's crazy big. So those were the guitars I was using in a lot of the stuff."
Live sound
That's a lot of guitars for one gig. Why the constant switching?
"You have to really look at it from the standpoint of, 'I need an open A capo three guitar' for one song. What I'm not going to do is do an open A and an open A, third capo on the same guitar because I'm not going to tune in the middle of the show.
"I'm not going to chance that I hit the bullseye with the capo. So we have eight guitars set out: here's your open A capo, here's your this and Mike [guitar tech] had a set of back-ups in the back room in case we broke the string while we were filming. Luckily I didn't break any strings. So you had to commit. I had a standard tuned guitar, it was kind of a floater and luckily we got through it.
"They're really challenging, those acoustic shows, because there's a lot of guitar changes, a lot of different tunings and some I'm playing slide, some this and that and it's really difficult to basically pin them all down to just a single one. I couldn't do the gig with a single guitar because I'd spend the whole night tuning the damn thing and spend most of the night out of tune."
Finally, do you use pickups in your acoustics, or was the Carnegie Hall gig truly unplugged?
"We didn't use pickups for Carnegie. I don't have the same pickup system in all my acoustics nor do I have the time to figure it out. The problem is I don't know anything about that world. I know nothing about woods - I know Tommy gets a killer sound out of his thing but I don't know what they use. You know, like all these National guys - they have killer live acoustic sounds and they have this mixture of mics and this and that and different pre-amps.
"I go, 'If it's got a jack I plug it in', you know? And I'm like, 'What's this?' 'Well, this is a Fishman'. I used a little Tonebone thing on the floor and those are fine for that, you know? You can scoop out some of that really clacky mid that kills you, but, for Carnegie, it was just straight-up microphones and I think it sounds better."
Joe Bonamassa Live At Carnegie Hall is available now via Provogue.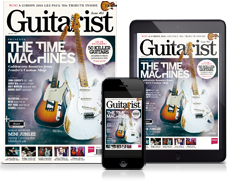 The magazine for serious players
Subscribe and save today!