Jack Antonoff thinks pop music is a paradox. "The irony of pop music is that it's this field that's so rigid, but the only stuff that's successful is the stuff that's out on the other side of it," he tells us. "If you write something that you think is a perfect pop song, that fits perfectly into everything, it's probably boring as fuck. The perfect pop song is by definition the imperfect pop song."
We're inclined to agree, because if anyone knows a few things about how to write a chart-toppingly, world-shakingly good pop song in 2023, it's probably Jack Antonoff.
Awarded the Grammy for Producer of the Year the past two years running, Antonoff has worked on some of the past decade's biggest albums; collaborations with Lorde, Pink, St. Vincent and Florence and the Machine all come to mind, and that's before we've even mentioned a screamingly successful year that's seen him take the helm for The 1975's Being Funny in a Foreign Language and Lana Del Rey's Did You Know That There's a Tunnel Under Ocean Blvd.
Are we forgetting something? Oh, yes: Taylor Swift. Since forging a longstanding creative partnership with Swift - by all accounts the world's most popular artist - in 2013, Antonoff has co-produced and co-written on every one of her studio albums.
Most recently, the pair's symbiotic aptitude for hitmaking has produced 2022's Midnights, a stylistic left-turn that found Swift trading in Folklore's sensitive, finger-picked guitars for a moody, dark-hued palette of vintage synthesizers, shattering streaming records in the process. Alongside all of this, Antonoff has indefatigably maintained a career as a solo artist, writing, recording and touring anthemic, Springsteenian synth-pop under the alias Bleachers.
With a schedule this packed, we're surprised Antonoff found the time to sit down with MusicRadar. Fortunately for us, he carved out a moment to talk us through his deep love of vintage gear, the synths behind Midnights, and why he can't stop scrolling through Reverb at 4AM.
Let's talk about your relationship with gear. For some producers the equipment is just a means to an end, but others love to geek out over technology. Which side are you on?
"I'm completely out of the box with gear. I've never used a MIDI instrument in my life. I'm always pushing myself by using different things, and what's nice about analogue gear is everything is a completely new journey.
"I've been obsessed with Binsons. The Binson Echorec and the Baby Binson and the Binson Reverb, which was a really weird thing. Then I got into this thing of chaining Binsons together, and chaining Binsons into Copicats and then fucking with the tape. I go through these phases because I'm always pushing myself to a new place. When I started messing with the Copicat - that was a phase that I'm now kind of out of, because I'm always trying to use different things - I got really into manipulating the tape by hand.
"You're talking about really old tape machines that have tons of personality. In the same way, every Juno sounds totally different. Every Moog Model D has a life of its own. I'm really now into Opamp consoles and messing with a lot of that stuff. Everything is so sonically specific when it comes to vintage gear, that to make an album and not start - if you have the means to - with a new palette is such a miss, because you should be pushing yourself into a different place through the gear you're using."
You're clearly deep into your vintage gear, but are there any modern bits of kit that you're a huge fan of?
"I like modern stuff. There's a lot of great modern things, but I think that it takes a long time for something to develop a personality. It's the same with guitars - I think there's amazing modern guitars being made, but very often the feeling of something after it's been around for some amount of time has a different layer to it. It's the same with microphones and preamps and consoles. I've noticed that the kind of music that I imagine in my head gravitates towards the mystery that comes out of things that are a bit more unwieldy.
"It's an opportunity to continuously expand your sound and to try things that shock you and excite you. When you have a new piece of gear - especially when it's something that's been around, and has a lot of life in it already, and is filled with ghosts - and you plug it in, you physically can't make the sounds you've been making. You're in the desert, you're in a new frontier, and you just have to find your personality within it. I find that vintage gear pushes you very hard."
What was the last thing you picked up that excited you?
"The last purchase that excited me… I mean, I buy so much crazy shit. [laughs] But there's this old Opamps console that's pretty remarkable."
How did you come across that?
"The death of me will be that Reverb app. They're not paying me to say that, but Reverb and Vintage King and Soundgas and all those places… you know, at four in the morning when I can't sleep, I'm just looking for things and then dreaming about what I could do with them. Some people buy watches, some people buy cars, I buy gear. Since I was a kid, anytime I had a little bit of money, I would buy gear."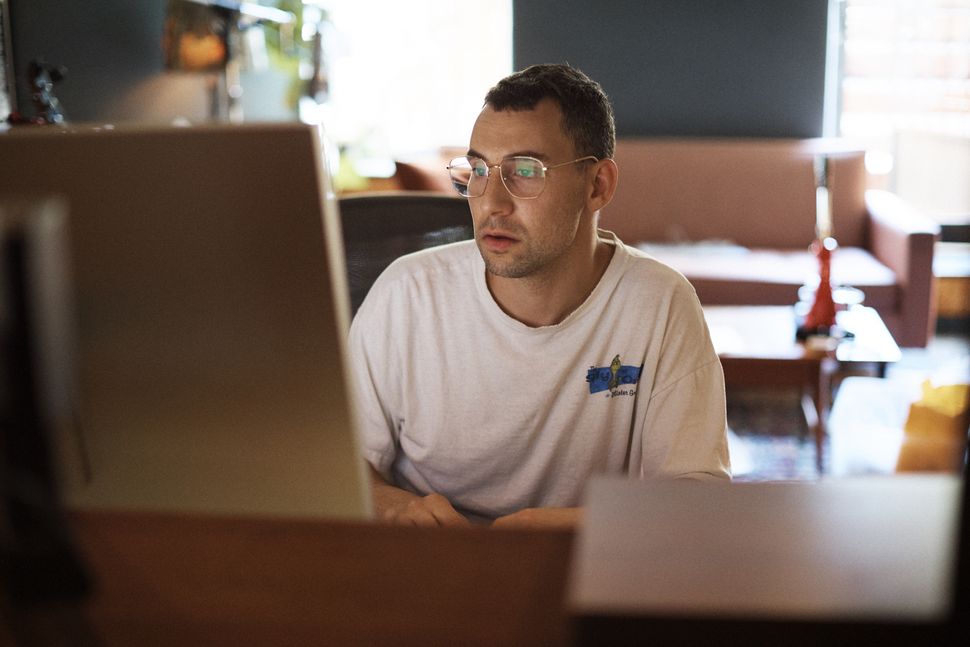 You've spoken before about working with sounds that are tied to a specific time period, but trying to bring them into a contemporary context. Could you tell us more about that?
"I think the most modern thing you can do is use things that have been around for a while in new ways. If you think about the guitar, or the piano or, or the drum set, or the bass guitar, there's not a million versions of these things. It's all about how you use them. When someone picks up a guitar, and they play it a certain way, it feels like a million years in the future, because you've never heard it before, but it's the same instrument.
"I see a lot of vintage gear that way, too. If you think about how many instruments Moog actually made, there aren't many models. If you think about what you can do with the Space Echo or the Chorus Echo or the Copicat - there's not a million versions of these things. Sometimes, when it comes to soft synths, the ability to make so many sounds has an inertia within that. You can freeze a little bit.
"What I love about older, analogue instruments is that you truly can't duplicate the sound. Every time you turn it on, it's on. The electricity, the fucking weather, all these things are changing the feeling of it. So it's nice to know when you're in the studio that you're creating something that can only happen right there. Because at the end of the day, I don't want to be able to duplicate things, I want to catch moments. I think vintage gear is very helpful for that."
You work across a number of varied projects with a lot of different artists. Are there any instruments or bits of gear you find yourself using on almost everything?
"No, because it's always about doing things I haven't done before. That's why I spend so much time at night looking at gear on Reverb, because anything I get, I'll use. So if I can find some old German tape machine, then I'll use that. It's very important to stay in the wilderness with gear. Even if it's different versions, like you're at a different studio, and someone has their Prophet and it just feels different. Everything just sounds so different. It's the same deal with microphones. That's why it's so exciting to mess with vintage microphones, because no two are alike."
Tell us about how you approach vocal recording. Do you have a typical approach that you use across multiple projects or is it completely different every time?
"It's different for everyone. It's based on the context of what's happening. For someone like Lana del Rey, there's a very specific vocal treatment that we carried through her entire recent album. Whereas for other people, there could be different treatments for different songs.
"Lana's a good example of someone who when I record her, we're just grabbing that moment. It has to be documented from that moment. We don't do overdubs, we don't come in a month later and do more vocals, because it's happening there. So the vocal tone needs to reflect that. The vocal tone has to have a level of the room within it. Not a room mic, but even just in terms of how we're compressing, or where we're placing her, there has to be enough feeling of the space.
"There's two things that I always think about. The first thing is, what haven't I used yet? That's the place I want to go. The second thing is marrying that with what the sentiment is. I think about that with effects. I've talked about this a lot, but the song has to dictate it. If the person is meant to be whispering in your ear, you don't want to feel the room - maybe you want to get your reverb from a small box, or maybe I'll get my reverb from a Space Echo instead of a big room. The most important thing is documenting the space that you're making something."
Are you still working primarily from your home studio in Brooklyn?
"It's a combination. I like being at home, but I'm at Electric Lady a lot. I'm wherever I am. I'm as happy working on my headphones somewhere as I am in the biggest, best studio. There's so many beautiful qualities to both. When I'm alone and I'm in a small space, whether it's my studio or laptop, it feels like you're trying to find the idea of a big thing, but not a big thing. You want it to feel like what's happening. But when you're in a big studio, then you want to run around and use all the space. The same way you want to be true to the song, you want to be true to the sentiment and the artist, I feel like if you make something that feels like where you made it, you often recognize it in a very special way."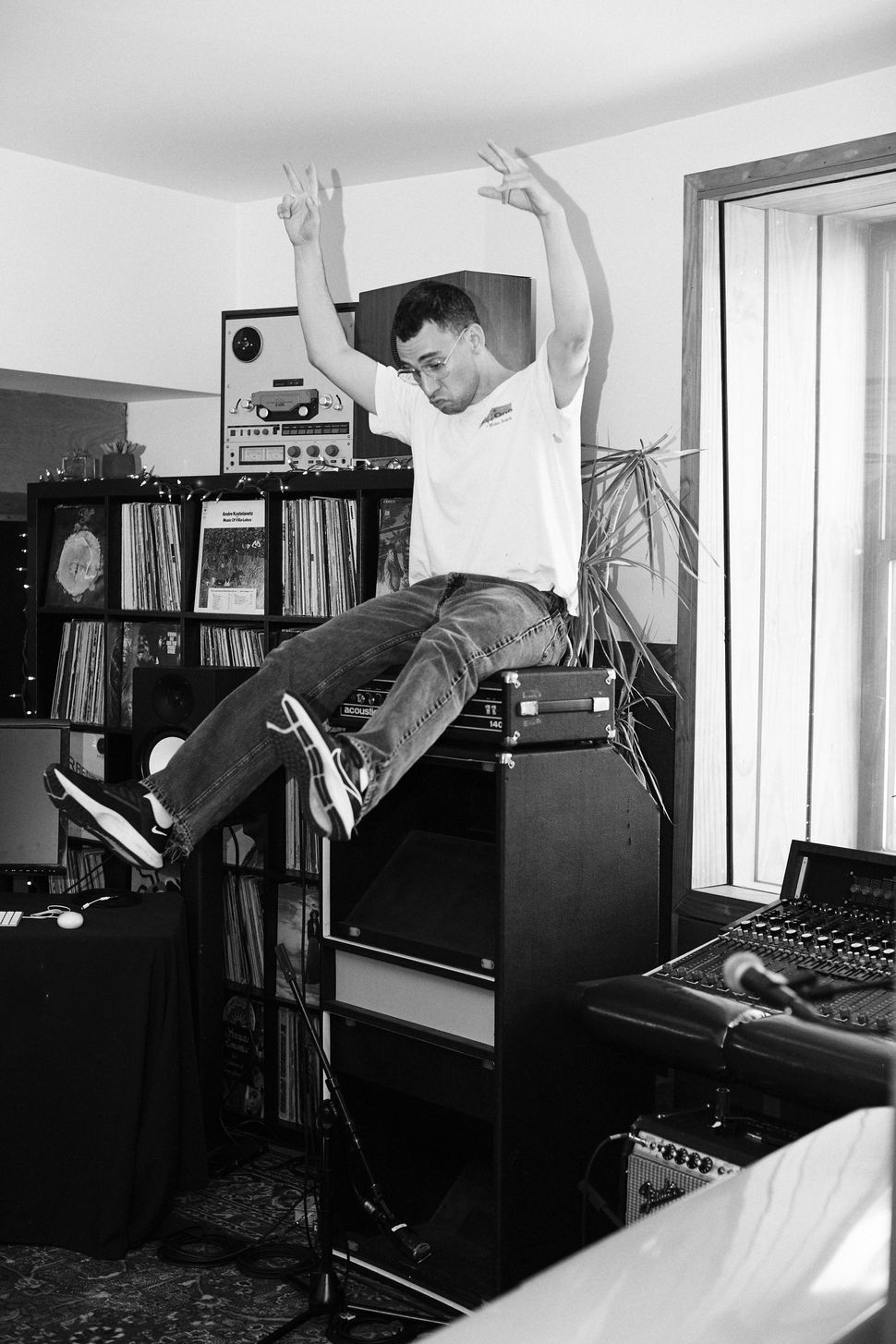 You've talked before about doing things in a certain way that people have told you that you're not technically 'supposed' to do. Could you tell us about a time that you've done the 'wrong' thing in the studio and come out with something great?
"Oh, constantly. Those are my favourite moments. Sometimes if I'm using a tape machine or some echo or outboard reverb and before it's levelled out, when it's exploding the board, that's often the coolest part. Or when we're bouncing things to tape and you're levelling it out, and you're finding that zone when it's coming in and out of the crunch.
"Laura Sisk and I, who engineers with me, we just record everything, because stumbling around the sound is often the most interesting sound. Everyone knows what something sounds like, not everyone knows what something sounds like before you know what it sounds like. Tape is the most fun to play with, because you're really not supposed to touch tape - it's not good for the machines. But if you start physically manipulating tape, really destructive but beautiful things happen."
When it comes to sound design, are you someone that builds patches from the ground up or are you more of a preset-tweaker?
"I have no presets. I've played synths long enough to know how to dial in the sounds I want. I know what to do, but I like the fact that it's new every time. Even if you have presets on a vintage synth, it's still new every time. That's one thing I love when we play live with Bleachers, we have Juno-106s on stage, and nothing ever comes out the same. Those things are just strange. Their mood is so interesting.
"One thing that I like about not having a preset is often if I'm just recording and I'm dialling in the sound as I'm going, the moments of dialling in a sound can become really interesting transitional pieces. If I'm dialling in a sound, it'll inherently sound like a question mark, and that's an interesting thing. So you can just go through the recording and grab those moments. For me, it's transitional bits: my rev up into a chorus or the panning sound that takes me into the next part, that could be a moment when I was searching for a sound and something happened that was interesting.
"The funny thing about that is that it's esoteric but it's universal. When you're in a room and someone's messing with a synth, something happens and the whole room will go 'whoa, what was that?' There are certain sonic moments that just play with our brains in a way that excites people of a similar kind. That's all you're really trying to do. Making music for everyone is an absurd concept. The only thing I think about when I'm in the studio is making things that make me feel a certain way. Then anyone who feels that too, then they're kind of like my pen pal or my friend. That's just what it is.
"I know enough people who think Aphex Twin is God, but other people can't hear it. Some people listen to Throbbing Gristle and want to tear their hair out, other people think it's sent from God. It has to be just what you feel. That's what's so amazing about an analogue synth. You can learn it - 'okay, I'm on a Moog, here's how I get my West Coast sound, here's how I get grime, here's how I mess with the modulation and the oscillators' - you can learn everything, but at the end of the day, you're turning knobs until you hear your own personality. That's really special. It makes the machine so human."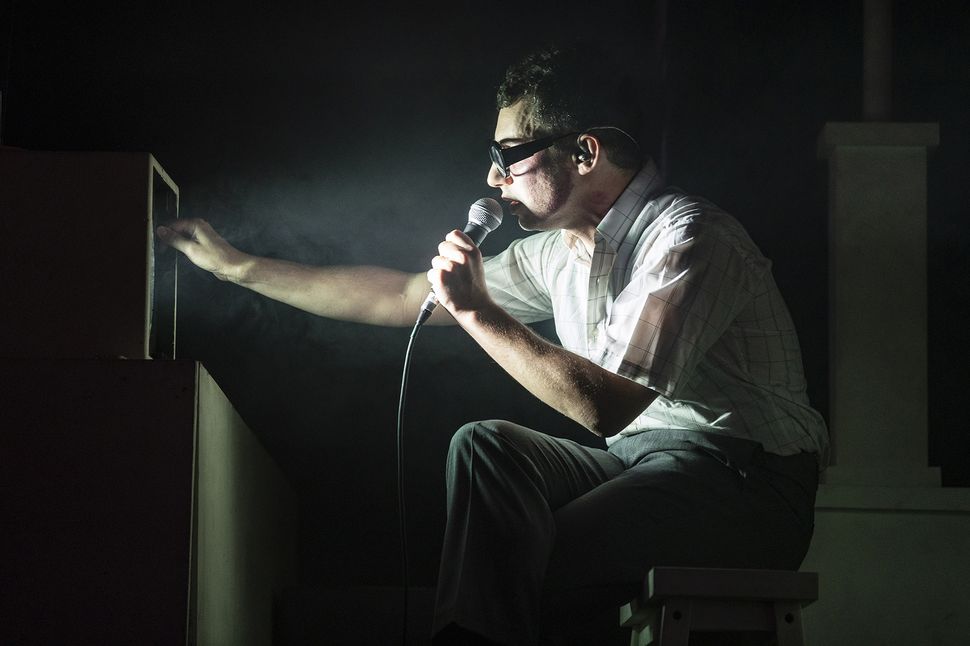 Synths were all over Taylor Swift's Midnights. Which instruments featured prominently on that album?
"Oh, I went nuts on that shit, man. The funny thing about Midnights is, as synthetic as it is, it's actually very analogue. So much was going into tape. I was really into the Oberheim OB-8, which I had never used another album, so I got really crazy about that. We were getting a lot from Yamaha DX7s, which I hadn't used before really on anything. I was using the Solina in a lot of places, which I never use in other records. That album was just wanting to push into a different place with synths.
"There's no Prophet on there, because I had used Prophet on a lot of other stuff, so I kind of just put that one away. Getting a lot of low end from the DX7, which I'd never done before. I was using patches on the DX7 that I thought were really rich, but then adding my low end afterwards, trying to find low end in odd ways. A lot of really grimy sounds I was dialling in on the OB-8 and then treating them after the fact.
"I was just trying to play with the boundaries of things I hadn't done before. So what happens if all my delays are coming from tape, and all my choruses are coming from outboard gear, and I'm just running everything through as much analogue outboard as possible to make it so incredibly rich? When I listen back to that album, I have these memories of putting myself into those places. But really, for me, the OB-8 was the star of that album, which I hadn't really delved into before."
The vocal processing on Midnight Rain and Question…? was a real standout moment in terms of production. What were you using there?
"A combination of things. I was mostly using Soundtoys or iZotope VocalSynth to get those, but then what made them really cool was to process the vocals with plugins, find a really cool space, bounce it together and then take it elsewhere. So a lot of the weird modulation on some of that stuff, I'm actually getting by messing with the tape on the Copicat. We would go through some crazy processing on that where we'd send it out there, then take all the noise out and make it sound really clean again.
"We got very anti-plugin on that album. So we got really into recording things very dry. We would send things into the Klemt Echolette - it's got a very harsh sound, I think it might be German - I was running her vocals through that a lot. That's what I was saying - there's no reason, I just wanted to use things I hadn't used and extend myself. You just run things until you hear something that you think is interesting."
Another track that stood out to me was Vigilante Shit. It's so punchy and there's so much impact in the mix. How did you approach that one specifically?
"Throughout the whole thing, there's moments where you hear this buzzy grind to it and there's moments where you hear this offbeat delay stuff. So I was smashing everything into a Copicat, and then I was taking transients to add to the kicks to make them buzzier, so then every once in a while, you hear the whole picture of the drums going through that when they're wobbling and delaying out.
"With that, we got really into some fucked up panning with low stuff. Because there's this idea in recording that you don't pan low end. But you can, you just have to start it in the centre so that you can feel where it's going. So we were panning 808s, and that was really intense to carve out enough low end to make it work. It's all using tape transients to get that buzz."
You've talked before about creating a unique sound world for each album that you work on. How did you approach that for Midnights?
"It usually happens with the writing and the production. I've made a number of albums with Taylor by now and we've started them all in different ways. I think that helps. We did most of it at my house, but we were starting songs on different instruments and with different processing.
"So I'm using different machines - whether it's different echoes or different synths or different guitars - whatever I can just to make sure that we're not jumping off from the same place. So it all comes together: as the writing is coming together, as the concept is coming together, as the sound is coming together, they're all informing each other."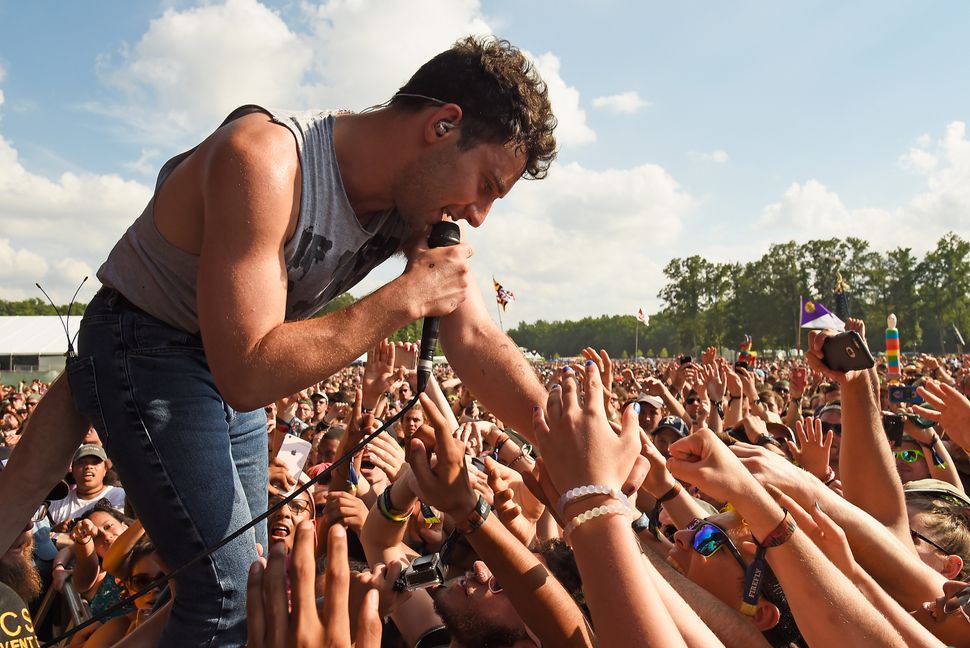 You're credited as both a songwriter and producer on many of your collaborations. Are those disciplines entirely separate for you?
"Very separate. My whole life, before I did anything else, I wrote songs. I sang songs and played songs and wrote them, and then I started falling in love with producing, which is the idea. Then I started falling in love with engineering, which has more to do with the execution. They're very different loves: engineering is one thing, producing is one thing, songwriting, performing, playing… to love them all and to have them work together is a specific thing, but they're very different crafts. A lot of people think they're more blurred, but they're very, very different."
At what point in your career did you begin to feel that you'd truly adopted the role of producer?
"I always felt that way. It was more that at some point people recognised it. Since I was a kid, I would write songs and I would have ideas for how they would live. That's what production is. Production is the vision of how a song will live, and then how an album will live and how things will sew together and how it will fill the void of what you're not hearing out there. So it's a natural thing, but it took me a long time to literally be able to do it. That's when you start to learn how to be an engineer and start to articulate and actually have language and have some fearlessness about how to get it.
"It's the same thing with writing: I've always written, I didn't write because I thought it'd be cool to write, I just always wrote. Same thing with playing, I always loved playing. Even when it came to engineering. They're all different loves. But to me, in my small head, I've always just imagined what things could be and how they could sound and where they could go. The trajectory of entire moments and time and albums and sequencing, I've always been thinking about things that way. I always did that. I used to do it with my friends, and I'd do it myself. Then I would do it with some people who'd let me in the room, and then over time, more and more people responded. But I've been on the same journey as far as what I've been after."
How do you get the most out of the artists you're working with? You seem to be skilled at bringing a certain level of honesty and vulnerability out of your collaborators.
"The room is a sacred place. There's no bullshit. It's not about this, or that, we're all just working towards the album or the song. Like I keep saying, we're finding that void in culture and then imagining what we want the world to hear and what's exciting us right now. It's a gut thing, it's undeniable. When you're inspired, you're inspired. When you're not, you're not. I think that level of zero bullshit about what we're feeling is the bedrock of making it at the level that it needs to be made at. I've always felt that way. I've always had a bit of deep, do-or-die, endless preciousness about how important this process is."
You've said previously that as a teenager you felt somewhat dismissive of pop music, but you've ended up shaping the sound of contemporary pop. What makes a perfect pop song?
"The only reason that I felt separate from it as a kid was because I was really into a very specific scene. That scene was very claustrophobic, and I liked that at a certain age. The perfect pop song is by definition the imperfect pop song. The perfect pop song is the one that everyone says, 'I can't believe this is on the radio'!
"The irony of pop music is that it's this field that's so rigid, but the only stuff that's successful is the stuff that's out on the other side of it. So what's the perfect pop song, Hey Ya? My favourite pop songs are the ones that would be called an imperfect pop song. My quest is more about that. Otherwise, if you wrote a perfect pop song, and you think it's a perfect pop song that fits perfectly into everything, it's probably boring as fuck.
"Anytime you do anything, you need to have two feelings. Feeling number one is: 'can I do this?!' Feeling number two is: 'I don't care.' That's when you know it's time to put something out. I won't put something out unless I have that feeling. Thought number one should be: 'oh my God, is this gonna make sense?' Thought number two, 'I love it so much that I don't give a shit.'"