How Peter Frampton lost and then recovered his legendary Gibson Les Paul Custom
Introduction
Peter Frampton's Gibson Les Paul Custom is arguably more famous than any other of its kind - and the story of its loss and eventual return reads like a great detective novel…
From his days in Humble Pie to the height of his fame during the …Comes Alive-era, Peter Frampton's Gibson Les Paul Custom was his constant sonic companion. It was famously lost in a plane crash in 1980, but miraculously reappeared some years later and the two were reunited.
The tale of how the 'Phoenix' found its way back to its owner is a mix of coincidence and blind luck with twists and turns aplenty. We'll let Peter himself tell the story, so sit back and listen to a slice of guitar history, as well as some remarkable detective work…
"The very first time I played the guitar was in 1970. Humble Pie was performing at the Fillmore West and the gentleman whose guitar it was at the time, Marc Mariana, had been a friend ever since Humble Pie started playing the year before in San Francisco. I had just swapped my Gibson '62 SG for a 335 and every time I turned up for my solo it just fed back and this was totally demoralising. So after the second set Marc said, 'Would you like to try my guitar tomorrow? It's a Les Paul.' I said, 'Anything's better than what I've got.'
Black Beauty
"So we met at the coffee shop at the hotel where we were staying and it had just come back from Gibson.
"He'd had it refinished and he opened the case up and it looked like a brand-new 1957 black Custom, but it was a 1954 Black Beauty that he had messed with, sanded and routed for three pickups.
"There's this wonderful picture of a '57 Les Paul Custom on the front cover of a Miracles album [The Fabulous Miracles, 1963] and he wanted to make it like that. It's a slightly smaller body than a regular Les Paul, because he was heavy-handed sanding it. I took it up to my hotel room and started playing it acoustically and it played like a dream.
"So I tried it for both sets that night and then I tried it the next night and the next night… and at the end of the engagement at the Fillmore West, I gave Marc the guitar back and said to him, 'I know this is a silly question, but do you think you would ever sell this guitar ?' and he said, 'No… I want to give it to you.'"
Crash And Burn
"I had it for 10 years and in 1980 we toured South America. We'd just finished Venezuela, Caracas and had a day off, so we flew ahead to Panama, which was our next stop. Rodney, my road manager, came in with this completely white face.
"I was in the restaurant and he sat down next to me and said, 'I have some really bad news.' I said, 'What?' and he said, 'The cargo plane with all the equipment crashed on take-off. People died.'
"There were six people onboard: two pilots, a navigator, loading inspectors and I was just devastated, we all were. And the pilot's wife was sitting at the bar in the restaurant waiting for him to come in; she didn't know this had happened yet.
"After I got over the shock of people losing their lives I began to think about the gear. Rodney said, 'Yeah, it's all gone.' It was a fireball. It was totally filled up with fuel and they couldn't get near it for five hours. It was just like an H-bomb went off.
"So we sent my guitar tech down a week later and he said, 'Was anything left?' and they showed him a couple of Marshall cabinets and he saw the shapes of guitars in guitar cases that were burnt out - he saw the shape of the guitar but no guitar. So he came back and said, 'It's all gone.' So that was it."
Every Picture Tells A Story
"For the next few years it was very hard for me to find a guitar that I liked. My '55 Strat, which I used for Show Me The Way, also went. It's like a pair of old shoes, you know? It's horrible when you put that new pair on.
"When I moved to Nashville in the 90s, Gibson got together with me and for a year we planned on doing a Peter Frampton Les Paul Custom, which is very, very good, and we've sold more than a thousand of them now over the last 10 to 12 years. I was playing them on stage and people would come up to me and say, 'So is that the one?' and I'd say, 'No, but it's close!'
"I got an email one day and I opened it up and there's a dozen photos of my guitar, the original Phoenix. I mean, I must have screamed so loud, I couldn't believe it. It was from someone in Holland who was friends with someone from South America and so we found out what happened.
"There were about three or four guitars that were not damaged badly at all and someone decided they would be much safer at his house, and then he decided they would be much safer if he sold them to other people! I don't know what happened. I had a '63 Precision Bass, I had my '55 [Strat] and I had a white Les Paul that I used in the Sgt Pepper's movie and they were all sold.
Whoever owned it sold it to someone who lived on the island of Curaçao, which is about 40 miles off the coast of Caracas. The guy just put it away and didn't really do anything with it until his son became a teenager, wanted to play music and had always seen this guitar in terrible shape and said, 'Dad, is it okay if I take it to someone to get them to make it playable?' So he said, 'Yeah, go ahead.' Wrong!"
The Game's Afoot
"So he took it to this part-time luthier… who happened to be a customs inspector at the airport. He opened up the guitar and said, 'My eyebrows almost went through the ceiling,' because he knew what it was.
"So he said, 'Leave it with me overnight, I'll see what I can do.' He called a friend in Holland and said, 'You're never going to believe what I've got in my hands.' So he took photographs of everything - forensically.
"He took the pickups off, the tuners, he took everything apart so you could virtually see inside the guitar and that's how I knew it was mine, because I'd been inside that thing so many times.
"The following day, the kid came back and the luthier says to him, 'I have to ask you, do you know what you have here? This guitar was on the plane crash; this is Peter Frampton's guitar.' And the kid said, 'Oh no it's not,' and put the guitar in the case and ran off.
"So 18 months go by and we've lost it, but finally this kid needs money, goes back to the luthier and says, 'I'm thinking about selling this guitar, do you want it?'
"The luthier was frightened that he could get arrested for receiving stolen goods, so instead of buying it himself, he went to the minister of tourism of Curaçao, who he knew because he was in the customs department, and explained the situation. So the government of Curaçao bought the guitar back for me for $5,000."
Friends Reunited
"They didn't want to bring it back to me because the guy was frightened of being arrested. I said, 'There's no reason on earth why I would get the FBI or anything.'
"But I understood; he was scared. So I said, 'Look, how about this? Check into this hotel in Nashville, we've booked you a room there for three days. We'll do this one day, have a couple of days to be my guest and sightsee around Nashville.'
"So finally, two years after I'd first seen those pictures, he came with the minister of tourism from Curaçao. He brought the guitar in the room in the shittiest thin plastic cover, it's not even a case. I knew before I even opened it that it was mine, it was wonderful.
"Then we all got in our cars and went straight over to Gibson, and Walter Carter, George Gruhn and all the top people from Gibson that do all the custom work were there. We took it apart and they said, 'This was a '54 or '55, more likely a '54 Black Beauty, which has been rerouted.' I knew it, but it was nice to hear Gibson say it as well and getting all these hotshot guitar aficionados to sign off on it.
"When I got it back from Gibson they hadn't taken away the scars, they had just made it playable. The pickups were not working, the electronics were not working, so that had to be replaced, unfortunately. But they've been replaced with time-sensitive pieces - Patent Applied For pickups first of all, but all the volume [controls] and capacitors are all 'new old stock', basically.
"All these people in Nashville just went, 'I know what you need… I've got this 1950s capacitor,' and everybody just donated all this original stuff to go into it, so it's probably more original now than it ever was!
"The community came together and everybody just wanted to have something of theirs in the guitar, which was so nice. Now, I use it on every show - the least I use it on is Do You Feel [Like We Do], but [you'll hear it on] any of the songs from …Comes Alive. So, basically, it's better than it was, except it's a little banged up."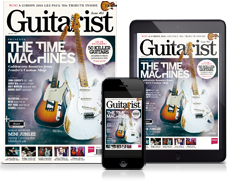 The magazine for serious players
Subscribe and save today!