How Fishman shook up the pickup world with Fluence
Introduction
Despite their future vision sheen, Fishman's Fluence pickups reference the past's classic tones that we guitar players desire. How exactly do they do that?
At this year's NAMM show, Fishman took the wraps off three new Fluence signature pickup sets for Tosin Abasi, Killswitch Engage and Will Adler, adding to those already released for Stephen Carpenter, Devin Townsend and Greg Koch.
It's more than indication that, since its launch in 2014, Fishman's Fluence pickup technology is being taken very seriously. The Fluence concept is based around a solid core instead of a coil of wire, although the magnet structures are pretty conventional.
Then there is a preamp (onboard, with the exception of the Greg Koch 'Gristle-Tone' set) that shapes what we hear and offers multi 'voicings'. The active pickups can be powered by a standard nine-volt block battery, although various battery packs can be recharged from their USB sockets.
It all amounts to a pretty through redesign of the electric guitar pickup as we know it.
"The starting point, sound-wise, of the Fluence solid core coils is a neutral wide bandwidth response, so we have the flexibility to steer it in different directions," explains Fishman's senior electrical engineer John Eck. Would that in itself be a useful sound?
"You'd get something that you might find interesting for some use, but if you're trying to recreate more classic tones, very specific tones, it wouldn't get you there."
Solid start
The coils might be solid, but the magnet type and style adheres to more conventional pickup technology.
"Sometimes we use a blade, bar or individual rod magnets," he continues. "For example, the Modern Humbuckers have blade magnets that create a very even magnetic field that provides a certain definition.
"Conversely, the single width pickups for Strat and Telestyle guitars have individual [magnetic] pole pieces, which is part of the character of the tone and affects the way the string vibrates in the magnetic field. So in that sense, the magnet structure is a third component, as many have discovered over the years: how the strings, when they are vibrating, react with the magnetic field.
"On the Devin Townsend set, the bridge pickup uses blades on one side, [while] the other side has poles - that seemed to work. We're trying to retain as much of the past, but we're taking it in a new direction."
Construction aside, the primary way Fishman is doing that is by offering each pickup, or pickup type, with multi 'voices', such as Koch's 'White Guard' and 'Black Guard' sounds on his Tele-replacement set, or the vintage PAF/overwound 'hot' humbucker sounds of the bridge pickup in the Classic Humbucker set.
"Our original idea was to make a self-contained active pickup," says John. "One exception is the Tele set where there simply wasn't enough room in the pickup if you wanted them to fit in a standard Tele body. There wasn't enough room for the hum-cancelling coil to get placed and not interfere with the tone, so all of that had to be moved to the main control area behind the plate."
Tele time
If the Greg Koch Tele set presented some physical problems, where did they start to select the sounds? Over the past 60-something years, Teles have come in numerous shades, not least their pickups.
"We started with two or three Teles we thought were at the top of the heap in terms of the sound of their pickups," offers John.
"Studying their characteristics and what it would take to capture that and then the normal parts of pickup design, like trying different magnet types and comparing them. We also had to decide the best approach to deal with hum-cancelling."
"Greg was very much involved in the process," says Fishman's vice principal of marketing and artist relations, Chris DeMaria. "Being a Tele player, he brought in some of his own guitars - you have to listen to a lot of pickups and guitars and say, 'I like what that's doing.'
"In many cases, these are vintage guitars that we had to borrow. Then you have to decide if this is really what a 'White Guard' sounds like - a clean chicken pickin' Bakersfield country sound. The 'Black Guard' sound is a little hotter and darker."
In a range that now includes classic single coils and humbuckers, plus more modern-voiced pickups, in multi-string formats, we wondered if Fishman might turn its humbucking-active-multi-voiced attention to the humble P-90?
"I honestly don't know," says Chris. "I will say we are fully committed to being in the electric guitar and bass pickup market."
"It's been discussed," adds John, "but we have to prioritise what's most important for us to do next." In other words, watch this space… maybe!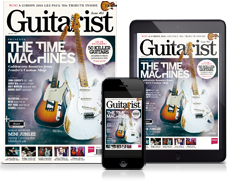 The magazine for serious players
Subscribe and save today!