Historic hardware: Gretsch Country Gentleman
Chet Atkins is to Gretsch what Les Paul is to Gibson. Their endorsement of electric guitars, let alone their influence on the development of music technology and recording technique, is legendary. And, as well as being among the leading artists in their field, they also had more than a passing interest in science, engineering and inventing new technology - they were what you might call 'renaissance men'.
Born in 1924, Chester Burton Atkins - better known as Chet Atkins - is widely regarded as one of the 20th century's most influential guitarists. Sometimes referred to as the 'Country Gentleman' or 'Mr Guitar' Chet's direct involvement with recorded sound and the development of guitar technology, not to mention his highly distinctive fingerstyle technique, helped shape the future of the electric guitar.
In addition to playing guitar, Chet was interested in developing new sounds and wore many hats in the music industry. He helped create some of the most important recordings in the history of popular music while working as a record producer for the likes of Dolly Parton, the Everly Brothers and Elvis Presley. Also, while in the process of producing Jim Reeves' work he created what later on became widely known as the 'Nashville Sound'.
Although Chet pledged allegiance to Gibson after parting ways with the Baldwin-company-owned Gretsch brand at the end of the 70s (bringing not only his name as an endorsee, but also the names of his classic Gretsch guitar models the 'Country Gentleman' and 'Tennessean'), he is more commonly remembered for his association with four Gretsch models that appeared in the 1950s - the 6120 Chet Atkins Hollow Body/Nashville, the 6121 Chet Atkins Solid Body, the 6122 Chet Atkins Country Gentleman, and the 6119 Chet Atkins Tennessean, released in 1954, 1955, 1957 and 1958 respectively.
During this time, Chet spearheaded several technical developments alongside Gretsch's Jimmie Webster and inventor Ray Butts, culminating in the release of the 6122 Chet Atkins Country Gentleman. It was the result of Chet's direct consultation as a well-seasoned and forward-thinking performer, and featured new, upgraded design specifications to enhance quality of sound and playability, while addressing some of the practical issues inherent with the use of electric guitars.
The 6122 Chet Atkins Country Gentleman (often referred to as the 'Country Gent') represents a landmark in the history of guitar evolution. Locating clean and original examples from their initial 1957 debut can be very difficult, so we were pleased to have the opportunity to visit a collection in the UK that featured guitar number 32 from the inaugural run of 50 Country Gents manufactured by Gretsch's Brooklyn workshop more than 60 years ago. Not only is the instrument in pristine authentic condition, but the case, tags and paperwork have also remained miraculously intact.
Heard and seen
Upon viewing such an immaculate guitar, with its original price tag of $525, it was easy to imagine the sense of awe guitarists may have felt when walking into a 1950s guitar shop and seeing one on display for the first time.
Although in museum-grade condition, we were pleased to discover the (anonymous) owner regularly enjoys playing it. "They're made so well and it plays so nicely," he told us. "It's got 11-gauge roundwound strings on at the moment, but I'm going to restring it with flatwounds as I think these old guitars work better a lot of the time with flatwound strings. It depends on what you want to do, but I think they suit the guitars. I imagine Chet would have used fairly heavy flatwound strings. I take it out every now and then and give it a play - it's a great-playing guitar!"
Curious as to the guitar's background story, we wondered how the opportunity to acquire such a fine instrument arose: "I've owned it since about 1985, when it came to the UK from America. When I bought this one, there was also a slightly later one on offer, which had a highly figured, curly maple face veneer, but I'm glad I bought this one. When more information became available recently, I realised this one is from the very first batch of 50 that were made and is, therefore, a more historically significant guitar.
"At $525, Country Gents were one of the most expensive guitars that Gretsch made at the time. The White Falcon was the most expensive, and the body is similar - it's virtually a White Falcon body painted brown! This one's a bit lighter than the later 6122s. They were still experimenting in the first batch. In fact the first ones were white. It's more of a hazel colour than walnut, really. It's very much in keeping with the whole Country Gentleman vibe - the back of it reminds me of an old barn door, the way it's stained and the figuring."
Understated luxury
For a high-end model, the 6122 is relatively understated (at least compared to the White Falcon), with simple decoration and a conservative finish. But as a player's guitar it's absolutely got it where it counts.
After all, putting practicality before frills was Chet's primary intention and, as such, the Country Gent continues to be held in the highest regard by contemporary players.
Measuring 17 inches across, with a body depth of 2¼ inches (later models tend to be just two inches deep), this hollowbody electric was constructed of maple ply and has a glued-in three-piece maple neck with an ebony fingerboard featuring a scale length that measures a little over 24½ inches. Unusually for a hollowbody guitar, the body is completely sealed and although it appears to have f-holes, they are in fact very thin plastic inlays.
We spoke to Senior Master Builder of the Gretsch Custom Shop, Stephen Stern, to ask if he could shed any light on its construction. He says, "The tops are made by gluing maple veneers together - crossgrained for rigidity - before going into a dry, heated press to form a gradual curve. Back in the 50s they would have used hide glue. 6122s first came out with imitation f-holes and then they switched to the real f-holes around 1960. They have a transparent finish, so the face veneer would have been stain grade. They were stained using nitrocellulose lacquer. Some of those curly maple veneers are really good looking. Back then, good tonewood was pretty abundant."
Grand Designs
Tony Bacon, author of The Gretsch Electric Guitar Book (Backbeat Books) told us how Chet's practical playing requirements were successfully addressed in the guitar's new design:
"Chet was, if you like, Gretsch's Les Paul. The company had seen how successful Gibson's new signature models were in the early 50s, so they signed up Chet. [Chet] told me he wanted to cut down the feedback he often got when playing his 6120, and he suggested various methods. Gretsch's trestle bracing was one way the company tried to tackle the problem, but they also went with a sealed thinline body (with fake f-holes) on the new Country Gent.
"Chet urged Ray Butts to develop the humbucking Filter'Tron pickups, and the Gent was the first Atkins Gretsch fitted with the new pickups. Chet told me in 1995, that 'Gretsch were selling so many of the orange guitar, they wanted to put out one that was a more expensive, so the Country Gentleman had good tuning pegs, better wood selection, and the body was generally a little larger and thinner. I started to use the Country Gentleman on my records continually. I would use the 6120 once in a while but I didn't use it as much as I used the Country Gentleman'."
Filter'Tron pickups are at the heart of Chet's Country Gent sound and were a new invention designed to push the capabilities of the instrument forward...
Filtered out
"It all started in 1954 when Chet and Ray were talking about Ray's EchoSonic amplifier," says Tom Jones of TV Jones pickups - today's official manufacturers of the Filter'Tron and supplier to the Gretsch Custom Shop.
"That's when Chet told Ray he didn't like the sound of his DeArmond DynaSonic pickups. He said they were too powerful - that the neck pickup was too bass-y and the bridge pickup too bright. That's when Ray first made a set of Filter'Trons. They fitted under a DeArmond cover and you can see it on one of Chet's album covers.
"The Filter'Trons were hand-wound with thicker wire using a counter, but it was hand-guided. They were originally assembled in-house at the Brooklyn factory. They read close to 4k ohms and varied around 3.8k to 4.2k ohms. They were one of the first humbuckers ever made. Seth Lover submitted his patent for the Gibson humbucker sooner than Ray, but Ray got his patent back before Seth did."
"First and foremost, Chet didn't like the DeArmond DynaSonic single coil pickups," concurs Edward Ball, author of Gretsch 6120 - The History of a Legendary Guitar and Ball's Manual of Gretsch Guitars - 1950s (Schiffer Publishing). "[He] was looking for an alternative to replace the DynaSonics - they were too loud for him, so he worked with Ray Butts to produce the first prototype of the Filter'Tron humbucker.
"Chet brought Ray into the Gretsch fold - he never worked for Gretsch directly but was hired as a consultant to be brought in and develop the Filter'Tron. Between that and the [EchoSonic] amplifier he developed, Chet was a big fan. Once the 6122 came out you didn't see many situations where Chet was playing a 6120. The 6122 was his baby - he mostly played a 1959 (that was his personal guitar). In 1959, the zero-fret appeared across the board on all of his models, which had a brass nut and the zero fret relieved the need for that. He was a big believer in that.
"For the 6122, the Waverly tuners that were on the 6120 were upgraded to the Grover Imperials. The Gretsch-Bigsby association came about when they were working on the prototype of the 6120. There are pictures of him with the Kauffman vibrola from his D'Angelico on it and he went back to Gretsch and told them it needed a Bigsby - in fact all of his models have Bigsbys. Gretsch and Bigsby go together like peanut butter and jelly. Fred Gretsch Enterprises eventually bought the Bigsby brand, which makes total sense. From a marketing standpoint, those two names on those guitars are ubiquitous."
In Demand
From its initial release in 1957, production of the Country Gent remained steady over the next several years as the new model gained a following.
"Gretsch were making between 2,000 and 2,500 guitar units annually at the Brooklyn factory through the late 1950s and through to the early 1960s," explains Edward. "There was some growth there just as rock 'n' roll took off."
It was, however, following the British invasion later on in the 60s that Gretsch's popularity really took off. "Chet Atkins was popular within a certain generation, but neither Chet or Les Paul could break the rock 'n' roll thing," reflects Edward. "That was a machine that started in the 50s and although they continued to have careers they were not at the forefront of music at that point, although Chet sustained a long career until his death."
"After George Harrison went on The Ed Sullivan Show in '64 they tripled their production within a year or two. They got up to 12,000 units a year by 1967 and that's when they sold the brand to the Baldwin Piano Company - they sold it at its high point. They were okay as long as they stayed in Brooklyn because the same craftsmen were there, but the minute they moved to Arkansas that's when the quality became inconsistent. There's some good guitars from that era, but they're just inconsistent. They had a couple of factory fires and it was just a bad run of luck. Ultimately it took Gretsch off the map in the early 80s. "As far as contemporary electric guitars go, Chet Atkins put Gretsch guitars on the map and George Harrison took them into the stratosphere. They both leveraged the Country Gentleman to do that."
Edward Ball is the author of Gretsch 6120 - The History of a Legendary Guitar and Ball's Manual of Gretsch Guitars - 1950s (Schiffer Publishing) Tony Bacon is the author of The Gretsch Electric Guitar Book (Backbeat Books).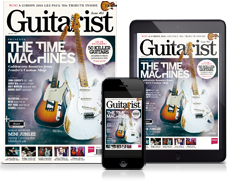 The magazine for serious players
Subscribe and save today!