Historic hardware: 1952 Gibson Les Paul Model
Introduction
Hot on the heels of Fender's 1950 Broadcaster and Esquire releases, Gibson debuted its own solidbody electric in 1952.
"Designed by Les Paul - produced by Gibson - and enthusiastically approved by top guitarists everywhere," read the advertisement. "The Les Paul Model is a unique and exciting innovation in the fretted instrument field; you have to see and hear it to appreciate the wonderful features and unusual tone of this newest Gibson guitar."
The Les Paul Model sported two cream-coloured soapbar P-90 pickups, a trapeze tailpiece, a bound carved maple top, a solid mahogany back and a one-piece mahogany neck with a bound Brazilian rosewood fingerboard, and was finished in gold as standard. In typical Gibson style, it appeared to be a classy, upmarket instrument - not too out of place among its range of finely crafted archtop jazz guitars and flat-top acoustics.
Attempting to build upon renaissance man Les Paul's fame as a jazz-pop artist of the 1930s and 1940s, Gibson established him as the name and face of its fledgling instrument. Inventor Les - having brought the guitar into production in collaboration with Gibson - appeared to be a suitable endorser. However, with the rise of rock 'n' roll and R&B during the 1950s, his popularity as an artist waned and the Les Paul Model sales rapidly followed suit.
Les' legend
World renowned vintage guitar expert George Gruhn of Gruhn Guitars in Nashville explains: "Were Les Paul Models a smashing success, commercially? No, not really. The Les Paul Models were not selling well.
The best years for Les Paul Model sales is very early on; 1953 was the peak of production for the gold Les Paul and after that they were steadily falling. They weren't directing a very effective marketing campaign. Les Paul as an endorser wasn't all that useful - by 1953, his popularity was on a downhill slope. The Les Paul Model was being endorsed by Les, but he was playing jazz-pop and his style of music was rapidly going out of fashion.
"The early 50s Les Paul Models were wonderful guitars, but Gibson wasn't trying to market them at rock 'n' rollers or R&B players. Les Paul was still performing, but he wasn't selling anywhere near as many records as he was, and by the time [Gibson] reintroduced the single-cut Les Paul in '68, most of the kids who wanted a Les Paul guitar barely knew who Les Paul was. I even had a guy call me up one day and ask me if I could get him a 'Lay Paul'!"
Meanwhile, Fender managed to cash in on Gibson's oversights and the company went from strength to strength.
"Fender sales of solidbodies in the 50s were way ahead of Gibson," continues George. "The production figures aren't so readily available, but Fender far out-sold Gibson. The Les Paul is a wondrously fine R&B guitar, but Gibson's marketing wasn't necessarily well directed. R&B throughout most of the 50s was played almost exclusively by black folks who typically were not going out and buying new Les Pauls, so you didn't really see black performers endorsing Gibson products until the late 60s."
Particularly with the Les Paul Model, it took a significant number of years for their full potential to be widely recognised. Many players agree that the original vintage guitars far surpass their modern equivalents or reissues, which has pushed up their demand and subsequently - due to their relative scarcity - the prices.
"The Les Paul models from the 50s didn't sell remotely as well as they do today," George points out. "The manufacturing level at that time was miniscule compared to what is made today, but if you think about it, a guitar that's properly built could last 200 years and they haven't really made any major design innovations since they first appeared. Nowadays, a lot of instruments are used to make music that they weren't originally designed for, and that goes way back to Stradivarius violins."
From flawed to flawless
The Les Paul's immediate lack of popularity may in part be due to some of the design features often perceived as problematic, such as its noticeably small frets.
While sales continued to decline, other such shortcomings were subsequently reviewed and resolved over the course of the 50s as the guitar evolved: the trapeze 'strings under the bar' bridge/tailpiece was replaced in 1953 by a 'wrapover' stud bridge/tailpiece and allowed players the ability to palm-mute strings; the neck angle was deepened in 1954 giving better allround playability and sustain; and in 1955 the 'wrapover' bridge was replaced by the intonation-friendly Tune-o-matic bridge and 'stop' tailpiece.
Although aware of its flaws, Andrew Yonke, CEO of Chicago Music Exchange, originally acquired the 1952 Les Paul Model pictured here through Heritage Auctions in the USA for his personal collection, before later selling it on in the store.
"Those original 1952 Les Pauls are not good-playing guitars because of the small frets, the shallow neck angle and the bridge," Andrew explains. "But I thought, 'I can easily sort this out' - apart from a few minor things, it was completely straight and it had really good pickups, so I bought it. I had it refretted by a guy here in Chicago and [famed luthier] Joe Glaser, who's a good friend of mine, developed a tailpiece that you put on the original trapeze setup so that you can wrap the strings around the top and intonate it. I put it on and it worked perfectly. It also got around the problem of the shallow neck angle. Everything that was done to that guitar was done for functional reasons and it turned out great!"
Guitarist Joel Peat of Lawson later stumbled across Andrew's '52 Les Paul Model while it was on sale in Chicago Music Exchange and instantly fell in love.
"I was on tour with Lawson and we were in Chicago, so I popped into Chicago Music Exchange," remembers Andrew. "When I picked up this guitar, it just made me play better! It was inspiring and sounded incredible. It's quite special when an instrument grabs you like that - it means something when it's that good. It's not in perfect condition - you can tell someone's played the arse off it - but they're always the best vintage guitars.
"The ones that have got a bit of wear and have been out on the road, they've been loved because of the way the guitar sounds and feels. I used it on the last [Lawson] album, Perspective. It's on the intro to Love & War. The song starts with that guitar and I played it through a Leslie cabinet and it sounded great."
A new home
Eventually, the guitar made its way to Vintage 'n' Rare Guitars in Bath, where it subsequently proceeded to tempt all those within its reach:
"I kind of thought I'd like to exchange all of my guitars just for that one!" recalls Alex Blain of the store. "The pickups sounded amazing, particularly the front pickup, but the combined sounds of both the front and back pickups were unbelievable! I've never known another guitar to clean up so well. You could have the amp on full tilt, almost on meltdown kind of crunch, and then just roll back the volume down to 1 or 2 and it had a perfectly clear tone, with no loss of sparkle at all."
Paul Tucker, also of Vintage 'n' Rare Guitars, recalls his initial impressions upon playing the guitar for the first time: "The neck was the perfect profile for me. If I could have templated that neck and replicated it, I would've done! It wasn't too big or too slim and it was the perfect width."
Guitarist/MusicRadar would like to thank Vintage 'n' Rare Guitars, Gruhn Guitars and Chicago Music Exchange.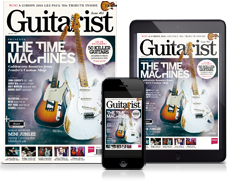 The magazine for serious players
Subscribe and save today!