Victor Wooten's top 5 tips for bass players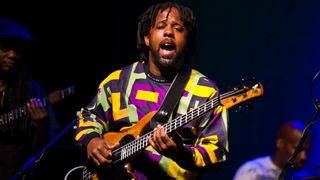 Introduction
BASS WEEK: Victor Wooten is a seriously in-demand guy. As MusicRadar speaks with the ridiculously talented, Grammy-winning bass master, he is enjoying a rare week at home before flying off to Japan for a series of shows with Dennis Chambers.
From there, he heads to the Florida Jazz and Blues Jam and then travels across the US with longtime gig Bela Fleck. Somewhere among all of that, he's also coming over to Europe with two different bands, and he has the latest in his long line of educational music camps running through the summer (you can find out more about the latter at Victor Wooten's Center for Music and Nature).
So, we wonder, does all of this musical plate-spinning present a challenge for Victor?
"It's not a challenge at all," he says. "We're talking about music. You may have a group of friends you go to dinner with tonight. You guys are going to start a conversation and it will be effortless. You don't have to call your friends and say, 'Hey, we're going to get there at 8pm and we're going to talk about this. This is what I want you to say because this is what I've prepared that I'm going to say.'
"You don't do that, but the conversations work every time. You might go to a bar afterwards and there's a different group of friends or there's even strangers, but the conversations still work. They work because you listen.
"For me, playing with different people is easy until you get a musician who is not a good listener, someone who only wants to play. That's when it gets difficult: some musicians do not practise listening; they only practise playing."
And that very notion of listening leads us neatly on to Victor's top five tips for bass players…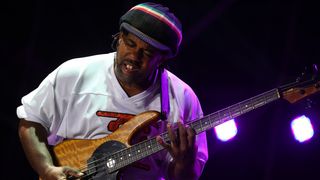 1. Listen
"Music for me is like talking to people. In most cases, you don't know what to say until you've listened to what has been said. In music, it's the same.
"If you listen closely to the music, the music will tell you what is needed. You need to listen very, very closely. You need to see how the music makes your body move.
"You need to recognise what your body feels like doing once the song comes on. That will help you determine what is needed for the song. For me, what your body is feeling is called groove."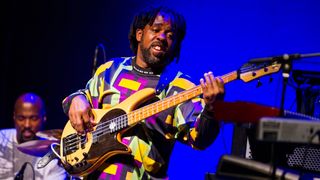 2. Groove
"A lot of people will start trying to figure out what notes to play, what key are they in, what's the scale and things like that. I say, first figure out what the groove is, and you do that by listening, not by thinking.
"People don't dance to notes. People aren't going to dance just because the song is in a certain key. They're not going to move their body, they're not going to bop their head or clap their hands because of the key. They're going to do those things because of the feel of the song, the groove of the song, the rhythm of the song. When you're first listening to a song, you're listening to the rhythm and the groove of the song.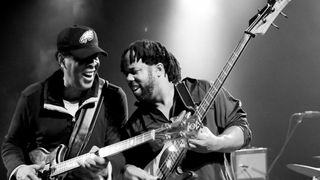 3. Only play what is needed
"Many musicians, not only bass players, will play what they have practised. If they have been practising fancy licks, they're going to play them. It's like a person talking who wants to use those big words that he's been working on.
"But it is vital that you only play what is needed. Usually, the bass part is simple, so only play what you can play to make the song better. I heard Leland Sklar say that he wants to play as little as he can play to make the song better. That is the bass player mentality: only play what is needed.
"The 'playing too many notes' mentality thing is new; it's within the YouTube era. When we used to learn things, we couldn't watch YouTube videos; we would do that by buying records, and our favourite bands only showed up in our towns once every two years.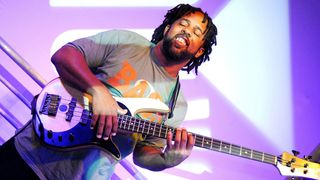 4. Support the music
"If there are lyrics, your job is to support those lyrics - you help the singer tell the story. What I mean by that is, maybe in the intro of the song I'm playing a certain bass part, but when the verse comes I may simplify the part to make the lyrics stand out more.
"It all depends on what the song needs. It might be supporting the horn player, the guitar player, the keyboard player, whoever is playing the melody: my whole goal is to support that melody."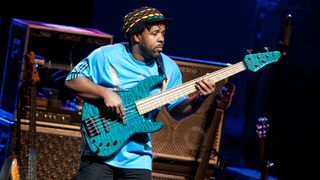 5. Repeat steps 1-4
"I just spoke about supporting the melody, but you don't know how to support that melody unless you go back to tip one and listen.
"You support that melody with a solid groove, not with a bunch of licks. When you are supporting that melody or the lyrics, you're going to only play what is needed; you never get in the way of the melody.
"Bass players support by not drawing attention to ourselves; our goal is to draw attention to the melody. If you keep repeating those tips, you are the perfect bass player."