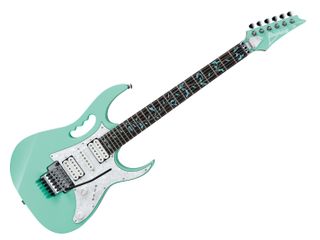 Premium Series JEM70V-SFG
The Ibanez stand is always a big draw at trade shows, and Winter NAMM 2012 looks set to be no exception. Across the following pages, we present 28 new electric guitar models that the company will be showcasing in Anaheim.
What follows is a mixture of brand new models and redesigned guitars with updated specifications, plus a handful of instruments that will be available from UK retailers for the first time in 2012. Kicking things off, here's the newest JEM in the Ibanez catalogue...
5-piece Wizard maple/walnut neck w/KTS titanium reinforcement
American basswood body
Jumbo frets
Edge bridge
DiMarzio Evolution (H) neck pickup
DiMarzio Evolution (S) middle pickup
DiMarzio Evolution (H) bridge pickup
Chrome hardware
Colour: Sea Foam Green (SFG)
Premium Series S920E-BK
5-piece Wizard maple/walnut neck w/KTS titanium reinforcement
African mahogany body
Jumbo frets
ZR II bridge w/ZPS3
EMG 60 (H) neck pickup
EMG 81 (H) bridge pickup
Colour: Black (BK)
Premium Series S970CW-NT
5-piece Wizard maple/walnut neck w/KTS titanium reinforcement
Claro walnut top/African mahogany body
Jumbo frets
ZR II bridge w/ZPS3
CAP New pickup for PGP S
CAP-VM1S (S) middle pickup
CAP New PU for PGP S
Colour: Natural (NT)
Premium Series RG821-BK
5-piece Wizard maple/walnut neck w/KTS titanium reinforcement
American basswood body
Jumbo frets
Tight End-R bridge
CAP-VM1 (H) neck pickup
CAP-VM2 (H) bridge pickup
Colour: Black (BK)
RG Prestige RG3521-GK
5-piece Super Wizard HP maple/walnut neck w/KTS titanium reinforcement
Basswood body
Jumbo frets
Tight-End R bridge
DiMarzio Air Norton (H) neck pickup
DiMarzio Tone Zone (H) bridge pickup
Hardware colour : Cosmo Black
Colour: Galaxy Black (GK)
RG Prestige RG2620ZE-BK
5-piece Wizard HP maple/walnut neck
Basswood body
Jumbo frets
Edge-Zero bridge w/ZPS3
EMG 60 (H) neck pickup
EMG 81 (H) bridge pickup
Hardware colour : Cosmo Black
Colour: Black (BK)
RG2627ZE-BK
5-piece Wizard-7 maple/wenge neck
Basswood body
Jumbo frets
Edge-Zero 7 bridge w/ZPS3
EMG 707 (H) neck pickup
EMG 707 (H) bridge pickup
Hardware colour : Cosmo Black
Colour: Black (BK)
RG2228A-BK
5-piece Ultra-8 maple/wenge neck w/KTS titanium reinforcement
Basswood body
Jumbo frets
DiMarzio D Activator 8(H) neck pickup
DiMarzio D Activator 8(H) bridge pickup
Hardware colour : Black
Colour: Black (BK)
RGD7421-BKF (updated spec with 3-way toggle pickup selector, one volume control and black pearloid dot inlays)
5-piece Wizard II-7 maple/walnut neck
Basswood body
Gibraltar Standard 7 bridge
CAP-VK17 (H) neck pickup
CAP-VK27 (H) bridge pickup
Hardware colour : Black
Colour: Black Flat (BKF)
RGD421-BKF (updated spec with 3-way toggle pickup selector, one volume control and black pearloid dot inlays)
3-piece Wizard III maple neck
Basswood body
Jumbo frets
Gibraltar Standard bridge
CAP-VK1 (H) neck pickup
CAP-VK2 (H) bridge pickup
Hardware colour: Black
Colour: Black Flat (BKF)
RG470MHZ-MOL
3-piece Wizard III maple neck
Mahogany body
Jumbo frets
Edge-Zero II bridge w/ZPS3Fe
INF1 (H) neck pickup
INFS1 (S) mid pickup
INF2 (H) bridge pickup
Hardware colour : Cosmo Black
Colour: Mahogany Oil (MOL)
GRGA32-MRS
GRGA Maple neck
Mahogany body
Medium frets
Fixed bridge
STD-C1 (H) neck pickup
STD-C2 (H) bridge pickup
HW colour : Black
Colour: Metallic Red Sunburst (MRS)
S570DXQM-BBB
3-piece Wizard III maple neck
Quilted maple top/mahogany body
Jumbo frets
ZR bridge w/ZPS2
INF1 (H) neck pickup
INFS1 (S) mid pickup
INF2 (H) bridge pickup
HW colour : Cosmo Black
Colour: Bright Blue Burst (BBB)
X Series XG307-BKF
3-piece maple neck
Mahogany body
Jumbo frets
Full Tune III-7 bridge
AH3-7 (H) neck pickup
AH4-7 (H) bridge pickup
HW colour : Cosmo Black
Colour: Black Flat (BKF)
ARZ Series ARZ300
ARZ mahogany set-in neck
Mahogany body
Medium frets
ART-1 bridge
Quik Change III tailpiece
LZ1-N (H) neck pickup
LZ1-B (H) bridge pickup
HW colour : Chrome
Colour: Black (BK)
White (WH)
ARZ Series ARZ307-BK
3-piece ARZ Mahogany/Maple set-in neck
Mahogany body
Medium frets
Full Tune III-7 bridge
Full Tune III tailpiece
AH3-7 (H) neck pickup
AH4-7 (H) bridge pickup
Hardware colour : Chrome
Colour: Black (BK)
SA360QM - new thinner, curvier body shape
3-piece SA maple neck
Quilted maple top/mahogany body
Abalone bindings
Medium frets
SAT Pro II bridge
AHS1 (S) neck pickup
AHS2 (S) mid pickup
TDB1 (H) bridge pickup
Hardware colour : Chrome
Colours: Salvia Red Burst (SRB), Cornflower Blue Burst (CBB)
SA160FM - new thinner, curvier body shape
3-piece SA Maple neck
Flamed maple top/mahogany body
Medium frets
SAT Pro II bridge
STDS (S) neck pickup
STDS (S) mid pickup
STDH2 (H) bridge pickup
HW colour : Chrome
Colour: Transparent Yellow Sunburst (TYS), Transparent Gray Burst (TGB)
Art Series ART200FM
ART mahogany set-in neck
Flamed maple top/mahogany body
Medium frets
Gibraltar III bridge
Quik Change III tailpiece
ACH1-S (H) neck pickup
ACH2-S (H) bridge pickup
Hardware color : Chrome
Colour: Violin Sunburst (VLS), Transparent Black (TK), Sunburst (TYS), Transparent Gray Burst (TGB)
Art Series ART100DX
ART mahogany set-in neck
Mahogany body
Medium frets
ART-1 bridge
Full Tune III tailpiece
ACH1-S (H) neck pickup
ACH2-S (H) bridge pickup
Hardware colour : Chrome
Colour: Transparent Cherry (TCR), Black (BK)
Art Series ART90-TRF
ART mahogany set-in neck
Mahogany body
Medium frets
ART-1 bridge
Full Tune III tailpiece
ACH-ST (H) neck pickup
ACH-ST (H) bridge pickup
Hardware colour : Chrome
Colour: Transparent Red Flat (TRF)
DN300
DN mahogany set-in neck
Mahogany body
Medium frets
Full Tune III bridge
Quick Change III tailpiece
ACH1-S (H) neck pickup
ACH2-S (H) bridge pickup
Hardware colour : Chrome
Colour: Black (BK)
FR320
3-piece Wizard III maple neck
Mahogany body
Jumbo frets
Tight End bridge
CCR1-V2 neck pickup
CCR2-V2 bridge pickup
Hardware colour : Chrome
Colour: White (WH), Black (BK)
GRG140
GRG neck
Die-cast machineheads
Mahogany body
Medium frets
FAT10 bridge
STDS (S) neck pickup
STDS (S) mid pickup
STDH2 (H) bridge pickup
HW colour: Chrome
Colour: Sunburst (SB), Black Night (BKN)
Artcore AFJ85-VSB
3-piece Artcore mahogany/maple set-in neck
Spruce top/flamed maple back & sides
ART-W wooden bridge/ VT06 tailpiece
ACH1 (H) neck pickup
ACH2 (H) bridge pickup
Hardware colour: Gold
Sure Grip Knobs
Colour: Vintage Sunburst (VSB)
Artcore AFJ81-SRD
3-piece Artcore mahogany/maple set-in neck
Spruce top/flamed maple back & sides
ART-W wooden bridge/ VT04 wooden tailpiece
ACH1 (H) neck pickup
Hardware Colour: Gold
Sure Grip Knobs
Colour: Sunset Red (SRD)
Artcore AKJ85-VYS
3-piece Artcore mahogany/maple set-in neck
Flamed maple top/back/sides
ART-W wooden bridge/ VT06 tailpiece
ACH1 (H) neck pickup
ACH2 (H) bridge pickup
Hardware Colour: Chrome
Sure Grip Knobs
Colour: Vintage Yellow Sunburst (VYS)
LGB300-VYS George Benson Signature Model
3-piece LGB Maple set-in neck
Spruce top/maple back & sides
Ebony bridge
LGB300 tailpiece
Super 58 (H) neck pickup
Super 58 (H) bridge pickup
Hardware colour: Gold
Body Depth: 80mm at tail
Colour : VYS (Vintage Yellow Sunburst)