Ghost's Nameless Ghoul talks picking Papas, playing Gibson RD guitars and new album Meliora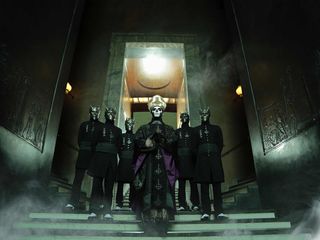 Introduction
Back in May, late-night TV viewers catching a VH1 showing of the comedy classic Caddyshack must have thought that their remotes accidentally clicked over to cable access when a strange and mysterious commercial aired, announcing, of all things, the return of the masked band Ghost.
In the spot, the mostly unseen Swedish metallers are seated at a table while getting a lecture from a stern, elderly female authority figure who chastises the band for their failings: "No churches overthrown. No governments toppled. No world leaders converted to the cause. You're terrible salesmen. It's a disgrace." (She does preface her condemnations with some positives: "Two albums, one gold - these are respectable numbers.")
At the end of her speech, the woman presents the band with new masks before introducing their new frontman, Papa Emeritus III, whom she notes is "three months younger" than his brother and predecessor, the recently retired Papa Emeritus II ("a wounded, bitter old man - he's washed up").
"She was a feisty one," says the band's lead guitarist, chief songwriter and all-around head Nameless Ghoul (for the uninitiated, all the members of Ghost are called Nameless Ghouls). "She's kind of like one of those big wigs who doesn't deal with the small merkins that often. For us, it was like seeing a big merkin in action. She gave us our marching orders."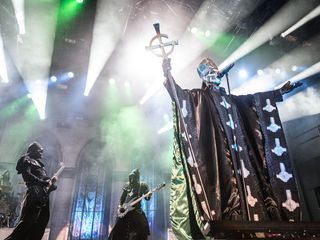 Picking Papas
Is there any kind of special audition process for picking a new Papa Emeritus?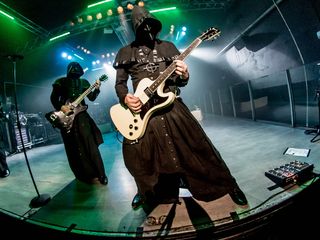 RD team
Let's talk guitars. Are you still working with the Gibson RD model?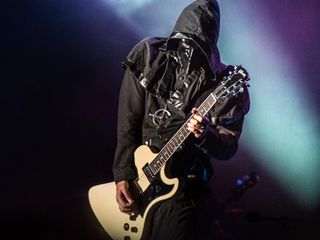 Producing Meliora
Why didn't you work with producer Nick Raskulinecz again, and how did you choose Klas Åhlund to do the new record?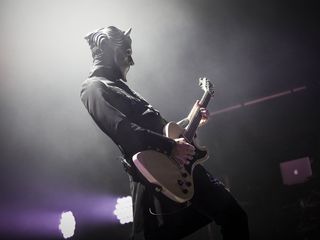 Ghost stories
Let's talk about some of the new songs. I was surprised to learn that you wanted Cirice to have no chorus, yet it's your lead track - and it has a strong chorus.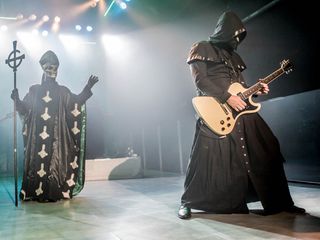 Ghost town
You guys have toured with bands like Mastodon, Avenged Sevenfold, Opeth... Do they behave differently around you than they might with other bands?