Everything Everything talk latest album Get To Heaven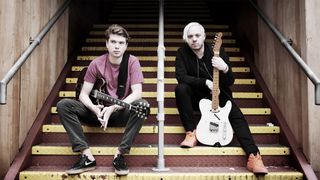 Introduction
They studied jazz, write on laptops and don't care about tone. Meet Jonathan Higgs and Alex Robertshaw, the guitar players who are making pop progressive…
Ridiculously-schooled musicians, raised on 90s rock, making adventurous synth-laden pop tunes. You might not expect those ingredients to make a great band, but Everything Everything are far from your average bunch of kids with guitars.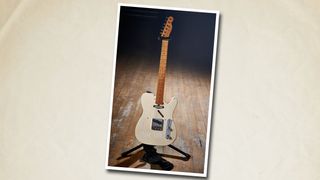 Gateway bands
When did guitar first come into your lives?
Alex: "It was through listening to bands in my early teens, the music my older brothers played. Rage Against The Machine, Nirvana, Blood Sugar Sex Magik by the Chili Peppers. Blur and Radiohead came a little later."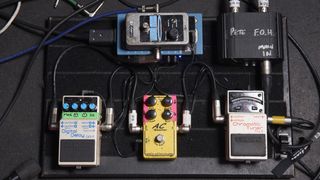 Space-saving playing
How much of a game changer was Radiohead for you, guitar-wise?
Jon: "I really hear Jonny Greenwood and his attitude in Alex's playing. Radiohead aren't establishment tech-y, they're anarchic tech-y. They make stuff and break stuff, which I really like, and he does that with a guitar. It's not about pristine tone, it's all about making something you've never heard before."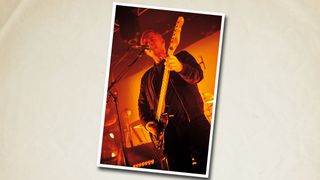 Anti-jangle jams
You're certainly not your typical four-piece British guitar band...
Jon: "We grew up while the whole Oasis Britpop thing was happening and we got the tail-end of the Libertines when we were forming the band and it put us off that jangly, full sound. We wanted to be much meaner and leaner.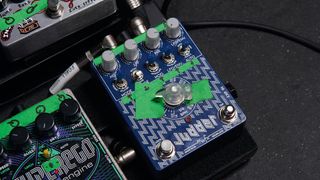 Judder time
Regret is an interesting guitar track on the new record; the guitar part really moves the song.
Jon: "Dude, that is a terrible guitar track! I wrote that tune, it was a simple thing I used to sing around the house because it's so dumb. It was a case of playing it out really standardly on these off beats.
"We recorded it and it was quite retro and not like us, it wasn't very forward-looking and we wanted to shake it up so we got this middle eight and we encouraged Alex to play all over it and ruin it. He did that using his [MWFX] Judder pedal, with this really horrible kind of snarling tone.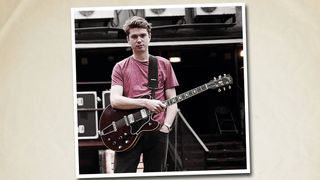 Reckless writing
Are you able to do that often? That reckless abandon feel seems pivotal to this band.
Jon: "In the past it was no because we had these complex songs and we stuck to our guns regimentally and we had to stick to the rules otherwise we would fuck everything up. On this record we set aside whole sections of songs where we told Alex to do what the fuck he wanted.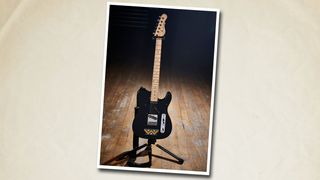 WWGCD?
That solo is a fantastic guitar moment, but not what you would call a fantastic piece of playing, perhaps!
Jon: "The end of Get To Heaven is just really bad guitar playing for a moment, which is funny knowing how really good Alex is. That's his opportunity to shine and he does this really shit solo on purpose with a not very good tone and it was recorded in a hotel room. We tried it again through some amps but it sounded too good! If it was this great solo it would be horrible."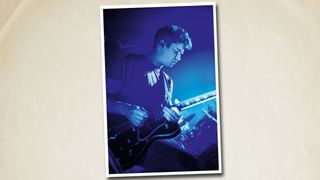 Better playing through listening
Does that sum up the feel of the band - it's not perfect but it is emotion-packed?
Jon: "We are highly trained in music and know what we're doing, but it's so important to realise that isn't the be all and end all and know when to throw all of that away. If the music is all one colour then you can't see anything."
It's been five years since you released your debut album. How have you evolved as guitarists since then?