Doug Pinnick talks bass roots, King's X and making KXM's Scatterbrain
Introduction
Take three musicians from three bands, put them together in the studio, and the end result is "like cooking spaghetti," according to KXM bassist/vocalist Doug Pinnick. "You put the ingredients in, stir it up, and what comes out hopefully tastes good."
Pinnick (King's X), guitarist George Lynch (Lynch Mob), and drummer Ray Luzier (Korn) put their ingredients together the old-fashioned way for KXM's new album, Scatterbrain.
They gathered at Steakhouse Studio in North Hollywood, California, with engineer Chris Collier, who worked on the trio's 2014 self-titled debut, to work out parts and create songs. No sending files back and forth, no pre-production, just musicians in a room. The process was both challenging and rewarding.
"Creating something out of nothing is the challenge," says Pinnick. "When we get something we like, and other people like it, that's the reward. We don't purposely get together to do demos, bring them in, and work.
"The whole thing is to have a good time with no pressure, and as a result, this is what we got. We go in, start working on a song, and within an hour we've got it and move on to the next. There's no real way to make music. You just have to dive in.
"The challenge is fun, but it also gets easier and quicker," he adds. "You come up with a riff and you've got a song. When I was a lot younger, you'd come up with a riff and then you'd argue over it, figuring out 'is this good, is this not?'
"You'd get insecure about it; you'd look for approval and all that kind of stuff. But we're older now. We have our own respective bands, our own lives, and we just want to have a good time."
Pinnick recorded his bass parts using his signature Schecter four-string, his 12-string, and on two tracks, Noises In The Sky and Not A Single Word, his five-string.
"I don't normally use the five-string," he says, "but it's all about experimenting, so I thought, 'I'll give this a try'. I was surprised at how much I enjoyed it. It's been 10 or even 15 years since I played the 12-string, but lately I've been pulling it out again, and I decided to incorporate it. It's a different animal, but it's inspirational."
His signature model, the Baron-H, went through three prototypes. "The first one was a stock model of the Schecter Diamond bass," he says. "I really liked it, so they gave me two of them and I played them for a while.
"Then they said, 'How about we make a Doug bass?' I said, 'I want this style, the Diamond bass, and I wanted the neck just a little bit longer, because I play tuned down a lot, and the longer the neck, the more it holds the low tuning'. So it's a tiny bit longer than other basses.
"Other than that, it's pretty normal. It's got the standard Seymour Duncan pickups, and it has one knob because I don't use tone controls. I use volume up and volume down, and that's it. It's a light bass because it's got an F-hole. It's light, but it's balanced."
Signature tones
Pinnick has used DR strings exclusively for more than 20 years. His attack is strong, hard, and groove-oriented.
"I play with a pick most of the time," he says. "Sometimes I use my fingers, if I'm playing blues or something soulful that requires a different touch. When I saw Chris Squire play with a pick, I thought, 'I guess that's how you get that tone', so I grabbed a pick about three years into playing bass. That's what I was looking for at the time, and I stuck with it."
His Tech 21 Signature Ultra Bass 1000 amp figures prominently on Scatterbrain. "The amp has a lot of high end and distortion with low end at the same time," he says.
"It's two different amp sounds blended into one. With King's X, I go back and forth. There are times when I don't want the high-end signature sound; I just want the normal bass sound. So my amp is built to go to that. I don't mic any bass when I'm recording. It's all straight out of the back. It makes me sound live, and there's no need for me to mic my bass at all. I plug in and I go.
"All the other amps I used would get my sound, but there were so many signals going and EQs and compressors. I had probably nine or 10 things in a rack, and there were always problems with wiring and things breaking down. Tech 21 said, 'What do you want?' I said, 'Can you make a small amp I can put into a rack that sounds like that?' They said, 'We can do that'. It took us two years to figure it out."
When he's not busy with King's X or KXM, Pinnick keeps his calendar full with other projects. His blues group, Grinder Blues, is mixing their second record; he's writing songs for a solo album; and he's readying the release of a long-awaited Hendrix tribute disc. There's also a King's X album in the works.
"We're definitely going to make a record," he says. "We don't have any real information at the moment, but we're meeting to finalise exactly how that's going to happen."
The connecting thread in all of Pinnick's output is the musical triumvirate of his childhood: gospel, R&B, and hard rock. He grew up in Joliet, Illinois, where he was raised by his devout great-grandmother, and spent his formative years exploring a diverse range of artists, from Mahalia Jackson to Ray Charles, Stevie Wonder, Jimi Hendrix, and the church choirs that were an integral part of his upbringing.
At the age of five, he heard Frankie Lymon & The Teenagers' 'Why Do Fools Fall In Love'. It was a pivotal moment. "I was drawn to the bass-line," he says. "It was all I remembered, and from that point on, out of everything I listened to, I listened to the bass more than anything else. I became obsessed with the low-end volume of it. I immersed myself in it."
Pinnick also began singing, winning contests for his rendition of 'Blue Moon'. His elementary school music teachers recognised his talent. "They would make me sit in different choir sections and sing the parts so that the other kids could stay in pitch," he says. He eventually began performing with local bands, and aged 23, when a friend loaned him a bass that he never returned, his musical horizons expanded again. "The 70s were my most impressionable time when it came to playing music," he says. "That's when I started playing bass and really listening to bands like Led Zeppelin and Deep Purple. I noticed that they were all trying to emulate soul music; they were just playing it harder. It was like coming full circle."
He left Illinois for Missouri, where he landed a year-long gig with [acoustic singer-songwriter] Phil Keaggy, whose band included drummer Jerry Gaskill. From there, the two eventually formed King's X with guitarist Ty Tabor.
"People ask me, 'What's it like to make it and do what you do?' and 'How did it feel when you knew this was happening?'" he says. "And I say, 'I've been doing this all my life. I never thought about a beginning or an end'. Music is my dream, and it's an outlet for me, too. It's a way to express all the feelings that I have inside. It's something I've done so much, and that's what I love about the music I make. I don't let it turn into something that's going to cause me pain or upset me or disappoint me."
Finding love
A lifetime of introspection and questioning finally brought him to a place of peace five years ago.
"I looked back and said, 'This is who you are, this is what you've done, and this is what you've created, so stop struggling and just do it'," he says.
"I came to the conclusion that the world will not love you, but you will find some people that love what you do. That's when I stopped trying so hard to make music to be successful. There are enough people who love what I do to keep me believing in myself. Also, I stopped struggling monetarily. I'm not rich, but now I can go out, play, do my side projects, and pay my bills every month, and that's all I ever wanted to do."
"Like anybody else, I have my issues, I have my demons, I have my insecurities, and I have things that stopped me from being me. I finally grew up and became comfortable with who I am and everything I do. It's taken 60 years to get there. I look back now and wonder what the struggle was and what the fight was about being me. I'm content now.
"At 60 years old I realised that a lot of things I had been fighting and struggling with were just futile. I was just trying to change who I was. At 60 years old I looked around and said, 'You're old now. It's time to stop crying about your life, and tell the young audiences what an adventure they can have if they just step up to the plate'."
Pinnick's ongoing search for meaning and self is often reflected in his lyrics. "When I'm onstage, I'm pouring my heart out," he says. "It's scary sometimes, but at the same time, if I don't do it, I'm not happy, I don't feel peace, I don't feel like I'm doing anything with my life."
That vulnerability, he believes, is part of the reason King's X and KXM have such a loyal fanbase: audiences connect with the candour of human struggle more than with a rock star on a pedestal, claiming to lead a charmed life.
"I think we all want to be loved and feel like we're OK, and that's what I bring to the stage," he says, "but instead of going out there and trying to get it, I went out and gave it, and as a result, it came back in droves. I didn't realise until five or six years ago how much I was loved, how much people really appreciate what I do, and how it changed people's lives. I never paid attention to that kind of thing because I was too busy looking at myself, hating everything, and saying, 'I've got to make this better, better, better. I'm not good enough. I'm not good enough'."
"People relate to music in many different ways. Some of them find creativity, and that inspires them. Others listen to the words and relate to the ideas about the way we feel. Things that people don't want to talk about, or they're embarrassed to say anything about, I'll sing about to let them know they're not alone. Through the years I realised what is created through what I do, and so I realised it's a bit more important. It's way deeper than just the songs."
Scatterbrain is out now on Rat Pak Records.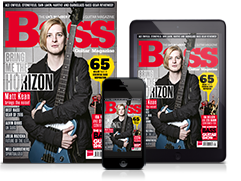 We're the UK's only print publication devoted to bass guitar.
Subscribe for star interviews, essential gear reviews and killer tuition!