Dan Maines talks Clutch, Psychic Warfare and tonal minimalism
Introduction
In their 26 years of playing together, Clutch have become one of the tightest forces in the world of music. Bassist Dan Maines invites Amit Sharma into the epicentre of their modern blues.
The wonders of technology have unlocked infinite possibilities for the modern-day bass player. Never have so many pedals been readily available - from handmade, boutique one-offs to mass-line affordables, along with all manner of modelling and profiling wizardry - all at the tips of our fingers. For a bassist like Dan Maines of Maryland blues rockers Clutch, however, the old ways are still the best…
"The only effect that I ever mess with is the wah pedal - that's it for me," he shrugs. "Even then, I use it quite minimally for a more profound impact, so it's noticeable when I do. I was using one made by Snarling Dogs, but recently I've gravitated towards the Dunlop bass wah.
"I've tried using different overdrives in the past, but I guess I've never really been happy with the effect in use with Clutch's music. I can get enough distortion from the amp and I try to avoid putting in anything that will take out the bottom end from my sound."
Plug in and play
This sense of minimalism extends across nearly all of Maines' approach as a member of Clutch.
Not many players at his level will stick to a single bass guitar for an entire set - but as Maines quite rightly points out, there's simply no point in over-egging things in a band that thrive on "pure rock fury", as the title of their best-known album has it. For him, it really is as plug-in-and-play as it gets.
"I don't really switch guitars during a set these days," says Maines. "I've been sticking with my Rickenbacker for a fair while now, which is a bit unusual for me as I used to switch guitars every year or so. It's a 4003 in Fireglo that I've slightly modified - I took out the original pickups and put in the humbuckers from the 4004 model.
"They're the same ones you would find in the Lemmy signature Rick. I've been using that bass for a good few years now, and I take advantage of its stereo output. I've got two different amp setups on stage, one for the lows and then another for the mids and highs."
He adds: "I've got a couple of those American Heritage SVT heads, which I use to power an 8x10 and then a 1x15. But when I'm overseas, Ampeg will help me out with some loaner gear. Whatever's available is what I'll end up using, but it'll be some form of SVT Classic. I like the new Heritage models, which are kinda like a throwback, or rather trying to replicate what they were producing in the States as most of the production moved overseas.
"It's like they've tried to create something that closely mimics some of the amplifiers they made in the 70s. They sound warm and the distortion sounds very natural. I've used solid-state amps over the years, or some that only have a tube pre-amp section, which were all good amps - but I don't think they'll ever be able to surpass what you get from a full tube SVT."
Bass backbone
Rather than overcomplicating the raw, organic, feel-good approach that epitomises much of Clutch's western blues, Maines' priorities lie more in bestowing the mother of all backbones.
Through that, the quartet have become one of the most dependable live forces in rock, apparently incapable of putting on a bad show or even having an off-night.
Clutch appeal to blues purists, stoner rockers, gospel lovers and heavy metal fans alike. It's a church of pentatonic riff-worship that has spread far and wide with no need for pyro or elaborate stage shows. This is a band which prefers to let the music do the talking.
"I'm not the kinda person that will throw a lot of flash around," he laughs. "I really try to focus on the drums and lock in as a rhythm section - I feel like my role in Clutch is to provide that solid foundation. Ultimately, it all depends on the band that you're in and what kind of music you are playing. In Clutch, it's all about trying to find and sit in that pocket."
Groove may often feel like one of the most overused words in music, but for Clutch - in particular when referring to Maines' contributions alongside sticksman Jean-Paul Gaster - few other terms feel worthy of their collective prowess. They've got one of the most telepathic connections in all the rhythm sections across the world. It's something Maines attributes to spending the last quarter of a century growing together, after initially meeting as teenage students of Maryland's Seneca Valley High School.
"That comes over time," he admits. "JP is the first drummer I played with in my formative years. I'd only just started playing when we met. I actually switched from guitar, which I played for a couple of years, but the guys needed a bassist so I quickly went out and bought one. I learned the instrument while jamming with the band, so, at least to me, it's pretty obvious why there's that one-brain connection between us."
Bruce way
Maines picked up his style from the 1960s psychedelic rock bands that soundtracked his life, gravitating towards players that served the song, rather than themselves. He explains:
"When I think about my earliest influences on the bass, it would be guys like Billy Cox with the Band Of Gypsys or Jack Bruce in Cream. They're both very locked in with the drums to create that strong foundation. I learned a lot from playing along to those songs.
"I don't just focus on the bassline, I listen to the melodies, drums, chord progressions and whatnot. That's really how you expand your musicality. It opens your eyes to different approaches."
The bassist also hails Jack Bruce as his biggest hero when it comes to tone - a musician who could perfectly complement what was going on in the band around him rather than distract from the overall theme. It makes perfect sense, because Clutch are in many ways the modern-day version of a band like Cream: a group built on endless jams in smoky basements, shuffling their way up and down the blues scale.
"Jack always struck me as someone that you could depend on for good tone," enthuses Maines. "That could have been a product of working with the producer Felix Pappalardi, who was a great bass player himself. The tone on the live albums, especially the first two, is incredible to my ears."
For Maines, Cream's traditional approach of true-live panning also mattered. "Dialling Jack Bruce in on the left and Eric Clapton on the right worked well, because they both had amazing sounds that really stood on their own. I would definitely use that as a model. It's a great starting point for any band out there wanting to go more old school. Other tones I'm fond of include Billy Cox, who always sounded very warm, as did Geezer Butler."
Four individuals
Two and a half decades in, it seems as if Clutch are far from done in their endeavours.
For them, there's plenty of riffs left to be unearthed, without any cause for the self-plagiarism that often plagues the blues. So what's the secret to their endless tap of earth rockin' grooves?
"As a band, we've always tried to do something fresh for us," offers Maines. "When we're writing songs, the first thing we want to do is discard whatever we did on the previous record. We have to set it apart from what came before.
"There's a pretty diverse pool of musical influences that we all bring into our music. If I had to break it down, I'm very European blues, JP presents things from more of a jazz approach, Tim [Sult, guitars] is kinda like the resident metal guy.
"Although I try to inject elements of funk and more, I want to mash all my influences into my sound," he concludes. "This band has a unique chemistry, which we discovered very early on. The songs we hash out together as a group are always the most interesting.
"When I'm sitting at home collecting the riffs I've written, I don't spend much time trying to put the ideas into a cohesive song structure. I'd rather present the ideas to the guys and have it come together organically as a group. That's what I enjoy most about Clutch - it really is the product of four individuals."
Psychic Warfare is out now.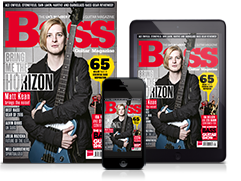 We're the UK's only print publication devoted to bass guitar.
Subscribe for star interviews, essential gear reviews and killer tuition!