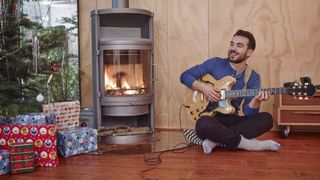 Oh, how predictable: it's that time of year again. Yes, holidays are fast approaching, which means 'tis the season to cram those digital shopping carts full of carefully chosen/panic-bought goodies for your friends and family.
But what if one of said F&F is a guitarist - what in the world do you get them? And what if you yourself are the guitarist, and nobody who loves you understands what the heck to get you?
Well, panic no more, for we are here to hone your present-buying instincts and give you a host of ideas that are sure to please the axe maniac in your life.
Ahead, you'll find a round-up of the most exciting new guitar 'things' to land this year - most of them reasonably priced - as well as a host of miscellaneous goodies.
So, get those credit cards ready, and let's get started…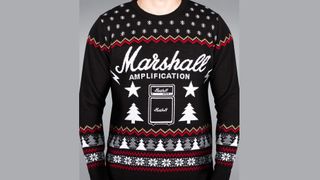 Marshall Christmas jumper
Forget stacks of presents; what every guitarist really wants is a half-stack on a festive sweater. And UK amp legend Marshall has kindly obliged with this snazzy black-and-red number.
Available from Marshall's online store, the design is unisex and made in England, plus the price tag includes a donation to charity, so the lucky recipient can feel warm and fuzzy on the inside, as well as the outside.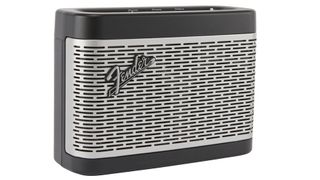 Fender Newport Bluetooth Speaker
Fender waded into the Bluetooth streaming waters this year with this classy-looking portable speaker.
The Newport channels Fender's classic silverface amp look, boasting a metal grille and volume, bass and treble knobs, plus a blue LED amp jewel light. 12 hours of juice is on offer courtesy of a lithium-ion battery, while the speaker delivers 30W output from two full-range drivers matched to a tweeter.
There's support for aptX and AAC audio signals, as well as an aux input, while full telephony and echo cancellation are also onboard. There's even a USB port to charge phones and tablets!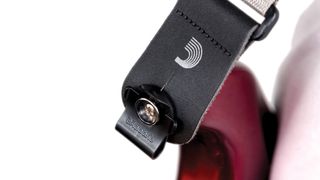 D'Addario Dual-Lock Strap Lock
Every guitarist needs a pair of strap locks, and D'Addario's nifty Dual-Locks clock in with one of the lowest price tags on the market, yet still keep your axe secure on your strap.
There's no modification required with these: just clip them onto your existing strap button to stop the strap flying off mid-set.
You can also clip the Lock onto your guitar cable, preventing it being ripped out of your input jack when your singer trips over it. Indispensable!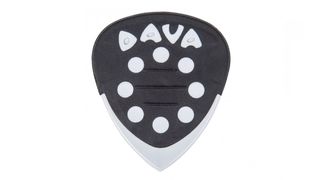 Dava Power Grips
Picks don't get much more versatile than Dava's, and make a surefire stocking filler winner.
If you're not familiar with the Dava concept, the company's plecs allow you to switch between the feel of a soft-gauge for rhythm playing to a hard-gauge for leads, all while playing, thanks to a flexible core and reinforced tip.
The latest tweak to the successful formula is the Power Grip, which offers a thicker, heavy-duty feel, paired with the company's signature rubber grip. If you've never tried Dava plecs before, these are a great gateway into their adaptable world.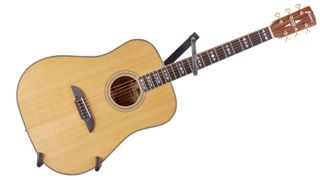 Warwick RockStand Wall Hanger
Run out of room on the floor but don't want your guitar hanging by its headstock on the wall? Good news! RockStand has developed a new solution, which secures your beloved guitar sideways.
The stand is available in different versions for electric, acoustic and bass guitars, and offers foam padding for protection, as well as seven different positions for the crossbar, so it'll fit your Strat just as well as your Les Paul.
Warwick don't recommend you use it with any nitrocellulose-finished guitars, but the whole package is affordable and promises to be easy to put together. It works just fine for left-handed guitars, too!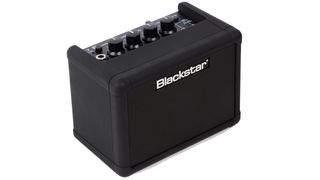 Blackstar Fly 3 Bluetooth
Expanding on the much-loved Fly 3 mini amp, the Fly 3 Bluetooth adds – you guessed it – Bluetooth connectivity to the format, emphasising its ability to function as a music speaker.
Elsewhere, the amp retains the same two channels, ISF tone-shaping, 'tape' delay effect, plus emulated line out and mp3 in.
A three-inch speaker produces the tones, while the amp can be powered by six AA batteries or an external power supply (available separately) – there's also the option to add the Fly 103 extension cabinet for a 6W stereo setup.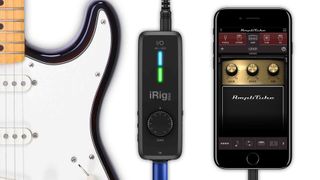 IK Multimedia iRig Pro I/O
For anyone serious about recording across PC, Mac, iOS and Android hardware, the iRig Pro I/O is the answer, boasting top-notch 24-bit/96kHz audio and a Neutrik XLR/1/4-inch combo input.
There's also a headphones output with its own level control (useful for iPhone 7 owners), and if you plug in the optional DC power supply (the iRig Pro I/O also runs on batteries) you'll be able to charge your iOS device as you make music.
When connected to a PC or Mac, the device is powered over USB. The iRig Pro I/O even comes with a bundle of IK Multimedia software for desktop and mobile worth over €500.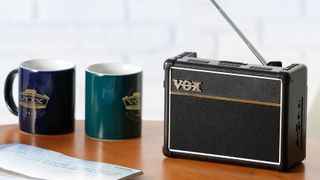 Vox AC30 Radio
Following in the footsteps of Marshall and Roland, Vox has launched its own radio and portable speaker with the company's classic AC30 styling. What's more, it's got a clock and alarm function. But then you'd hope it would for the asking price of £65.
Unusually in today's digital age, it's an old-school AM/FM device, but it does boast a search function, as well as an aux input and headphone output. The radio delivers a 2W output via two 3" speakers, and operates on six AA batteries.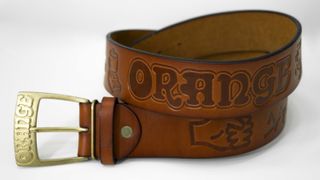 Orange embossed brown leather belt
When Orange builds a new amp, you can always expect two things: it will have rock-solid build quality and it will be loud. The same goes for apparel, as the Brit amp legend turns its hand to belts.
This genuine leather offering is 4.5cm wide, and embossed with Orange's iconic hieroglyphs and 'Pics Only' logo, all the way along the 127cm length. Even better, the brass-coloured buckle also boasts the classic design.
Nobody will ever ask your preferred choice of backline with this baby on.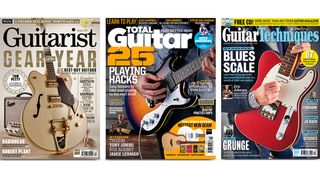 Magazine subscription
MusicRadar is, of course, the online home of three of the world's most beloved guitar magazines, and we'd be remiss not to remind you to subscribe to these beautiful publications.
Huge savings are available on each of the mags, so point your browser the following ways to snag a bargain: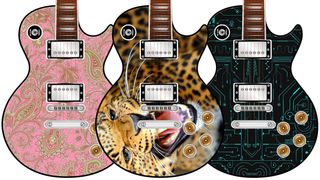 Axe Decals
Anyone seeking the most outlandish possible look for their guitar will have their eyes very much popped by Axe Decals.
The company's premium guitar skins come in a host of flavours, from abstract designs to animal prints and videogame/film references.
A variety of sizes mean they fit most major body shapes – including acoustics! The hi-res print is made from air-free wrap film to prevent bubbles during application, so it'll have your guitar looking more outrageous than ever in no time; Axe Decals reckon an hour should do it, giving you a good 10 years of decal life.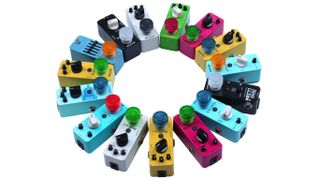 Mooer Footswitch Toppers
Pedal hippies who have sold their shoes to pay for more effects know the pains of toeing a true bypass pedal barefoot, and to those of you, we present Mooer's Footswitch Toppers.
The Toppers simply slot onto the footswitches of your 3PDT-switched pedals and provide a far less agonising barefoot switching experience. They're also useful for accessing switches on an upper row of a pedalboard or for colour-coding groups of pedals.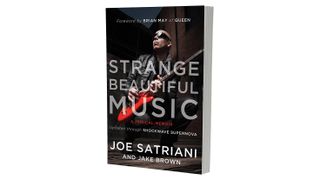 Strange Beautiful Music: A Musical Memoir by Joe Satriani and Jake Brown
Die-hard Satch fans will want to snap up this exhaustive look at the shred legend's three-decade-plus career, which charts his rise from guitar teacher to icon of the instrument.
Featuring commentary from the likes of Sammy Hagar, Steve Vai and Kirk Hammett, this newly released paperback version also documents 2015 album Shockwave Supernova, and upcoming record, What Happens Next.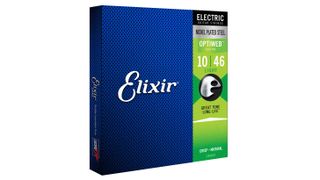 Elixir Optiweb strings
The coated string experts at Elixir unveiled their latest advancement, and the resultant Optiweb is well worth popping into electric guitarists' stockings.
It's a lightweight coating that promises to provide long-lasting tone while sounding indistinguishable from uncoated strings, plus it protects strings from the elements for a longer tone life while allowing them to vibrate with less damping, to retain a crisp tone with a natural feel.
The strings are available in Super Light (9-42), Custom Light (9-46), Light (10-46), Light/Heavy (10-52), and Medium (11-49) gauge sets.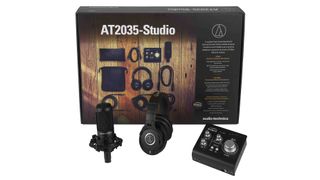 Audio-Technica/Audient AT2035-Studio Essential Studio Kit
The good folk at Audio-Technica and Audient have teamed up to put together everything you or your loved one need to get started with recording with this nifty kit.
Audio-Technica throws in its perennially popular AT2035 large diaphragm cardioid condenser mic and ATH-M40x studio monitor headphones, paired with Audient's iD4 Black USB audio interface.
Not only does the set save you on the RRP, but £500 worth of Audient-curated free plugins, production tools and training are included to boot, with Eventide's Ultrachannel and Ultraverb plug-ins, Cubase LE and Cubasis LE2 (for iOS), free LANDR masters and two free courses, and £20 voucher for online audio educators Producertech.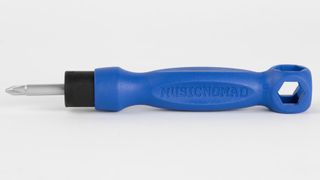 Music Nomad The Octopus
This handy tool is an all-in-one screwdriver, nut driver and hex wrench, designed to cater for all guitar rig needs - you can use it for everything from adjusting pickup height to tightening your output jack, control pots, tuning machine bushings, plus pedal and amp pots, too.
The screwdriver is reversible to provide both Phillips and flat-head tightening, while the whole lot is made with a strong ballistic nylon that won't scratch your hardware or finish.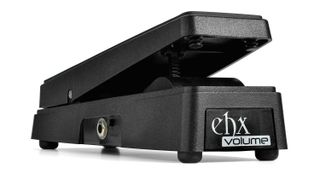 Electro-Harmonix Volume Pedal
A good volume pedal is always appreciated, and this latest effort from Electro-Harmonix is an absolute bargain.
The New York effects legend's "smooth-operating" offering features two impedances (25K or 250K) for both active and passive pickups, as well as keyboards and other electronic instruments, should you so desire.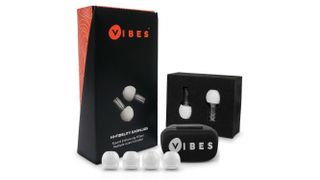 Vibes Hi-Fidelity Earplugs
We've said it before, and we'll say it again: your ears are the most important instruments you have, and if you're playing live with a band, you need a set of earplugs.
Vibes are designed for live music, bringing the volume down but without muffling the sound like cheaper foam 'plugs.
Three sizes of eartips are included, as is a hard plastic carrying case, while Vibes' clear design means no-one will notice they're in.
To top it all off, every purchase includes a donation to the Hear the World Foundation, which provides hearing healthcare to children in need. Good Vibes, indeed!