'Burst beaters: 6 contemporary LP Standard alternatives
PRS SE Bernie Marsden 2017 LTD
You're not going to buy a late 50s 'Burst anytime soon, so what are some more realistic contemporary options? We take a look…
PRS SE Bernie Marsden 2017 LTD
MSRP: £799
This latest Europe-only version for of Bernie's SE - which was originally spec'd from his 'Beast' - features a new satin neck and is available in three colours. The thick-bodied 24.5-inch scale, Koreanmade SE 245 style signature features SE 245 Treble and Bass humbuckers, a volume for each, plus a master tone control. If it's good enough for Bernie…
PRS McCarty SC 594
MSRP: £3,835
Hot on the heels of the double-cut McCarty 594, this single-cut SC really chases a vintage vibe wrapped up in PRS's ultra-detailed style. The PRS 58/15LT pickups offer a clear PAF-inspired voicing and there are numerous options from 10-tops to Artist packs. Production guitars don't get better than this.
Eastman SB 59/V
MSRP: £1,769
In its Antique Varnish French polish fi nish this Chinese-made single-cut looks like a relic from the past and powered by Seymour Duncan Antiquities it sounds like one too. There's also a 'clean' nitro version (£1,399) if you prefer with covered Duncan '59s. It's probably the most 'Burst like construct we've played at this price level. Recommended.
Patrick James Eggle Macon Single Cut
MSRP: £4,200
The Macron had reviewer Neville Marten asking if we could score it 11 out of 10! "I wouldn't presume to improve upon a Les Paul," said Patrick but if you want that style but in the epitome of modern boutique craft then, well, he probably has. Lots of custom options too. Absolutely top drawer.
Gibson Les Paul Standard 2017
MSRP: £2,299
As the 2018 models have already hit our stores, the 2017 LP Standard is still available at some pretty bargain prices. It's a lot of guitar for the money with Burstbucker Pro and Lead pickups, coil-taps, out-of-phase, bypass modes and Ultra-Modern weight relief, and of course the name. Not to be sniffed at.
Knaggs Doug Rappaport Kenai
MSRP: £3,890
A contemporary take on the Les Paul from US boutique maker Knaggs. This Doug Rappaport signature houses a Seymour Duncan Jazz and Custom Shop '78, with Knaggs proprietary Influence bridge and satin nitro finish. Standard Tier 3 Kenais start well under £3k. If it's sound and playability you hanker after, it's hard to find better.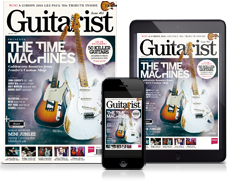 The magazine for serious players
Subscribe and save today!