Brent Cobb talks new album Shine On Rainy Day
Introduction
The songwriter and producer team of Brent and his cousin Dave represent an old-school revival in country that we want to get onboard with.
They say there's no such thing as an overnight success, but you'd be forgiven for thinking Brent Cobb is a new face on the country scene with a brilliantly assured debut in Shine On Rainy Day. Except this is actually his second album, and his first was 11 years ago…
"I was writing and touring but I didn't take a break from the road until the birth of my first child in 2014," explains Georgia-raised Brent on his decade between records. "Then I took a break and just focused on writing and being around the house. That was when Dave called about Southern Family. And once we got back in the studio, I found the magic hadn't left."
If the name Dave Cobb rings a bell it's because he's the hottest producer in Nashville right now - Sturgill Simpson, Chris Stapleton, Jason Isbell and Rival Sons all count him as a collaborator and friend, creating modern classics together.
He's also Brent's cousin, producing that first album, No Place Left To Leave, in 2006 that didn't take off. But Brent eventually ended up with a writing deal, penning songs for huge Nashville stars including Luke Bryan, Kenny Chesney, Miranda Lambert and Little Big Town.
"Even when I'm technically writing for other people I can still only write for myself," he admits. "Every song I write sort of lends itself to me as an artist."
Shine On Rainy Day
Brent's sound is soulful, old-school country without any of the pretensions - imagine if James Taylor or Paul Simon had been Southern boys.
So when Dave was making the aforementioned Southern Family last year - a compilation that featured Isbell, Stapleton and many others, he called Brent to get involved.
His song for it, Down Home, kick-started Brent's second chance at a performing career and the album that's followed points to a great future.
Shine On Rainy Day reflects an affinity between the cousins that really flows in the dynamics of Brent's J-45 acoustic strumming (a vintage model borrowed from his cousin's studio arsenal) with Dave's complimentary laid back electric phased tones.
"It's only confirmed my belief that music is a spiritual thing," explains Brent. "You can learn it but it's also in your blood. Dave and I didn't grow up together but we work just the same in the studio. He produces in the way that I write. We love similar records - if you go back to early Willie Nelson, how spacey it was. We both love his stuff. And Larry Jon Wilson, that kind of country funk and acoustic-driven."
This is outlaw country free of posture and ceremony, rooted in Brent's upbringing and leaving space for his music to breathe; "When the songs are there you don't have to put a whole lot of stuff around them."
He's also mining the history of his Georgia home town, Americus, and the Cobb family annals on the album - with tales of moonshine and redemption in abundance.
"I didn't know until it was finished that I'd pretty much written a love letter to my home town," laughs Brent. "It's definitely a personal experience."
Country Bound
One of the album's highlights is the feel-good Country Bound, the only one without Brent on the credits but with very close connections.
"My dad wrote that song with my uncle, when I was five years old. My mum is from Cleveland, Ohio and we were there for Christmas one year and I remember the song being written because it was also the moment I saw snow for the first time… we didn't get a whole lot of snow in south Georgia."
He's since had the honour of performing the song with his proud father Patrick in the sacred Nashville spaces of the Grand Ole Opry and Ryman Auditorium. And we get the feeling Brent's own songs are going to be aired there in the future too, especially with his old school inclusive approach to writing.
"I just want anybody and everybody to record anything and everything. Back in the day it seemed like there would be seven different versions of the same song in the same year."
And although as a performer touring in a four-piece it feels like second time is the charm, he's not taking any of it for granted, and we suspect his take on country is the kind that would just pour out of his heart and soul regardless.
"I still wonder," laughs Brent on whether he ever had his doubts about his solo career. "It's working out right now. But I always knew, even if I moved back home to Georgia, maybe I wouldn't get paid to write songs or play them but I'd always perform."
Shine On Rainy Day is out now.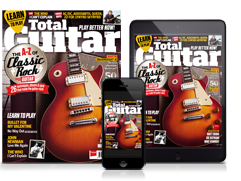 Stay up to date with the latest gear and tuition.
Subscribe and save today!