Black Peaks and Heck talk live gymnastics, tour stories and toasties
Introduction
Black Peaks and Heck are two of the best new live bands around. They sat down to tell us how the battle to win crowds over can shape a guitarist...
Some things have changed for us music lovers - from vinyl to the cassette, compact disc to mp3, streaming and back again, the way we consume evolves. But for guitarists stepping onto the stage, the best connection we can make with a potential fanbase remains as primitive as ever; all the way from the days of Django to Jimi and Kurt to Biffy. Because if you can't bring it live, how can you expect anyone to believe in your music?
But learning that craft is an apprenticeship that can take time and toil, so we wanted to do a little field work and pick up some tips. Black Peaks and Heck are two of the best young live acts in rock right now; the former a Brighton four-piece whose guitarist, Joe Gosney, is channeling dark progressive influences to create a monolithic sound, the latter a Nottingham outfit (formerly known as Baby Godzilla) are the kind of sonic deviants your mother warned you about; a whirlwind of orchestrated chaos conducted by Matt Reynolds and Jonny Hall that spins on and off the stage, and nearly through the walls of every venue they play.
With both putting out their debut albums last year and amalgamating their ever-expanding fanbases with a joint tour, we thought it was the ideal time to find out what it really takes to survive and thrive on the live stage these days.
Live wires
You've all been gigging from an early age, how much did playing live impact on your development as players?
Jonny: "I play guitar because I enjoy playing songs with my friends in a band. I could sit playing at home for hours and I'd never enjoy it anywhere near as much as on a stage. I think that's why I never developed as a technical guitarist in the ways that other people do.
"I never took much interest learning to do something I wouldn't be able to do live. If I'm playing live, and I'm jumping over someone, I'm not going to be able to do sweeping at the same time."
Matt: "I think the way we perform live really affects the way we write. With a mind to how it's going to come across in a live environment and how it's going to be possible. That does effect how you master techniques. Our songs have quite a bit of legato and tapping, and you kind of find a new way of doing that where you can have the guitar and be swinging it around, which wouldn't be the same if you were sat in your room."
Joe: "There's a massive divide between the bedroom guitarist and people who just want to play live. There's a lot of people who take a lot of pride out of getting shit hot at playing sweep picking and stuff like that. But it's about being able to express that live. I couldn't write a song unless I knew there was going to be three other people I could play that to in a rehearsal room and feed off. There's no inspiration to do that without having the goal to play live."
So would you say getting out there and gigging really develops a guitarist in a way that they couldn't otherwise?
Matt: "I think it teaches you so much more than you'd ever learn usually. Watching videos and stuff is great but I think I've learned 75 per cent of how I play guitar from gigging extensively for the last seven or eight years."
Joe: "It's not just playing either. It's the old troubleshooting because if something can go wrong at some point it will do. And it's being able to think on your feet and figure out ways to not break shit."
Jonny: "I've got a friend whose band had to pull a song from their encore because the guitarist's intonation went out. And he said, 'I couldn't play it because all my solos would be out of tune' and I said, 'Well, my intonation is always out!' [everyone laughs] and everything I play is in tune because you'll learn. You develop your ear and if something goes wrong you'll fix it on the fly, you bend everything in [pitch] and it's fine."
Matt: "I think that's why playing live is so exciting, because everything and anything will go wrong but it's so instant and transient. It happens in a flash and you haven't got time to think, 'If this lead is in the wrong place or my intonation is out…' No, you bodge it - you get the duct tape, wrap it around and finish the set."
Roll tonight, to the guitar bite
Heck are pretty animated onstage to say the least. What things tend to need fixing on the road most often?
Jonny: "Gluing necks back on, I've shattered volume pots a few times where you have to rewire them. My spare guitar hasn't got any knobs on anymore, it's just pickup to output."
Matt: "We learned early on to take everything off the guitar that would fall off . We don't have pickup selectors, we don't have volume knobs - it's one more thing to not go wrong if it's not there. Take it out of the system completely."
Jonny: "And machine heads. We need lots of spare machine heads."
Matt: "And every time you break a guitar in two, take the machine heads off and put them in a bag. You will use them again. Salvage everything."
Joe: "We're so tame compared to you guys, 'Oh my pedalboard's dirty!'"
Jonny: "Your pedalboard is amazing though - it's so organized."
Joe: "But I don't know how it works so when it breaks, I break out in this really bad cold sweat."
Have you ever had to deal with any negativity or hostility at small gigs?
Matt: "Quite a bit early on. We were playing pubs and you'd always hear the alarm bells in your head when you see the stage is next to the bar and it's full of old men drinking pints of stout. So you knew it was going to be a hard one, but you would be doing yourself a disservice if you then shrugged away and were very apologetic about it.
"Even when we can sense the hostility it's always been important for us to black it out, and I think that's how we've got to the level of show that we do now. We tend not to consider what anyone's thinking about what we're doing because if we did we'd be fucking terrified every night. I definitely stood on pool tables and things when people were playing in the early years and had so much stick from old guys."
Jonny: "Remember that time in that place in Worksop?"
Matt: "That place in Worksop being a case in point. And there was a place in Trowbridge down near Bath called Pee Wees [Real Ale Bar] and it was the weirdest place to play."
Jonny: "There were loads of old men at the bar and by the end of it they were shouting along."
Matt: "It's about grabbing on to the one thing you can sense they like and knowing that's the thing you have to play on to win them over otherwise you're going to fall."
Audience engagement
What bands inspired you with their energy and commitment live?
Joe: "That's a good question because one of my favourite bands is Mastodon and I'd go and watch them and they hardly move onstage, but their music is so encapsulating. Tool are a similar one too, especially with Maynard stood at the back.
"Everyone's got their thing and it obviously works for those bands. Occasionally you'll go and watch a band and it's just… we watched a band the other night that could have moved a bit more, didn't we?"
Matt: "Yes. But movement is not the be all and end all. It's finding a way to convey energy in the music that you're playing that makes it look like you're excited about it. Which may be standing and making an enormous wall of noise without moving a muscle. But the way we've honed doing it is very much in our movements as well."
Jonny: "I don't think anyone would ever accuse Sunn O))) of being boring and they're not exactly running about the place. It's just about putting out the energy you have pent up inside you, in any way. Translating that somehow."
Joe: "You guys give the audience a reason to come back and watch you again because every time it feels like they weren't just watching four guys onstage, they were part of that. They had pretty much everyone in the venue on the stage the other night!"
Matt: "I wasn't too happy about that actually… it was just when all the cabs started to lean backwards and fall backwards to the back of the stage on top of Tom [Marsh, drums]…"
Jonny: "If I go to a gig I want to feel part of what's going on. Whether it's physically, emotionally or sonically; something taking you in and absorbing you. If I go to see Sigur Rós, I get absorbed into the soundscape. And our way of drawing people in is to physically drag them into it. Same principal, different method."
There is no money
It's harder than ever to make a living from being in a band. But there must be positives that keeps bands sticking at it for the right reasons…
Joe: "We're all loaded, aren't we? We have pedals made out of solid gold."
Matt: "It's kind of reassuring, because there's zero money in it, it means everyone that is playing is in it for the absolute passion for playing music. No one's taking home a pay cheque by the end of it. That kind of re-instills faith, to know that even at times when it can be soul crushing…
Joe: "You're doing it for the right reasons. That's so important."
Jonny: "And integrity keeps you warm at night." [everyone laughs]
What mistakes did you make when you first started gigging that you can look back on now?
Jonny: "I think my biggest mistake when I was younger was caring too much about precision because I used to want everything to be perfect. I joined what is now known as Heck quite early on and it was almost a bit of a rebellion against everything I'd ever done before, because I wanted the songs to be good live and I knew my limitations as a guitarist, but if anyone else messed up I used to get really frustrated. I cared too much about things being right but when you're out there, no one's going to notice these things.
"What I'd say to people is, make sure what you put out is true to yourself and resonates with people. If you don't nail the solo, no one's going to care. Four seconds later it's gone. It's more about the energy and personality you put out onstage that's going to win people over. As long as what you're doing is coming from inside you and your brain, it's going to be real."
Matt: "It does feel good when you nail the solo though doesn't it? [laughter]"
Jonny: "It does. But if you don't nail the solo, don't worry about it. There will be other times."
Hot and cold cheese sandwiches
Is there something to be said for just gigging as much as you can?
Joe: "There's a lot of bands that I see at the moment who are trying to pick the right gigs and do the right things at the right time, but yes, I think there's a lot to be said for just playing as much as you can. Because you're only ever going to learn if you're going out and playing a lot.
"And you will learn it live, and you will mess up, but that's fine. Like Jonny was saying, it's all about making those mistakes and just conveying the passion while you're playing. People will see that and have a good time."
Matt: "At the end of the day, mistakes are what makes your band your band. With pristine rock by numbers that has no mistakes and no soul there's nothing to hang on to there, nothing unique about that."
Joe: "You may as well listen to a CD."
Jonny: "Also, if you want to get anywhere you need to go out and earn it. Picking up on what Joe just said, there's a lot of bands that think there's an easy route but there isn't."
Matt: "Well if your parents have loads of money you can buy on to things."
Jonny: "There is that. But you go and play the gigs, you earn your fanbase, you earn the respect and appreciation of the people that watch you. Then you'll get to do more cool stuff . If you just expect people to like you and throw a wobbly if no one turns up at a gig, you haven't worked hard enough. Go and change it."
Matt: "We've all played gigs to two people. We played an all-dayer once where every band left and there were no people watching the bands anyway so we were playing to the soundman. Even though there were 10 bands that day, there was no one in that room. I just remember jumping around that room thinking, 'Yay we came to London to play a band practice and this cost us loads of money!"
Jonny: "If you can play the best show the soundman has ever seen then you're doing something right. Just go out and earn it. Eventually it will happen for you."
Joe: "That's so true, and it's like a filter as well. We're a new band and we're still getting used to all of this but you've got to work as hard as you can for it and it will filter out the people that don't really want it or think they can get it easily. They just won't last eating dry cheese sandwiches every night. It's not always amazing but if you keep doing it, it's always going to be fun."
Jonny: "The amazing bits make it worth it. Also, we brought a toastie maker on tour with us this time so we can eat hot cheese sandwiches!"
Matt: "Jonny said, 'Oh we can use this in the van.' There's nothing that goes hand in hand more than driving at pace down a motorway and molten cheese!"
Surviving guitarmageddon
How Heck's unusual Hofner guitars handle their live onslaught
Matt and Jonny's Hofners go through a lot through a tour. And we mean a lot - their necks and bodies frequently have open relationships.
There's a good reason why they pack a gas-powered soldering iron on tour, but keeping in tune while their guitars are flying in and out of the crowd is another matter. That's when they discovered a revelation; Evertune's mechanical bridges that use a spring and a lever for each string to keep them in tune.
"We used to be dire onstage," Matt says of their wobbly tuning days. Not now. "I've snapped my guitar in two before, screwed the neck back on and still been in tune. They're insane."
Jonny concurs. "They've bailed us out so many times," he explains. "The Evertune basically gives you a large tolerance in which you can stay in tune. You can knock your machine head and it stays in tune. The amount of times we've knocked our headstocks and not realised everything's moved and we're two tones flat.
"We were having to retune twice a song because of how much movement there was. And any break you'd have to go and tune. It allows us not to care. It's one less thing not to care about. And it means you can concentrate on simply playing a gig. I'm even going to go as far to say it's the single greatest invention in the universe. The automobile has absolutely fuck all on the Evertune."
Black Peaks' debut, Statues, and Heck's first album, Instructions are both available now.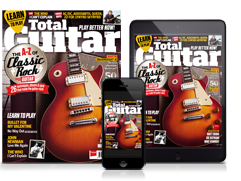 Stay up to date with the latest gear and tuition.
Subscribe and save today!