Andy Summers' 11 tips for guitarists
Introduction
As former Police guitarist Andy Summers returns with a new solo album, he has plenty of playing insight to share from a career rich in versatility.
Andy Summers is a very rare breed. A guitarist who is highly respected by fellow musicians while also being part of songs everyone in your house will know by heart. He was a third of power trio The Police, featuring the veteran jazz and blues guitarist alongside singer Gordon 'Sting' Sumner and drummer Stewart Copeland (like you didn't know that already), who became a massive commercial phenomenon throughout the 1980s.
Andy's shimmery tones with sus and add chords were a huge part of The Police's success, adding deep atmosphere to the trio's solid gold hits. He contributed to rock 'n' roll history but he wasn't a rock player and, since the band split in 1986, Andy has built a body of work that is the envy of any studio or stage musician.
It's culminated with Triboluminescence, his latest solo album. With a whole range of guitar vocabulary at his disposal, Andy is the perfect man to ask for advice about our noble instrument. Every little thing he does really is magic…
1. Sound advice
Treat recording guitars like painting
"When I write songs, first I find a guitar sound which I find really interesting, different or stimulating - something that I think is fairly exotic.
"Once I come up with something, I'll put it down for 16 bars and see if I can play anything over it. That could be another guitar part, or maybe I'll play drums to it and see if it starts to get me excited.
"There are many tracks I don't use, obviously. It's very much like a painter going into a studio and working on a canvas, and he keeps working away and rubbing everything out and putting some of it back.
"Eventually you get to a point where you think it's there. That's very much the story with the tracks on Triboluminescence. They've all been worked and reworked from several points, until I think they're where they should be. It's not arduous, because it's all great fun, but it takes time. Hopefully there's artistic talent involved, ha ha!"
2. Axe excess
Choose tried-and-trusted guitars to make your point
"I don't use a lot of different guitars, although I have a couple of hundred of them - which is ridiculous, I know, but that's just the way it goes because I've been doing this for a long time.
"I have a Stratocaster that is my working guitar. It's a great guitar, one that Fender made for me in 2008 when they copied my original 1963 Strat and made it even better. It's beautiful, and it's my standard guitar that I just pick up and work with.
"Depending on the track, I occasionally go for my other go-to guitar, a Les Paul. I've got two or three of them, which are real crackers. For years, I've used a Les Paul Junior for slide: it's a great-sounding one.
"I also have a variety of acoustic guitars. I tend to use an Andy Manson if I'm going to play acoustic. I've also got a little mini Martin with Nashville tuning - where the G string is tuned up an octave. It's a nice instrument to put on tracks because it has a beautiful, silvery quality, if used judiciously."
3. Find your attitude
Tone is a voice
"I'm a big believer in tone as a statement - it's very important to get an attitude into a tone.
"It gets you where you want to be. If you're not playing straight-ahead music because you're trying to push the envelope musically, and you want to be very hip, very street, very off the charts, then you have to search about for the tone. What attitude do you want in the music?
"I take some time over it. You select your colours from wherever you can get them, and build them into something that you can identify as a singular voice. There's a certain amount of technical know-how and artistic vision, all rolled into one, and it's all very painful!"
4. Pedal power
It's a new golden age of effects
"We're in a renaissance of guitar pedals, as it were, and it's pretty amazing these days. Effects are a serious deal, not a novelty, which they used to be.
"I have a vast array of the things, outside of the standard reverb or chorus or fuzz; I have all these weirdo pedals that I really like to use. It's so exciting. I absolutely encourage these guys who make them. I know a couple of kids who just work in their garage, making one pedal at a time, and I've had a couple of people make me pedals like that. Those are a real find when you can find them.
"I like to keep an ear to the ground: I went to the last NAMM show and there was a company out in Long Island making wonderful, bizarre shit that wasn't at all normal, which is what I'm interested in."
5. Keep it handy
You don't have to trample your effects underfoot
"In the studio it's usually just me and my engineer, and I feel very comfortable like that. I sit on my couch with a table set up in front of me, so I have my pedals right under my face, not on the floor by my feet. I can't see that far!
"No, I like them right under my hand, so I can move them about. I have eight or nine pedals on there and I switch them around and maybe add another one out of the store. I like to keep it very fluid."
6. Don't bore us… head to the chorus
The old Summers signature sound
"The chorus still sounds great on the old Police records - back then, it came mostly from Roland equipment. I've got several chorus pedals, including the Boss ones - they're still probably the best - but I get a little bit frustrated because they never seem to sound as good as they used to. I don't know why that is.
"I keep trying, though, and I usually go back to Boss. Still, chorus is a bit of a bugbear: I don't like to use a lot of it, because I think it sounds a bit old-fashioned. It's a bit of an era marker, so I tend to do without it. I'm looking for other sounds."
7. Amp evolution
Keeping your mind open to a little modelling
"The Roland JC-120 has still got the best chorus - in fact, Roland just dropped off a JC-140 the other day, which is also really nice - but my go-to amp is a Mesa/Boogie 2:Ninety [power amp], which I generally use with two sealed-back 2x12 cabinets. I have two of those and I use them live where possible.
"I've also got my Police stadium equipment, which is all Bob Bradshaw [of Custom Audio Electronics] and Mesa/Boogie cabinets. In the studio, I've got a couple of amps that I use in combination with certain guitars, but amp-modelling sounds are so bloody good now, so I tend to use either a Roland VG-99 Guitar System, which I've customised to my own specifics, or a Fractal Axe-Fx II.
"They're amazing. We're at a point now where you say to yourself, 'Do I really want to get up and walk six feet across the room and plug into an amp? This amp-modelling thing is so fucking good!' Once you've got it in the track alongside everything else, they're really hard to beat. You can even take a Fractal to a gig, program it and set it up."
8. Rhythm sticks
Don't be afraid to think outside the box
"There's all sorts of strange things on the new album. It's a combination of planning and just seeing what comes out of my fingers. There's a few tricks with detuned guitars.
"On the track Pukul Bunye Bunye there's a sound which makes you think, 'What the hell is that?' when you hear it. It's two guitars sitting on chairs, both in alternate tunings, with capos at the 12th fret, and I'm playing them with chopsticks. The sound becomes almost like a Balinese Gamelan orchestra in the background.
"Immediately, the guitar's got a lot of attitude and it's strange-sounding. The solo on top is a Strat tuned down a whole tone. The strings were really slack, but I liked the sound of the solo I played on it. I was lucky there."
9. Guitarist, know thyself
Time spent paying your dues is invaluable
"I started playing guitar when I was about 12, and the minute I was given one I never thought about anything else. That was it. I feel very fortunate in my life to have been given a guitar at a young age. I never thought about doing anything else.
"I never thought, 'Maybe I'll be a drummer', or anything like that. Once I got that guitar, I was locked. It's what I am, and who I am. My influences when I was a kid were absolutely jazz - I wanted to be Wes Montgomery or Kenny Burrell. I clearly remember the shows I played in the 1960s with Zoot Money.
"I played a lot of shows on the same stage as John Mayall, when Eric Clapton was in John's band, and then Peter Green after Eric. That's where all my phrasing comes from, and where I developed my ear for harmony, and to an extent it's where the suspended chords I used in The Police came from."
10 Sting in the tale
Why Andy's musical education paid off in the Police
"Sting, Stewart and I were three guys who were incredibly lucky to meet each other. We were all so different, but the combination of our musical ideas and talents and how we played against each other was so important.
"As we tried to release ourselves from the religious grip of punk, back in the late 70s, I obviously wasn't just going to play A and F#m with a distortion pedal - although we were definitely a rock band, so I was playing loud through a Fender Twin Reverb.
"I had a lot of other stuff going on. I'd spent several years playing classical guitar, and studied music, and taught and played piano, so I was a trained musician as well as being able to naturally play the blues. By the time I got to the Police, I was fully loaded!"
11. All that jazz
Follow your muse and forge your own path
"I've made much more advanced and complex music since The Police. I still think The Police were great: it was great pop music. It is what it is, you know, but I've done a lot of stuff since then that I think is my better work, to be honest.
"For a while I was making jazz records; I did a Thelonious Monk record [Green Chimneys, 1999], I did a Charles Mingus record [Peggy's Blue Skylight, 2000] and I've done my own jazz stuff. But now I feel I'm pushing into more experimental music. Triboluminescence is very much my voice."
Andy Summers' new album Triboluminescence is out now.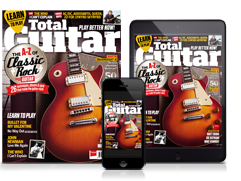 Stay up to date with the latest gear and tuition.
Subscribe and save today!