10 of the best budget bass guitars at £750/$900 or less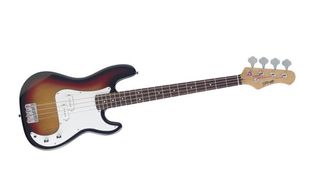 1. Stagg P300-SB (£129)
BASS WEEK: Stagg is one of a number of manufacturers that caters for new bassists who don't want to splurge hundreds of pounds on a potential hobby - so what can we expect for our money?
Well, the neck is surprisingly pleasing, with a stocky but inviting profile that makes the player want to get stuck in. The hardware naturally shows where corners have been most cut; the chrome machine heads, for example, are simply adequate. How does it actually sound?
Frankly we're shocked... by how good it sounds! Plugging in, the quality of the pickup becomes apparent from the start, exhibiting impressive sustain, a lively and throaty tonal character and a particularly pleasing slap tone.
MusicRadar's verdict:
"Familiar looks with a surprisingly punchy pickup."
3.5 out of 5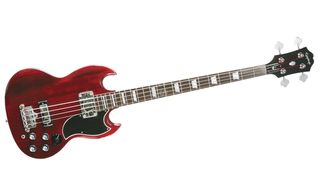 2. Epiphone EB-3 Price (£229)
The Gibson EB-3 bass rose to prominence in the 1960s in the hands of Jack Bruce, John Entwistle, Bill Wyman and other iconic bass players.
Its short scale and unique look were a winning combination, coupled with a rock tone that still impresses today. This new Epiphone model feels robust, but at 3.9 kilos, it's far from a heavy beast.
There is some noticeable headstock dive, although this is rectified once placed on a strap. The quality of the hardware is very good: the tuners turn smoothly, as do the controls, while the quick-release nature of the bridge is a bonus. Aesthetically, this is an impressive instrument.
MusicRadar's verdict:
"A great recreation of a classic bass design."
4 out of 5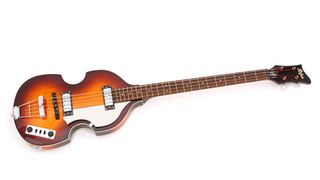 3. Hofner HI-BB Ignition (£230)
For a China-built bass, the Ignition's physical aspects and general dimensions feels authentic, although the instrument feels very light.
First impressions are that it should be handled with extreme care, but don't worry, it's not as fragile as it may seem - although the hollow body doesn't lend itself to onstage gymnastics.
The full C-shaped neck profile is welcoming, although the tight 15mm string spacing can feel a little cramped at first. However, this is offset by the 42mm nut width and 30" scale length. Unplugged, the semi-acoustic nature of this bass is obvious with a resonant top end that gives the Ignition a vibrant, lively character.
MusicRadar's verdict:
"Release your inner McCartney with this vintage reissue."
4 out of 5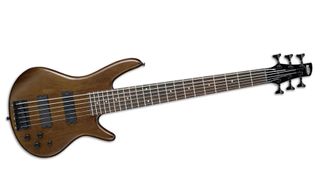 4. Ibanez GSR206B-WNF (£274)
Ibanez continues to make the unthinkable a possibility - and this six-string bass from the Gio Soundgear range pretty much blows what is possible on a budget out of the window.
Understandably, some of the gloss and extra features of pricier models have had to make way, but glancing at the spec sheet, Ibanez has brought the fundamental features together to produce an enticing package that certainly won't break the bank.
The shallow D neck profile improves the playability of the fingerboard, while the low action, excellent setup and quality of finish are to be commended, despite one or two sharp fret ends on the lower side of the neck.
MusicRadar's verdict:
"Ibanez has got everything right, with all the important boxes ticked."
4 out of 5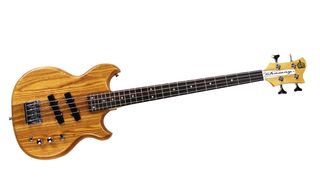 5. Chowny SWB-1 Scott Whitley Signature (£495)
Scott Whitley, a bass player with Big Country and the Animals on his CV, designed and made a short-scale signature bass called the SWB-1 for some time before West Country luthier Chowny took on the manufacture.
For a sub-£500, Indian-made bass, the SWB-1 feels solid and precisely-engineered. Our ash-bodied instrument (mahogany is also available) looks a touch like a Gibson SG guitar, and with its 3.2 kilo weight and 30.75" scale, it isn't actually too far removed from that particular axe in feel - at least when compared with a standard-sized bass.
The active controls involve a volume plus stacked bass/treble pot. It's all pretty intuitive. A selector switch makes things even easier.
MusicRadar's verdict:
"A ton of features for your hard-earned cash."
4.5 out of 5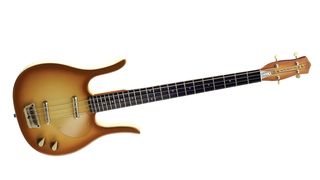 6. Danelectro Longhorn (£499)
At only three kilos, the Longhorn is a doddle to swing around, and that tiny 29.75" scale - into which a two-octave neck has somehow been packed - is a lot of fun to run up and down. Does this bass feel substantial, though? Not at all.
Even the most sausage-fingered of bassists will enjoy the short-scale neck, and the bass balances perfectly on lap or strap despite the location of the forward strap button at the heel of the neck. The body, a hollow unit made of wood fibre hardboard, is pleasantly light but doesn't feel particularly tough. So go easy on it.
MusicRadar's verdict:
"Unexpectedly wide tone range, highly playable."
4 out of 5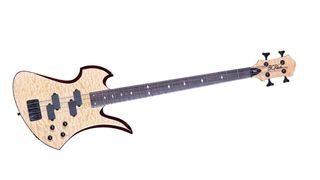 7. BC Rich Mockingbird Mark 3 (£579)
No basses scream 'Metal!' more than BC Rich. For less than 600 quid, this is a beautiful slab of wood: you can't stop looking at the Mockingbird's quilted maple finish.
Those droopy horns won't be for everyone: you either like it or you don't. This China-made bass is a great indicator of how quickly Far Eastern production standards have risen over the decades.
There's not a flaw on it: the four-bolt neck join feels tight and immovable, the 24-fret neck is finished expertly and the Precision-style pickups, controls, machine heads and bridge are all solid. Even the battery compartment operates precisely. Watch out for the next dive, though...
MusicRadar's verdict:
"Excellent tone, build and playability."
4 out of 5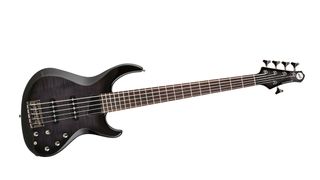 8. MTD Saratoga Deluxe (£625)
This bass has a fair amount of natural spring and 'bounce' in its acoustic tones: hold it close while playing it, and you'll feel that it resonates very well indeed.
Plugged in, it sounds big and ballsy with plenty of articulation and definition, and a good response across all the strings. The pickup in the neck position provides plenty of warmth and rounds the tone out nicely, while the bridge pickup provides extra clarity and honk.
If you're shopping in this price band, give it a try. It puts in a very solid performance and is well up to the job in hand.
MusicRadar's verdict:
"Solid workhorse bass, well constructed with strong fundamental tones."
3.5 out of 5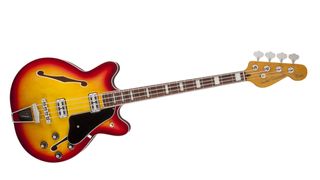 9. Fender Semi-Acoustic Coronado II (£699)
With this classic Sixties design brought bang up to date, Fender is tapping into the hollowbody renaissance.
Curvaceous is one way to describe the Coronado's body: although there is no contouring, its laminated maple and alder body timbers work well with the Aged Cherry sunburst gloss finish, highlighting some striking timber figuring on the front and back.
Although the bass is hollow, so acoustic in nature, its slim body depth, compared to deeper acoustic basses, is unable to project a full bass tone. However, unplugged it is a fine-sounding instrument, lively in nature and resonant, with a solid ringing quality.
MusicRadar's verdict:
"Quirky with interesting tones, good playability and strong visuals."
4 out of 5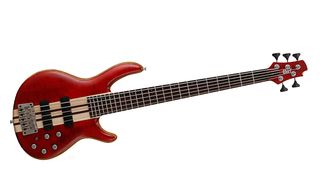 10. Cort A5 Plus (£750 - approx)
The A5 Plus has a feeling of solidity that some pricier basses lack, from the firm-feeling Hipshot tuners down to the huge through-body Trans Tone bridge, a true monster.
A quick examination of fret ends and the pickups reveals no evident flaws, and the finish is pristine from the hips, via the neck-through zone through to the neck.
The B string isn't the hugest we've heard around these parts, although it's acceptable: pump up the bass boost in active mode if you want to give it a helping hand. You'll find yourself with a range of options that few sub-£800 basses, especially mass-produced East Asian instruments, offer.
MusicRadar's verdict:
"Formidable tone range and playability."
4 out of 5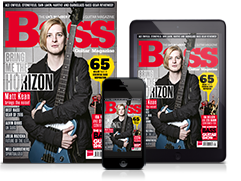 We're the UK's only print publication devoted to bass guitar.
Subscribe for star interviews, essential gear reviews and killer tuition!