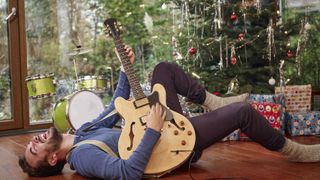 'Tis the season…
Set your brain to panicked and your instincts to shopping survival: Christmas is rapidly approaching, and luckily for you, our guitar buyer's guide is here to make everything a whole lot easier. Provided everyone you know and love plays guitar, of course.
Here, we've rounded up all the products that tingled our stocking senses throughout the year, as well as a few tried-and-tested favourites, to bring you the ultimate guide to guaranteed guitarist present-pleasers, whatever your budget.
Of course, even if you're shopping for that most special of someones (ie, yourself), you can help out your friends and family by linking them to this here list and avoid the novelty socks/Nickelback CD/jumper-three-sizes-too-big hell of last year.
And with that, let's get festive…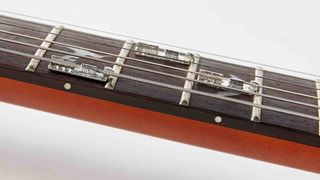 Fretlocks
These ingenious little string-clingers tore up the internet last year, and they make great guitarist gifts this year, too.
Fretlocks simply stick onto your fretboard and two tiny blades 'fret' the string, allowing guitarists to play previously impossible music, and providing the most affordable route to creativity this Christmas.
The nicely packaged Fretlocks Composer Pack, which includes 12 Fretlocks, plus a rocker to affix them correctly, is available from the Fretlocks online shop.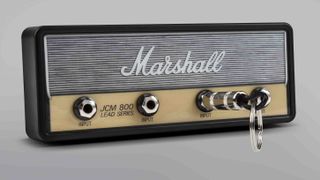 Marshall Pluginz Jack Rack
If the guitar player in your life is always losing their keys, look no further than this official Marshall Pluginz Jack Rack, which packs four 1/4-inch jack sockets to hold your precious door-opening devices.
Four models are available - JCM800 Standard, JCM800 Handwired, 1959SLP and JCM800 Chequered - each of which comes with four guitar jack keychains and a full wall mounting kit.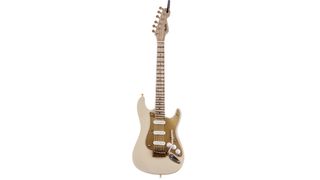 Fender Christmas ornaments
Because nothing says Christmas like a six-inch replica of a '50s ivory Strat.
Give your Christmas tree some single-coil shimmer with this perfectly appointed, Nile Rodgers-spec Fender classic.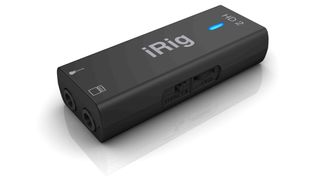 IK Multimedia iRig HD 2
What better way to use that iPad your mum/partner/benevolent uncle got you than to make some proper noise? IK Multimedia's iRig HD 2 does just that, offering a pristine audio interface for your iPad, with a free download of AmpliTube 4.
What's more, its dual functionality means you can plug into your computer come boxing day to record that sprouts-inspired black metal epic you were composing while you tucked into Christmas lunch. Ace.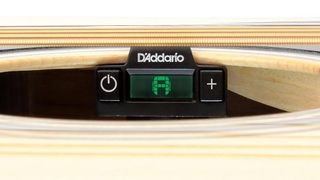 D'Addario NS Micro Soundhole Tuner
Acoustic guitarists keen to keep their headstocks tuner-free would be well-advised to check out this ultra-compact offering from D'Addario, which mounts inside a guitar's soundhole.
It works with acoustic guitars and basses, as well as, yes, ukuleles, and delivers quick, accurate tuning while staying hidden from sight.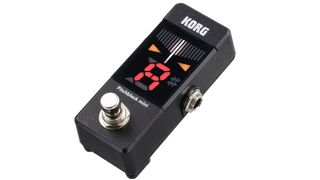 Korg Pitchblack mini
Korg's shrunken Pitchblack delivers its ultra-accurate tuning capability in a format small enough to fit on any guitarist's pedalboard.
The Pitchblack mini's ace in the hole is the fact it can take a 9V battery, unlike most mini tuners. Nifty.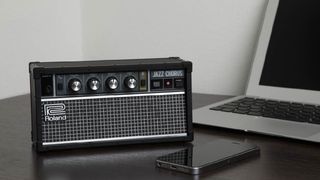 Roland JC-01 Jazz Chorus Bluetooth Audio Speaker
Amp-inspired Bluetooth speakers are all the rage, and they don't get much cooler than Roland's Jazz Chorus-inspired offering.
Besides Bluetooth connectivity, the speaker offers a built-in rechargeable battery, plus a three-band EQ for tonal adjustment. Nice touch.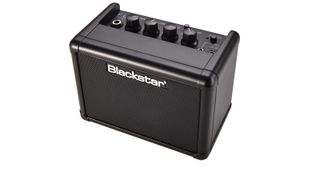 Blackstar Fly 3
The world's finest micro amp goes from strength to strength, and also appeared in a bass guise earlier this year, ensuring low-enders aren't left out of the fun.
Said fun includes two channels, a built-in delay effect and portable speaker action. And yes, that headphone output could come in handy on Christmas day itself.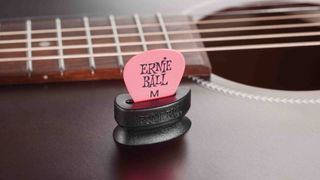 Ernie Ball Pick Buddy
Hell hath no fury like a guitarist searching for a lost plectrum, so quell the rage with the Pick Buddy, which promises you'll "never lose your pick again".
Simply press it onto your pickguard, and suction keeps the PB attached. That means your pick is always nearby. Genius!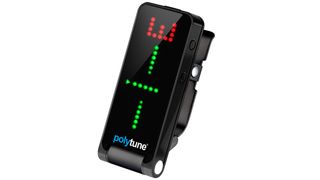 TC Electronic PolyTune Clip Black
Nothing dampens festive spirits faster than an out-of-tune guitar - make sure you don't ruin the mood by picking up TC's top-of-the-line clip-on tuner, now available in black.
No matter what guitar you're using, strum all the open strings and the PolyTune Clip will tell you which are out and which are in. The red and green LEDs are suitably festive, too.
You can also snag yourself a free Clip (in the original stainless steel finish) by subscribing to Total Guitar.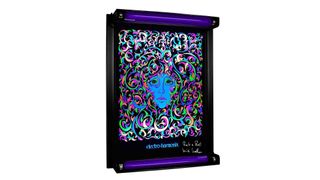 Electro-Harmonix Flashback Day-Glo poster
Woah. Based on the original 1968 art that inspired the Electro-Harmonix logo, the Flashback Day-Glo is an 18x24" framed poster, signed by EHX president and all-round gear legend, Mike Matthews.
It comes with two 25W blacklights (and annoyingly, two plugs, too), which give off one seriously psychedelic look, and made our eyes go slightly berserk when we turned them on in the MR office.
A worthy purchase for the effects nerd in your life.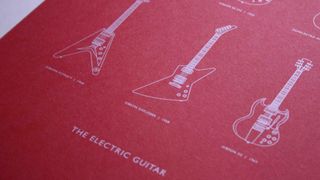 Michael Green print
Remind yourself of nine classy electric guitar designs with this rather lovely-looking 2016 print from Bristol artist Michael Green.
Each print is signed and numbered, plus MusicRadar users get 10% off using the code 'guitar10' at the artist's online shop.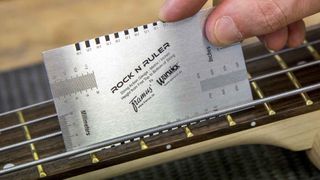 Framus & Warwick Rock 'n Ruler
Guitar setup tinkerers will love this handy reference tool, which features gauges for adjusting string height, neck curvature and string intervals, and packs measurements in metric and imperial units.
A worthy addition to any guitarist's toolbox.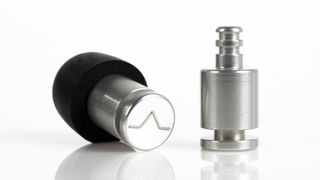 Flare Audio Isolate earplugs
Give the gift of longer-lasting hearing this Christmas with these snazzy-looking earplugs from Flare Audio, which promise clearer, less bass-heavy sound than regular musicians' 'plugs.
Two versions are available: the Isolate (£23), which packs an aluminium frame, and comes in a variety of colours; the Isolate Pro (£46), meanwhile, is constructed from titanium for increased durability and isolation.
Grab 'em from Indiegogo.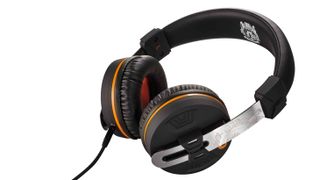 Orange 'O' Edition Headphones
These cans ooze class thanks to Orange trims and etched logos, while the headphones themselves offer a neutral EQ response to suit listeners of all genres.
Two 3.5mm jack cables are included, one of which packs a remote control and integrated mic for phones, while the whole lot is bundled up in a robust zipped clamshell carry case.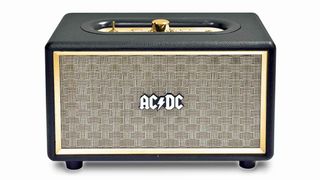 iDance AC/DC Bluetooth Speaker
Rock 'n' roll ain't noise pollution if you're using this Bluetooth speaker from iDance.
Built from MDF and covered with black amp-like leatherette, the speaker packs a rechargeable lithium-ion battery for up to two hours of continuous playback time.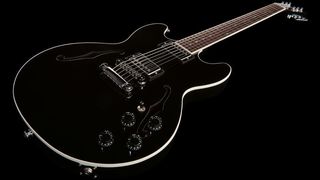 Gibson Midtown Standard Traditional EB
If you're really looking to spoil that special someone - or you're feeling particularly guilty about a misdeed - you really need to stump up the cash, and there's no better gift than this gorgeous Gibson semi.
Packing a maple-topped mahogany body paired with Gibson's acclaimed Burstbucker 2 humbuckers, this Midtown will have its lucky recipient wailing away the winter blues in no time.
Get it from Thomann.