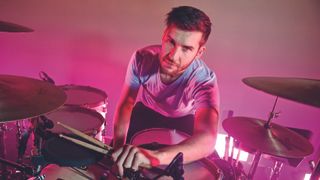 Michael Spearman (Everything Everything)
The Rhythm Best in drums 2016 polls have received over 136,000 votes, and we're now ready to roll out the winners. The nominees were what we considered to be the drummers and gear that have excelled in 2016. Here, we present the best British rock drummers of 2016. First up we have Michael Spearman of Everything Everything…
2016 highlight: Off the back of 2015's excellent Get To Heaven album the Manc band hit the road to promote it, performing countless brilliant shows along the way. A drum-heavy new track called I Believe It Now released late in 2016, suggests good things for a new album forthcoming in 2017.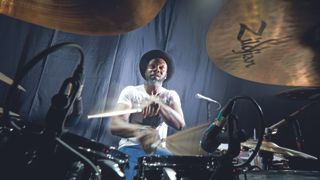 Gary Powell (Libertines/The Specials)
2016 highlight: The drum world sadly lost a great drummer in the shape of The Specials sticksman John Bradbury at the end of 2015. Gary, who was already extremely busy with The Libertines, stepped up to enable the ska legends to complete their touring commitments in 2016, and played like he was born to do the gig.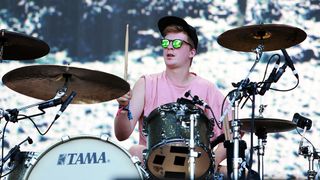 Jack Bevan (Foals)
2016 highlight: Jack and Co toured the UK early in 2016, but it's the reception they've been receiving on a recent US/Canada tour that shows just how far the love for this band reaches. Jack's inventive playing is still very popular in the MusicRadar/Rhythm offices and we can't wait for album number five.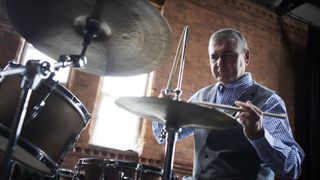 Steve White (The Family Silver)
2016 highlight: The British drum community would be a much lesser place without Whitey. Many people know Steve from his many years playing drums with Paul Weller, so it was great to see him return to rockier material with his new band the Family Silver, alongside Matt Deighton and Damon Minchella, and release their debut album Electric Blend. But it was this year's live shows that got us most excited. More please, Whitey!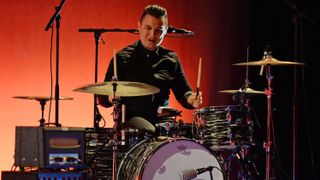 Matt Helders (Iggy Pop)
2016 highlight: Not content with being one quarter of the Arctic Monkeys - one of the UK's finest rock exports - in 2016 Matt Helders joined forces with Josh Homme and Iggy Pop to record and tour Iggy's new album Post Pop Depression. It's still up there as one of our albums of the year.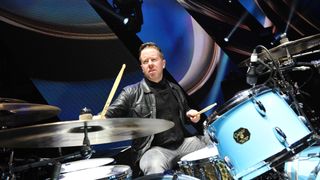 Karl Brazil (Feeder)
2016 highlight: You probably know Karl from his gigs with pop superstars such as James Blunt and Robbie Williams, but when the pop world's great and good take a break, Karl likes to get his rocks off. He's been a long-time collaborator with Welsh rockers Feeder, and their new album All Bright Electric is some of the band's finest work in years.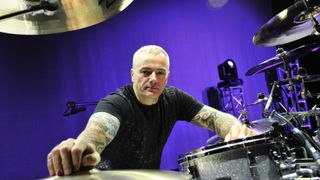 Mark Richardson (Skunk Anansie)
2016 highlight: Whilst Mark will always be known as the hardest hitting drummer in the UK, he's also continuing to prove himself as a mightily diverse player too. This year Skunk Anansie released their sixth studio album, Anarchytecture, and it demonstrates that, as well as hitting hard, Mark can also play with feel and taste, and is still evolving as a player.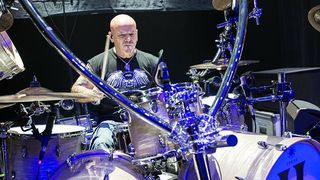 Russell Gilbrook (Uriah Heep)
2016 highlight: Another hard hitter from the UK, Russell continues to prove he's an animal behind the kit with British rockers Uriah Heep. Earlier in 2016 Russell started posting tutorials with a twist on his Facebook page. He is a well-schooled drummer and a great teacher so these are well worth a look, as long as you don't mind a bit of shouting.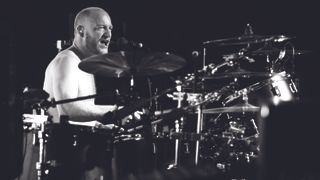 Ben Johnston (Biffy Clyro)
2016 highlight: Ben and Biffy continued their unstoppable rise in July 2016 with the release of the almighty Ellipsis album. That would be enough for most bands, but Biffy went on to slay the competition with main stage headlining slots at the Reading & Leeds festivals, where the new songs sounded just as anthemic as the classics.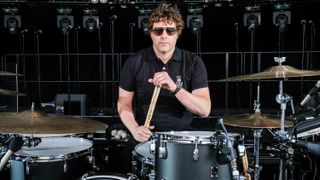 Ian Matthews (Kasabian)
2016 highlight: Aside from his role in founding the new British Drum Company along with Al Murray, Keith Keough, Stuart Warmington and Alan Kitching, Ian performed a few live duties with Kasabian too. Most notable were the shows at Leicester's Victoria Park and King Power Stadium to celebrate the city's football Premier League triumph.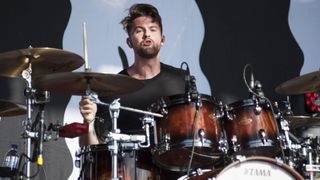 Eddy Thrower (Lower Than Atlantis)
2016 highlight: As well as being the virtuosic drummer for Watford rockers Lower Than Atlantis, Eddy has also been building an emerging sideline as a clinician and educator. This year he even put out a few drum cover vids to demonstrate how versatile a player he is outside of rock. With new LTA material on the way in February 2017, we're looking forward to seeing what comes next.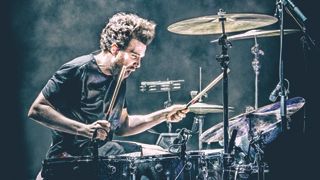 Jamie Morrison (Stereophonics)
2016 highlight: Jamie spent much of the year on the road with the Stereophonics in support of latest album Keep The Village Alive, the first to feature his playing. Dates included shows at Edinburgh Castle and a Bruce Springsteen support slot. To top it all, Jamie also performed his first ever drum clinics this year and continued to create music under the Pop Morrison name.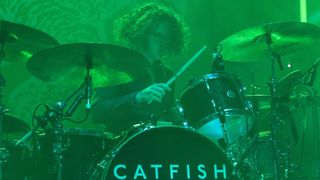 Bob Hall (Catfish And The Bottlemen)
2016 highlight: What a year it's been for Welsh indie rockers Catfish And The Bottlemen. Their new album was released halfway through 2016 to critical acclaim and topped the UK album chart. Drummer Bob Hall is more than just your average indie basher. His influences include Benny Greb and The Killers' Ronnie Vannucci, and that shines through in his tasteful, dynamic playing on the new album.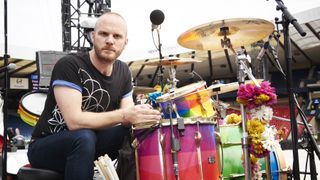 Winner: Will Champion (Coldplay)
2016 highlight: After 20 years as the backbone of the UK's biggest band, Coldplay's Will Champion is finally getting his dues. From headlining Glastonbury to nailing a global stadium tour, this year Will proved to the drum world he is not only a fantastically solid and musical player, but he is a member of that exclusive group of drummers who can handle the big gigs.