Under the microscope: Dumble Overdrive Special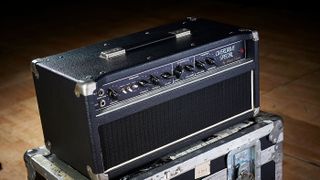 Introduction
As one of the true pioneers of boutique amplifiers, Alexander Dumble forever changed the tonal landscape of guitars in the 1960s - and with little more than 300 of his amps in existence, they remain the Holy Grail of tone. Here, Simon Law examines the Overdrive Special, with some help from his friend and colleague Robben Ford…
In a recent feature, I discussed how some of the biggest names in guitar playing history have invented their own unique guitar tones - sometimes very much by accident, coincidence or maybe something more. The name Howard Alexander Dumble may not mean much to the man on the street, but the amplifiers this gentleman has produced over the last 50 years have gone on to gain almost biblical status among us tonehounds.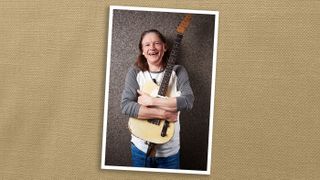 Stumbling on Dumble
Did you have any involvement with Alexander Dumble prior to him making an amplifier for you?
"I have a vague recollection of meeting him in a small club in Palo Alto, California, when I was playing with my brothers' band, The Charles Ford Band. Alexander has since told me we definitely met there and he introduced himself to me.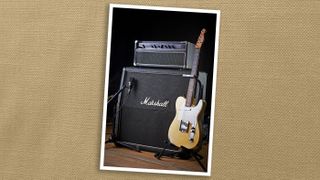 Loud, not proud
You mentioned earlier on about the importance of speakers. Alexander was mainly fitting Electro-Voice (EV) speakers at the time - did you ever use EVs?
"I used EVs in the beginning in a 2x12-inch cabinet I asked him to build for me. It would have been at his suggestion, because at that time I knew nothing about speakers. It was also Alexander who suggested the Celestion 65s, because I'd told him, 'Man, I'm just so loud!' And they're also so damned heavy. I needed to get my volume down, but I do like the sound of the EV speakers. I still think they're the best speakers I've ever heard, but they're just too loud."
And too heavy. Leading up to the time of you getting your amplifier, who were you playing with then?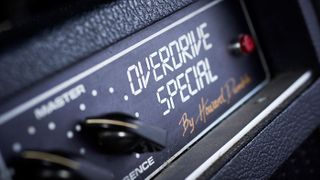 Lettering
The Overdrive Special By Howard Dumble: this 1992/3 amp features the very rare 'By Howard Dumble' signature in gold lettering. This was used for a very short time in the early 90s; up until then the inscription read 'By Dumble'.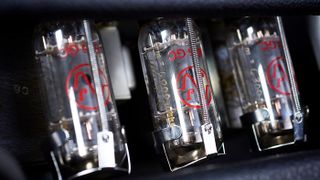 Tubes
This amp is currently fitted with JJ 6L6 GCs, but they were originally fitted with Philips 6L6s or Groove Tube 6L6s. Sometimes Mr Dumble even used the highly prized and rare Philips 7581s, which are a hard-to-find, super-high power variant of a 6L6.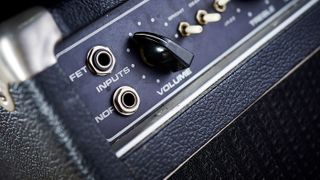 Inputs
The two inputs are marked FET and NOR (MAL). FET stands for 'field effect transistor' and, broadly speaking, is a solid-state, buffered input.
Mr Dumble added this so players could match their lower output guitars to their higher ones, single-coil versus humbuckers, etc. In this instance, the FET input is never used.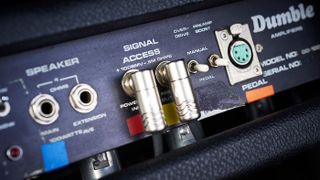 Signal Access sockets
The rear of the amp features a pair of 'Signal Access' sockets; these are effect send and return sockets for use with the Dumblelator device, which enables the player to match external effects units to the amplifier perfectly.
Robben rarely uses these now, but he has used the Dumblelator to sync with a TC 2290 Delay unit. If the sockets are not used it seems to sound nicer with a short patch cable inserted.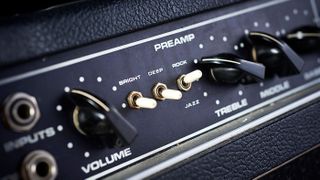 Presets
The front panel also offers the player some interesting presets: Bright on and off, Deep on and off, Rock and Jazz. Robben's playing and attack have plenty of natural brightness, so extra is never needed.
The Deep switch can get way too big if used at loud volumes; the Rock and Jazz gives the player the choice of either dead clean (Jazz) or big and dirty (Rock).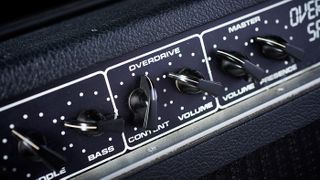 Overdrive section
The Overdrive section of the amp is very sensitive to how the first volume dial is set. When it's dialled in, the Overdrive can take you from smooth blues to full-on rock. Robben sits between the two, mostly.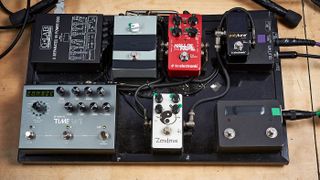 Robben's board
Robben's touring pedalboard features the Hermida Audio Zendrive, itself often regarded as having Dumble-esque overdrive voicing, here with Volume and Gain set just below 12 o'clock and the Voice control at about 1pm.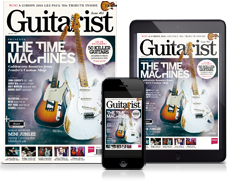 The magazine for serious players
Subscribe and save today!