Supro's new Comet amp: the full story
Introduction
We visit Supro HQ in New York State to learn from co-owner David Koltai and chief designer Thomas Elliott how the Comet came to life...
Much like Pigtronix pedals, Absara Audio's Supro amps are designed and assembled in a sizeable facility in Port Jefferson, which is a 90-minute drive from New York City. Absara acquired the brand from Bruce Zinky in the summer of 2013.
"I call Supro 'the other white meat of great American tone'," muses Absara Audio's co-owner and driving force, David Koltai [pictured], as he shows us around the facility.
"It's the long-lost piece of tone that was missing from the amp market. It wasn't just the brand that was missing but the power amp that's in the Supros: it has its own sound that stands out from its brethren.
"I like to make the analogy between Vox and Marshall in England and Supro and Fender in the USA, where Supro and Vox represent the Class A 'underdog' brands that went out of business, but the sounds of those vintage amplifiers have been used across decades of rock 'n' roll music. Indie rock has particularly embraced these lower wattage amplifiers.
Fingerprints
"Supro has that sonic thumbprint that sounds like you," he adds. "You can really hear your fingerprints through one of these amps, whether it's a vintage amp in good shape or one of our new versions."
The 1964 Reissues centre on those later-period Supro amps and the Retro series is aimed squarely at players looking for a pedalboard platform.
"These all came out of the original technology that we purchased from Bruce Zinky. When we bought the brand from Bruce, he came onboard as our chief engineer and helped us put all this stuff together," says David.
"We also brought in Thomas Elliot [pictured, above], a young engineer who has taken the mantle from Bruce as the chief designer at Supro. The entire Classic series is designed by Thomas using some of the same principles we inherited from Bruce, but taking the cosmetics and aesthetic back from the early 60s into the late 50s, and that includes a more strippeddown circuitry."
"The Comet is definitely its own thing," says designer Thomas Elliot. "The power amp is very special; it's like a [Fender] Champ on steroids, a single-ended 6L6 instead of a single-ended 6V6. It has that nice compression and nice dynamic artefacts.
"It's very similar to cranking a Champ, but with the bigger speaker and a bit more power there's actual clarity in it. A Champ is a great recording amp, but the Comet - you can do clean with it, it's a very functional amp."
Shooting star
David Koltai says the Comet is his favourite Supro amp so far: "There's no phase inverter 'cos there's just the one [power] tube.
"It has a single preamp that's as hot as you can get it, and still has a tremolo that works, a six-spring reverb tank, and there's something about the purity of the single-ended design that gives you even more bandwidth than having two power tubes.
"The ability to switch it between six and 14 watts allows you get a huge variety of clean and distorted tones… and pretty much any volume you need," says David, who uses two Comets running in stereo from his pedalboard for his gigging setup.
"That switching just drops the plate voltage and brings down the overall headroom," adds Thomas, "and makes it a bit more spongy and a little dirtier in the preamp. It brings down a bit of level in the power amp, but kinda just a little squishier on the dynamics - the 14-watt mode is more of a punchy kind of sound, a little cleaner.
"With the single-ended configuration, you can hear more of the spectrum you're putting into it: more low-end, more high-end, and the middle of that band is more even. It's more satisfying to me.
"I went through all the pain of developing this thing and getting it ready for production and I didn't really get a chance to use it. I brought it to rehearsal and used a Leslie emulator pedal and heard it in such a different way than I ever had before - and I think that's the frequency response of that power amp. It's very special."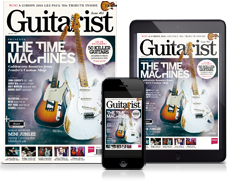 The magazine for serious players
Subscribe and save today!