The story behind Martin's astonishing two-millionth acoustic guitar
Introduction
ACOUSTIC WEEK: The design for Martin's two-millionth guitar was never going to be a thrown-together affair. But, as we found out, the team really pulled off a 'timeless' piece when making their latest piece, drawing inspiration from the revered craft of watchmaking.
When it came time to commemorate the sale of their two-millionth acoustic guitar, Martin Guitars wanted to create a presentation model that would not only celebrate this milestone, but also serve as a visual landmark in the company's timeline.
The result: an exceptional work of craftsmanship by Martin's luthiers, in partnership with RGM Watch Company. Martin introduced the 2-Millionth at the Winter NAMM show in January, alongside the new Limited Edition D-200. Three years in the making, from blueprint to finished model, the 2-Millionth is an elaborate work of art bearing an intricate watch motif.
The D-45 style body consists of a rare bearclaw Engelmann spruce top with Brazilian rosewood back and sides, mahogany neck, ebony fingerboard and bridge, pearl inlays, and a working custom timepiece designed by RGM in the headstock. While creating an ornate instrument was a goal, it was equally important that the signature Martin tone not be sacrificed in the name of opulence.
Don't Miss
"We made sure, as we were building it, that it still sounded like a Martin guitar," says Chris Martin IV, chairman and CEO. "You look at it and say, 'It's got all this inlay,' but the inlay is as thin as you can make it and still make it work. Anytime you build something new, the risk is that at the end of the day you're going to say, 'We're disappointed with the sound,' but in this case we were not disappointed at all."
"Martin's reputation is built on a simple austerity of design, using the finest materials and the best evolutionary designs and precision craftsmanship that has been passed down through the generations to create guitars that sound better than other guitars," says Dick Boak, Martin's director of the museum and archives and special projects.
"It's kind of like the Stradivarius of the acoustic guitars world. It doesn't matter what a guitar looks like; if it doesn't sound great, it's not going to attract customers or have longevity. Martin doesn't focus so much on fanciness, although the 2-Millionth is fancy. But milestone guitars like this provide an opportunity to jump outside the box in every respect and take it to the farthest reaches of possibility."
Multimillionaire
The impetus behind the 2-Millionth began with Tim Teel, Martin's director of instrument design, and Scott Sasser, director of the custom shop. Both men are watch aficionados, and had discussed the idea of somehow merging guitars and timepieces.
Teel recalled having a conversation with Roland Murphy, owner of RGM Watch Company, a year prior. When it came time to formulate a theme for the two-millionth guitar, the concept of time made sense, and Teel placed a call to RGM.
"It took us from 1833 to 2004 to make the first million guitars, and then from 2004 until 2016 to hit another million," says Teel. "We think about how quickly time goes, how time flies. Working with Roland was a good fit. He pays a lot of attention to the very fine things, the details, and Martin Guitars is the same way."
Murphy uses the old-world craft of hand-cut guilloche, employing both rose and straightline engines for delicate decorative patterns on all RGM timepieces. This was his first venture into designing pieces for musical instruments, and it came with a touch of serendipity. The 2-Millionth and the D-200 were introduced, coincidentally, in tandem with RGM's 25th anniversary.
"The collaboration is a good fit for both of us because of the work we do here in Pennsylvania," says Murphy. "So many things in this day and age are sort of punched out, and to have something that's really crafted and made in America, by two Pennsylvania companies, is not something you see every day."
"We love craft," says Chris Martin. "The crux of the story behind this guitar is that in RGM we partnered with someone who can tell the same compelling story about crafting something beautiful."
First gear
Teel, a 30-year Martin veteran who has worked in manufacturing and R&D, with 20 years of experience designing guitars, calls the 2-Millionth "by far the most complicated" he's ever worked on, surpassing even the highly detailed 1-Millionth model.
"Probably the first year and a half was all decisions around design - move this, move that, then what materials the parts would be," he says.
"From there we started cutting pieces, and we did two prototypes because we were experimenting with different materials. The neck happened a little later because we wanted to concentrate on the body first. Once we started cutting parts for the prototype, there were two different iterations, and we changed both of them to the final one."
"We wanted to gain visual depth in the top and back for how the gears stack up," Teel adds. "When you look at a really good watch, they always show the beautiful detailed work from the back side and sometimes from the front. When you're looking at that detail, as small as a watch is, you can see that depth through it. We wanted to replicate that depth and the aesthetics, so we wanted to use real metal materials. We had to figure out how we were going to do that.
"We ended up routing almost through the part in those areas where we wanted to show that depth of perspective. We installed very tiny, thin gearing that you could layer on top of each other. The whole thing needed to be tied together, and we developed a way by potting the entire area with a waterclear epoxy. That was a long process. It took us probably two years to develop it to the point where it was usable.
"The other thing was figuring out how to install a working watch in the headplate. It took a lot of design and engineering work to fit it in there, how it could be functional, how you could wind it, and how we could incorporate the tuning gears into that holder for the watch."
The Watchmen
Martin himself "came in and out of the process" as the guitar developed from renderings to build.
The significance of two million guitars is more than a sales figure, he says. "For this company that my great-great-great-grandfather founded 180-something years ago to have gotten to this point means that the acoustic guitar is still alive and well.
"Even though we started this guitar before we got to the two-millionth point, it took so long to make that when we stamp serial numbers now on Martin guitars, we've blown by two million."
While Martin Guitars worked diligently to design the body and neck, the craftsmen at RGM Watch Company conquered their own set of challenges. They not only had to design a watch and housing, but also ensure that the watch would function properly. Based on the RGM Caliber 20 model, the timepiece was modified to fit into the guitar's headstock.
"At first we were looking at having the watch separate from the tuners, but that would have made the headstock too long," says Murphy. "We came up with the idea of incorporating two of the tuners into the housing in order to gain space and make the headstock the proper size. We also had to make sure that it could be wound, so we made a sort of pocket and put a large winding crown on it."
RGM crafted several other parts, including base plates for the tuners, solid rose gold insets with guilloche turning for the stainless-steel tuner knobs, the guilloche-engraved sound hole ring, two plates on the front of the body, and assisted with the front and back watch parts on the body.
Museum piece
The 2-Millionth is a museum piece for display at Martin Guitars, not an instrument to be replicated for purchase.
Hence the Limited Edition D-200 Deluxe, which continues the timepiece theme on its decorative front and back. Drawing from the 2-Millionth, the D-200 also features a Brazilian rosewood back, bearclaw Engelmann spruce top, pearl striping, front and back inlays, ebony fingerboard, and guilloche engravings by RGM on the body, tuning keys, and rosette. Each guitar comes with a custom RGM wristwatch whose serial number matches the instrument.
With only 50 to be made in the series, at a price of $149,999 each, the D-200 is targeted toward a particular market. "It's a celebration of our milestone," says Boak. "These instruments are clearly for a very specific market, very prestigious, and I'm sure that 100 years from now, anybody who has one of these guitars will have something very valuable and special."
"The Martin brand has a cache," says Chris Martin. "I know there are wealthy people around the world who play guitar, so I'm hoping a few of them will say, 'I want to treat myself. Instead of buying another Lamborghini, or my fifth gold Rolex, or another boat, I'm going to buy a guitar that will last longer than I, as a human being, will.' There's virtually no obsolescence in the guitar. It's something you can pass down for generations, and that's not always the case with some other luxury goods."
Timing is everything
This isn't the first time that Martin has introduced a high-end guitar. In tandem with their 1-Millionth model, they designed the D-100, which debuted to considerable fanfare but unfortunately became a casualty of the times.
"With the D-100, I said to my colleagues, 'You never know. There might be some customers who would like to buy a Martin guitar that is seamed like the 1-Millionth guitar, and that was built around the same time,'" says Martin. "We took the D-100 to the trade show and sold a bunch of them. But I will tell you honestly: sales dropped off the face of the earth during the Great Recession.
"We sold a bunch of them, and then in 2008 and 2009, sales stopped dead. It took us from that point until about a year ago to sell the remainder. When we came out with the D-100, I said, 'I will buy the last one.' I didn't have to get out my chequebook for about eight years, because that's how long it took us."
The D-200 is off to a strong start, with seven guitars sold at winter NAMM, but Martin remains cautiously optimistic.
"Given the state of the economy, and the political situation in the United States right now, we are very cautious," he says. "With the D-100, we had to throttle back our ambition. We said, 'Let's not make any more and put them in inventory.' In terms of going to the trade show with the D-200, [we were] hoping upon hope to sell three to five of them and consider that a tremendous success. We'll take however long it takes to sell the remainder."
My generation
Inherent in the D-200 and the 2-Millionth, as in every Martin guitar, is the signature tone, which Boak attributes to "lightness of construction.
There's a definite correlation between the weight of an instrument and its breathiness and airiness of tone, so you're walking the borderline between strength and tone," he says.
"There's a lot of tension pulling on very thin woods, so if you build it too light, you're probably going to have warranty issues in the future. Martin guitars have a lifetime warranty against defects and craftsmanship, so we don't want them pulling apart.
"At the same time, if you build them too heavy, what you achieve is a thick, dull, lifeless tone. The trick is to split the difference between those two necessities and build the guitar as light as possible so that it won't implode upon itself. That's been Martin's success.
"Of course, the materials that we build out of are costly. Not all brands can afford to use the materials that we use and command the price that those materials command, so that's certainly an element. Then there's the family tradition and a general sense of responsibility that we have as a company to, as Chris Martin often says, not screw it up; for each generation to be remembered as moving it forward, not jeopardizing the reputation, the heritage or the legacy."
Tone, craftsmanship, quality: these are all things for which Martin Guitars are known, and they are paramount to Chris Martin in preserving his family's company's reputation and the instruments they manufacture. But there's more, something much bigger than guitars, that also speaks to his heart.
Martin Guitars has a long history of what they call environmental stewardship, as well as a philanthropic side. The company began phasing out the use of ivory in its instruments in the 1960s, and in 2014, they became a founding partner for The Nature Conservancy's Save Elephants campaign. Last year, they began their collaboration with the Rainforest Alliance's Follow the Frog campaign to raise awareness about sustainable wood sourcing.
Legacy project
Martin, he believes, is and should be about more than making guitars. "First of all, we're privately held, so we have the freedom to consider strategies and opportunities that aren't just driven solely by profit," he says.
"I can't imagine how people who run public companies deal with these issues. I can't imagine how people who run public companies that make commodities deal with these issues, because I don't think the margins are that attractive."
"Several years ago I started the Martin Foundation. Our goal is to redistribute in either the local community, because that's where my colleagues work, or we will consider the opportunity to give to a charity outside of the community, if their focus is very closely related to our product.
"As an example, Woody Guthrie played a Martin guitar, and there's a Woody Guthrie museum in Oklahoma, so we gave them some money to use for outreach in their community, which I think is pretty cool.
"We give product to the United Way to encourage people to participate throughout the Lehigh Valley in Pennsylvania. We are trying to get to 'zero waste' regarding landfill. We're close. We send some of our wood waste to a cogeneration plant so they can make energy out of it. But there's still work to be done, and because we're privately held, we can consider those options as they show up. I encourage my colleagues to think about the greater good of this small planet that we live on, and how we can help rather than hurt it."
Don't Miss
Selling and surpassing two million guitars is a testament to the history and value of Martin Guitars through the generations. Chris Martin takes great pride in the legacy, and in being able to share it with those who ensure its continued success.
"Professionally, I'm very proud of the folks I'm surrounded with," he says. "I have so many dedicated co-workers who love what they do and tell the Martin story as well as I can. Personally, I'm most proud of the fact that I'm a dedicated father and husband to my family. I have my wife, my daughter, our dog, and our cat, and I get up in the morning thinking, 'How blessed am I?' Then I come to work and make the greatest guitars on Earth. It doesn't get much better than that."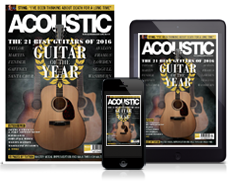 We're the UK's only print publication devoted to acoustic guitar.
Subscribe for star interviews, essential gear reviews and killer tuition!