The history of the Gibson Black Beauty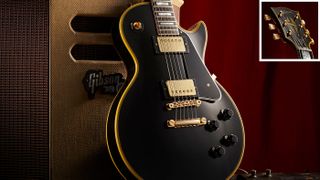 Introduction
It was the executive model that raised the spec of the Goldtop and armed a roll-call of seminal players. 60 years since the iconic '57 incarnation, this is the true story of the Les Paul Custom - with testimony from the stars who wielded it…
To the window-shoppers of London's Tin Pan Alley, it was a new arrival to quicken the pulse. The jet-black lustre of the hourglass body. The shimmer of 24-karat hardware. The twinkle of the diamond headstock inlay. It was 1959, and with the lifting of restrictions on US imports, the mythologised Gibson Les Paul Custom was suddenly a tangible reality.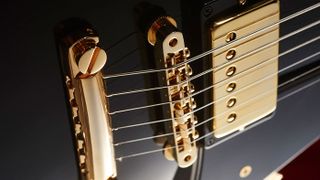 Luxury line
Luxurious flourishes were sprinkled throughout the Custom. Gold-plated hardware was complemented by the split-diamond inlay lifted from Gibson's flagship Super 400, while the truss rod cover was now embossed for swift identification.
Dig a little deeper, though, and the '54 revealed itself as more than a mere cosmetic face-lift. While the Goldtop had offered the familiar splice of a mahogany body and maple cap, the Custom's seven-ply-bound body was pure mahogany, delivering a warmer, darker tone (it's interesting to note that Paul felt this timber configuration would have better suited the cheaper model).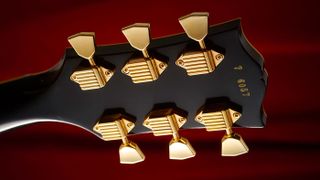 Prog Riches
Even the rising stars of prog-rock were in thrall to the Custom, with Robert Fripp recalling that a '59 example drove all of King Crimson's output from 1969's In The Court Of The Crimson King to 1974's Red.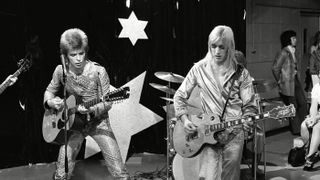 Star power
Mick Ronson would use a stripped-finish '68 for his Ziggy Stardust-era work alongside David Bowie, and his choice caught the imagination of a young Randy Rhoads.
"In 1972, Bowie played at the Santa Monica Civic Auditorium," recalled the late Ozzy sideman's brother, Kelle Rhoads. "That's where Randy saw Mick Ronson with that Les Paul. At that time, Randy had a black SG. When he got rid of [the SG], he looked for a guitar like Mick's, and he found it at a Guitar Center - a '74 Custom."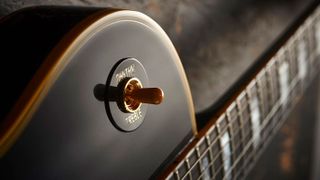 Starting Young
Post-millennium, the Custom has been seen in the hands of some of rock's most technical players, not least Matt Heafy of Trivium, who has released his own six- and seven-string Epiphone models, souping up the venerable format with active EMGs.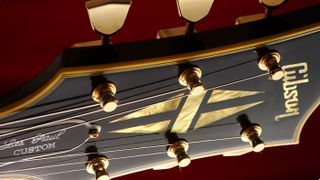 Black Market
A buyer's guide to the Les Paul Custom.
Now, as in 1954, the Les Paul Custom is an aspirational choice with a price tag to match. Head to the Gibson website in 2017 and - putting aside the signature guitars - you'll find two choices.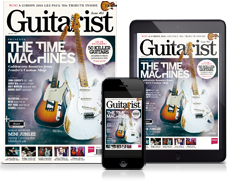 The magazine for serious players
Subscribe and save today!