The Corrs' Jim Corr talks signature Avalon acoustic, gear tragedies and T Bone Burnett
Introduction
With his new signature guitar freshly unveiled, Acoustic caught up with Jim Corr to hear the story behind the new model and find out what the Corrs have planned for 2017.
Whether for good or ill, The Corrs' influence on the contemporary Celtic music scene has been, over the years, so ubiquitous that it should only really have been a matter of time before a signature model of their guitarist's favoured instrument was produced.
Sure enough, in May 2016, Jim Corr ('the boy one') and Northern Ireland's Avalon Guitars announced the fruits of a long-considered collaboration: the D340A Jim Corr Custom, a beautiful slope-shouldered dreadnought based on the popular D300 Americana series.
Unsurprisingly, a few months after his finished guitar was unveiled to the public, it's fair to say Corr is still somewhat chuffed about the whole thing. We cut to the chase and asked how the project came about. As it turned out, there was quite a story behind it...
"I first got involved with Avalon when one of the guys came along to one of our concerts and brought a guitar with him," Corr begins.
"I fell in love with it and loved the fact that there was a world class luthier here in the north of Ireland, near to where I live. I went to the factory and met with the workmen and I was just very impressed."
But tragedy was not far away. Having purchased an A25C from their Legacy range, a freak flood in 2002 wreaked havoc on the band's lockup in Dublin, near to the river Liffey.
"A lot of my instruments were unsalvageable," Corr recalls.
"I lost a whole load in fact. Some lovely Gibsons and Fenders and I think there were two Avalons that I lost. Funnily enough, the Edge from U2 had a room next to mine and his were badly damaged as well, but he wouldn't let go of them. He had a guy that refurbished them and tried to repair them as best as he could."
Avalon again
A galling tale for any guitar lover, we proffer. "Yeah... shit happens!" he sighs. But a knight in shining armour was just around the corner.
"Kindly, Steve [McIlwrath, Avalon's director] replaced the A25C - which I still have and use - and the only alteration was the pickup. I put in an LR Baggs Anthem. And it sounds wonderful on stage. The Avalon guitars I have now represent the epitome of workmanship to me. And they were great to work with. They facilitated any request no matter how great or how small."
Thus a lifelong bond was struck and the County Louth native would become a frequent visitor to Avalon's Newtownards headquarters, which is where he first encountered an instrument from the D300 Americana series - the brand's own version of the dreadnought.
"I happened to be in their factory, again, and I had a play on it," he continues. "I fell in love with it! So I talked to Steve and said, could I possibly cosmetically design one with you, a custom one? He jumped at the idea and between the two of us we cosmetically designed this variant of it."
Corr is, if not picky, quite specific in his needs for a guitar. After all, The Corrs work to quite a well-defined 'spec', with little dabbling in other styles.
"For me, what I need is a guitar which both records very well with flat-picking," he says, "but also has projection on stage. That's why I went with the particular woods, including quilted Tibetan maple. Normally maple would be a bright sound but this has more depth and resonance. More harmonic."
Self-made musician
Corr speaks 'luthierese' so fluently and describes his working practices with such clarity that it is easy to assume that he was born with a pick in his hand, destined for a life on the gigging circuit.
The reality, it seems, is not wildly different, but in fact, Corr did not start on the guitar until well into his teens.
"Well, I went to music academy," Corr points out. "I started playing piano when I was about four. But I didn't pick up the guitar until I was about 13 when a neighbour volunteered to teach me. Without him, I wouldn't have started. So I went from there really. I did get a couple of lessons, but essentially I have been self-taught. I've tried to mould myself around the band.
"We grew up in a very musical environment. Both our parents played semi-professionally. My mother sang and my father played keyboards. We were constantly listening to what they were performing."
Corr worked as a session musician and producer in Dublin for a few years after school, working with bands such as the Fountainhead and Hinterland, as well as celebrated folk singer Dolores Keane - a "beautiful" singer, says Corr, who he credits with giving him an invaluable foot in the door of the Irish folk scene. But the young musician moved home when it became clear that the family band was a success in the offing.
"Myself and my sister Sharon got a small band together and we were playing locally. To be honest, we were just trying to generate a bit of money - we didn't have that much in those days. We had a small record deal but we still needed to work. So we were listening to a lot of Irish music and we were trying to contemporise what we would term traditional tunes to our own - like we did on our Forgiven Not Forgotten album."
Session star
Did he ever feel the need to rebel against the expected Irish tradition as a teenager?
"Well… it wasn't really like that," he replies. "I was only ever really in one other original band when I was living in Dundalk. But I worked as a session musician, so I worked with lots of different acts. I was touring the country doing top 40 stuff. So I was exposed to different music. but in terms of rebelling… not really."
Among Corr's own guitar idols, artists such as Tommy Emmanuel and Andy McKee feature heavily. Does he model himself on them, I ask? Corr splutters with laughter. "If I could even come close to playing how they do…" he replies, modestly. "Well, those guys are masters."
Surprisingly, Corr says he only recently learned to fingerpick. "On White Light there was a song called 'Stay' and I just taught myself how to do it. I have a lot to learn with fingerpicking but I guess it does sway the songs in a certain direction in terms of the subtlety of playing.
"Basically I did straight strumming before that. But you know, there are people who can get an amazing sound through the quiet playing of their instruments. Less is more, sonically. Obviously it's about fashioning a craft."
What was his first acoustic guitar? "My mother had one that I called the cheese grater," he recalls. "It was prohibitive. It was probably why I didn't pick it up for a few years."
Does he remember the model? "Oh no, but my second guitar was great: an Eko. That was quite decent. The first really nice acoustic I got was a Takamine, but unfortunately that went in the flood."
On that slightly grim note, we turn our attention back to happier times, and Corr perks up as chat moves back to his new pride and joy. The new Avalon D340A, Corr tells me with no little excitement, is finding some fans in high places - with one of Trevor Horn's chief engineers reportedly being so impressed as to list it in his top two acoustics for recording ever. "The other one was a Martin," Corr adds, with a laugh.
T Bone stakes
Speaking of recording, Jim has just that morning returned home after recording for the next Corrs album at RAK Studios in London with none other than T Bone Burnett at the helm.
And with a producer of that calibre and reputation, Corr explains, time is limited - after all, this is the man behind everyone from Roy Orbison to Tony Bennett, and soundtracks for pretty much all of the Coen Brothers films.
"It was a very intense three weeks there, with one week of rehearsal, which is an approach we haven't taken before. Normally we go into the studio and do overdub upon overdub. This time we decided to do essentially a live performance.
"We were separated in the studio and then T Bone recorded to tape, 24 track, to get that transience, frequency range and compression that is very difficult to get with digital. Obviously it was very challenging for us doing that entire album, bar a couple of overdubs, in two weeks."
Sounds like, dare we say it, he is quite happy with the result? "Yeah! It's been an education and we loved working with T Bone. We couldn't be happier with the recording process. Obviously there are still a couple of vocal dubs to be done and there's still a mix. The proof is in the pudding. But yeah, I'm very cautiously going to say I think it will be great."
Corr seems relieved to be moving slightly away from the band's comfort zone. Often accused of playing it safe (one Evening Standard reviewer memorably described the band's last album as representing a "pathological rejection of any kind of edge"), the new album, out early next year, Corr hopes, will signal a new chapter.
"People will certainly recognise that it's still us, but we have kind of moved subtly away from the pop. Yes there are songs on the album, but they are not particularly in the pop vein that they would have been in the past. This is a little bit of a departure for us."
What's next for the group? "Well, we'll take a little bit of a break then I'll perhaps go out to America, Nashville, with one of the girls, finish the mix. Next year will likely be a very busy year for us. But in the meantime, it's back to downing our tools and looking after our children!"
For more info on the Avalon D340A Jim Corr Custom, visit Avalon. The Corrs' latest album, White Light, is out now on East West Records.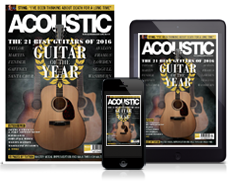 We're the UK's only print publication devoted to acoustic guitar.
Subscribe for star interviews, essential gear reviews and killer tuition!