The 15 best hip-hop, R&B and grime producers/DJs in the world right now
10. Jermaine Cole
The Future Music/Computer Music/MusicRadar Best in music tech 2018 polls received thousands of votes, and we're now ready to roll out the winners. The nominees were what we considered to be the personalities and gear that have excelled in 2018. Here, we present the best hip-hop, R&B and grime producers/DJs of 2018.
Taking up positions 15 to 11 are:
15. FnZ
14. Hit-Boy
13. Allen Ritter
12. Mike & Keys
11. Sonny Digital
Kicking off the top 10 we have Jermaine Cole...
2018 highlight: With awards season very much in full swing, it has been noted among
J.Cole fans that the 33 year old rapper has been omitted from the long-standing (and ever-so slightly inferior to MusicRadar's annual reader poll) Grammy Awards this year for his album KOD.
Although he has been nominated as an artist appearing on other works, let it be noted that, unlike the Grammys, we are very much giving credit to his fifth studio album here.
9. WondaGurl
2018 highlight: Canada's Ebony Naomi Oshunrinde is more widely known under the name WondaGurl and has contributed production duties for the likes of Jay-Z and Drake over the years. However, more recently she has worked with Big Sean, Lil Yachty and with Travis Scott on his commercially and critically acclaimed 'Astroworld'.
8. Tay Keith
2018 highlight: Tay Keith, full name Brytavious Lakeith Chambers, has had a rather prolific year in the production hot seat for some of the biggest names in hip-hop this year.
Among those who have been blessed by the touch of the Memphis-born producer, perhaps it's his work with Travis Scott that has earned the highest accolades, with 'Sicko Mode' reaching number one in several charts.
7. Mike Will Made It
2018 highlight: Michael Len Williams II, aka Mike Will Made It, produced, Atlanta-born rapper Trouble's debut album on his Ear Drummer Records label this year.
He also contributed to the Creed II soundtrack, which featured a star-studded line-up including Pharrell, Rae Sremmurd, Lil Wayne, Nas and Bon Iver, to name but a few.
6. Novelist
2018 highlight: The English grime MC, who also goes by the name of Kojo Kankam, spent much of the year being somewhat busy with releasing and promoting his debut album 'Novelist Guy', which was shortlisted for this year's Mercury Prize.
5. Mike Dean
2018 highlight: It's not easy to pin one highlight down as it looks as though Mike Dean has been more prolific than ever.
This year's production credits rack up more big name players condensed into a 12-month period than any other of his 30+ years as a producer. Standout artists to receive some of the Mike Dean treatment this year include Kanye West, Jay-Z, Beyonce, Christina Aguilera, Travis Scott, Pusha T and many more.
4. Ludwig Göransson
2018 highlight: The Swedish film composer wrote the score for Creed II and also worked alongside Mike Will Made It. Like Mike Dean, he also worked on Kanye West's Ye.
However, there is one track that rises above them all. As a long time collaborator with Childish Gambino, perhaps the biggest highlight of Göransson's year has to be producing the smash 'This Is America'.
3. Kid Cudi
2018 highlight: Scott Ramon Seguro Mescudi is one of those all-rounders that you love to hate. Alongside numerous production credits, Cudi can also boast rapper, singer, songwriter and actor.
Despite numerous big and small screen appearances, perhaps this year's 'big thing' on the Kid's calendar has to have been collaborating with Kanye West in the duo Kids See Ghosts, and releasing an album of the same name.
2. Eminem
2018 highlight: Just when you were thinking that no one could top Mike Dean's effort as hip-hop's busiest producer, along comes Marshall Bruce Mathers III.
Eminem closed out 2017 with the release of his eighth studio album, which topped the Billboard charts. Fast-forward eight short months and he was at it again, launching album number nine - Kamikaze - which sold over twice as many copies in the first week as its predecessor. As such, the album hit the top of the Billboard chart once again. Em becomes the only artist to top the Billboard 200 nine consecutive times.
Winner: Thundercat
2018 highlight: Everyone's favourite hip-hop producer of the year, Thundercat, aka Stephen Lee Bruner, isn't just a genre-hopping bassist for the likes of Suicidal Tendencies et al, but also one of hip-hop's most sought-after producers and artists.
With recent collaboration credits including Flying Lotus, Erykah Badu, N.E.R.D and Kendrick Lamar, this year the Californian lent his skills to Travis Scott's Astroworld and Swimming by the late Mac Miller.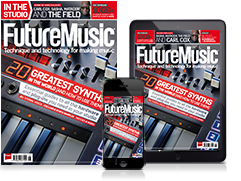 All-access artist interviews, in-depth gear reviews, essential production tutorials and much more.
Get the latest issue now!