The 14 best metal guitarists in the world right now
10. The Nameless Ghouls (Ghost)
The Total Guitar/MusicRadar Best in guitars 2018 polls received an astonishing 126,000 votes, and we're now ready to roll out the winners. The nominees were what we considered to be the guitarists and guitar gear that have excelled in 2018. Here, we present the best metal guitarists of 2018.
Taking up positions 14 to 11 are:
14. Reba Meyers, Eric Balderose, Dominic Landolina (Code Orange)
13. Glenn Tipton, Richie Faulkner, Andy Sneap (Judas Priest)
12. Gus G
11. Dave Murray, Adrian Smith, Janick Gers (Iron Maiden)
Kicking off the top 10 we have the Nameless Ghouls of Ghost...
2018 highlight: While we don't know the exact identities of Ghost's twin guitar demons, what we do know is that the playing on latest album Prequelle was absolutely mind-blowing. From the wailing '80s-tastic solo at the end of Rats, to the kickass chug of See The Light, Prequelle was old school metal through and through – and we loved it.
The MusicRadar Best in guitars awards are brought to you in association with Ernie Ball. #colorsofrocknroll
9. James Hetfield, Kirk Hammett (Metallica)
2018 highlight: They might not come super high in this category this year, but Hetfield and Hammett could still run rings around most of the players on this list. 2018 saw the four horsemen take their WorldWired tour to various corners of the globe and proved time and again why they are still the hottest ticket in town.
8. Zakk Wylde (Ozzy Osbourne)
2018 highlight: Wylde rejoined his old pal Ozzy Osbourne for the No More Tours tour and settled back into the role like an old pair of slippers (leather, probably). Wylde also found the time to release a new album called Grimmest Hits, featuring new music inspired by Sabbath and Zeppelin.
7. Mark Morton, Willie Adler (Lamb Of God)
2018 highlight: Lamb Of God returned to their original name Burn The Priest for a new album made up entirely of covers. Legion: XX focused on tracks by seminal punk and hardcore bands like The Melvins, Bad Brains and Cro Mags, with Morton and Adler giving each track a suitably heavy twist. We're hoping to hear a little more punk influence on the next Lamb Of God album.
6. Lee Malia (Bring Me The Horizon)
2018 highlight: The Sheffield band's sound may have shifted considerably since their early deathcore days, but Lee Malia's inspired riffs are still a major driving force behind Bring Me The Horizon's pop metal sound. Tracks like Mantra and Wonderful Life from new album Amo might have more electronic elements than we're used to, but that didn't stop Malia throwing in some killer riffage to propel the songs.
5. Jason Hook, Zoltan Bathory (Five Finger Death Punch)
2018 highlight: Undisputed kings of chug, Hook and Bathory turned the stomp up to 11 for the band's seventh studio album And Justice For None this year. Considering they've only been a band for 10 years, seven albums is some seriously hard work. We're pleased to report that the axe-slinging duo have lost none of their fire throughout.
4. Adam 'Nergal' Darski, Patryk 'Seth' Sztyber (Behemoth)
2018 highlight: If you've been unfamiliar with the potent guitar pairing of Behemoth's Nergal and Seth up to now, new album I Loved You At Your Darkest is the album to check out. The duo travel between sinister, doom-laden picking and all out speed riffing with consummate ease, and tracks like God=Dog are an assault on the ears and brain. Miss them at your peril.
3. Jeff Ling, Luke Kilpatrick (Parkway Drive)
2018 highlight: Australian metalcore merchants Parkway Drive have been on an upwards trajectory ever since dropping their fiery debut Killing With A Smile back in 2005. New album Reverence is equal parts heavy metal and grooving melodic rock, with Ling and Kilpatrick acting as the glue that holds everything together. Check out Absolute Power and The Void to hear their absolute command over their instruments.
2. Synyster Gates, Zacky Vengeance (Avenged Sevenfold)
2018 highlight: Last year's winners only drop one spot, proving they're still hot property in the metal world. Avenged Sevenfold rounded out their live shows in support of 2016 album The Stage in the summer of 2018, and now all eyes are on the band as they gear up to write their eighth studio album. If The Stage is anything to go by, we ain't seen nothing yet from Syn and Zacky.
Winners: Adam Christianson, Josh Middleton (Architects)
2018 highlight: British metalcore band Architects experienced a tumultuous two years following the untimely death of founding member and musical mastermind Tom Searle. Sylosis guitarist Josh Middleton was originally brought in to play live with the band alongside Adam Christianson, but became an official member in 2017, having proven himself more than worthy of the spot.
When the band set about writing the difficult post-Tom album Holy Hell, Middleton's contribution cannot be underestimated – it's an astonishing piece of work. Taking those emotionally-fuelled new songs to the stage has proven just what a powerhouse duo Middleton and Christianson really are, too. A very well deserved win.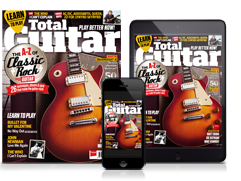 Stay up to date with the latest gear and tuition.
Subscribe and save today!