The 12 best alternative guitarists in the world right now
10. Courtney Barnett
The Total Guitar MusicRadar Best in guitars 2018 polls received an astonishing 126,000 votes, and we're now ready to roll out the winners. The nominees were what we considered to be the guitarists and guitar gear that have excelled in 2018. Here, we present the best alternative guitarists of 2018.
Taking up positions 12 to 11 are:

12. Jenn Wasner (Wye Oak)
11. Jack Bottomley, Sam Macintyre (Marmozets)
Kicking off the top 10 we have Courtney Barnett...
2018 highlight: 2018 was Courtney Barnett's year. The release of the Australian indie rock guitarist's second album Tell Me How You Really Feel brought with it many deserved plaudits. For us, it was her quirky playing on tracks like City Looks Pretty and Need A Little Time that really made her stand out from the pack this year.
The MusicRadar Best in guitars awards are brought to you in association with Ernie Ball. #colorsofrocknroll
9. Ben Howard
2018 highlight: Noonday Dream was the third studio album from everyone's favourite left-handed Brit guitarist and was filled to the rafters with contemporary indie folk, including some of his most ambitious compositions yet. As we've come to expect, Howard's acoustic guitar work was lush, dream-like and incredibly moorish.
8. Dustin Kensrue, Teppei Teranishi (Thrice)
2018 highlight: Following a long break, the Californian alt-rockers bounced back in 2016 with the excellent To Be Everywhere Is To Be Nowhere. Rather than sit on their laurels, they quickly got to work on a follow-up. The result was Palms, the band's first release on Epitaph Records. The album picked up where its predecessor left off, evolving the band's sound and challenging listeners alike. Guitarists Kensrue and Teranashi once again proved that they bring power and intricacy in equal measure.
7. Ben Gibbard, Dave Depper, Zac Rae (Death Cab For Cutie)
2018 highlight: The complimentary guitar trio of Gibbard, Depper and Rae sounded fantastic on lush new album Thank You For Today, following the departure of long-time guitarist Chris Walla. Every last note was perfectly placed and the songs are amongst some of the band's finest. Not bad for an outfit that has been doing the rounds since 1997.
6. Ritzy Bryan (The Joy Formidable)
2018 highlight: Ritzy Bryan kicks things straight into overdrive on the opening track of new album AAAARTH, with a pummeling, grooving riff. This sets the tone for the rest of the album, which is a thumping, alt-rock ride. What's more, the band hit the road in North America with none other than Foo Fighters. Not bad for a band from a small town in North Wales.
5. Joe Gosney (Black Peaks)
2018 highlight: Gosney is the mastermind behind Black Peaks' twisting, mesmerising, hard-hitting riffage. If debut album Statues wasn't enough to stir your senses (what's the matter with you), 2018 album All That Divides surely turned you on. On this album, Gosney took his Mastodon and Dillinger influences and shook them up to make a style all his own, particularly prominent on Electric Fires and Home.
4. Johnny Marr
2018 highlight: British guitar legend Marr has enjoyed a prolific career since ditching Morrissey in '87. From session work with The Pretenders and Modest Mouse, to his own celebrated solo material, he's remained in demand. This year's Call The Comet was his third solo outing. Full of deep, rich music and stellar guitar playing, the album proved, once again, that there's no need for a Smiths reunion just yet.
3. Anna Calvi
2018 highlight: Anna Calvi earned immediate acclaim from critics, music fans and guitar players alike with the release of her eponymous debut album in 2011. Seven years and two additional albums later, and Calvi has really refined her art. Newest album Hunter is a broad palette of light and shade, and feature some truly blissful guitar moments.
2. Emma Ruth Rundle
2018 highlight: Emma Ruth Rundle is one of those artists with such a deep-seated, personal aesthetic that it runs like a coal-seam throughout all her work, whether that's jamming with Dylan Carlson, playing in post-rock trio Marriages, or on her darkly ambient solo records. 2016's stark second solo album Marked For Death provided a breakthrough. In 2018 she returned with On Dark Horses, a grounded but unguarded collection, recorded in her newly adopted Louisville, Kentucky. On it Rundle creates a beautiful narrative with guitar tone and uses the acoustic guitar to great effect on her weighty songwriting.
Winner: Timothy Henson, Scott LePage (Polyphia)
2018 highlight: Formed in Dallas, Texas, eight years ago by teenage guitarists Timothy Henson and Scott LePage, Polyphia have become one of the most exciting names in the world of progressive instrumental music. Originally rooted in heavier metal, their more recent recordings - including this year's third full-length New Levels New Devils - have drawn inspiration far beyond the conventional planes of guitar noise, from the subdivided hi-hats and subterranean low-end of trap music to the more hard-hitting punch of modern hip-hop and rap.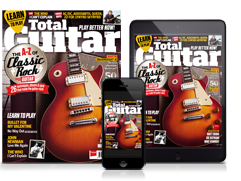 Stay up to date with the latest gear and tuition.
Subscribe and save today!