Career in Gear: Coldcut's Matt Black
Matt Black
Pioneers of '80s electronic pop sampling, Matt Black and Jonathan More (aka Coldcut), changed the face of dance music with their cut-up aesthetic and, more recently, innovative audio-visual apps that have inspired today's VJ scene.
2017 sees Coldcut celebrate its 30th anniversary. Having just released a collaborative EP Only Heaven with Dave Taylor (a.k.a. Solid Groove/Switch) and Roots Manuva, this year also brings a joint album with Adrian Sherwood and new tracks from the duo's debut alias, Bogus Order.
Click through the gallery to discover Matt's top gear picks and find out why he chose them...
Technics SL-1200
"I was one of the first Ninjas to move on to digital technology and have actually given away my records to a vinyl head, but the Technics remains quite an amazing physical interface for manipulating audio directly.
"The current electronic music scene is rooted in hip hop DJing and using these turntables. No other turntable had a sufficiently powered motor that was robust enough to withstand the rigours of the scratching style and it was substantial enough that it wasn't prone to jumping in a club.
"They were also designed to be spun back when you were queuing records - if you did that with most other turntables, the stylus would fall off. It was a long time before any competition came out, so Technics reigned supreme and are the touchstone for turntablism."
Pioneer DJM-800 Mixer
"I don't care whether a mixer's digital or analogue, what is of interest is having a mixer that mixes multiple sources together. I went through scores of mixers over the years and could list all the old ones I used to have, but although the Technics is not on my equipment spec anymore, the mixer still is.
"The DJM-800 provides a very convenient way to mix multiple sources together and also preview sources before you bring them into the mix. It's a fantastically useful way to audition and perform with audio. I like the fact it's got a send return, a separate booth monitor and multiple input channels, and it's my favourite filter on any DJ mixer.
"The club environment is pretty demanding, and not just when someone spills beer all over your set, they need to be able to take punishment hour after hour, night after night, and the Pioneer mixers are usually working."
Casio FZ-1 Sampler
"It's a sampler with a keyboard built into it and was our first proper sampler. Samplers used to cost a quarter of a million dollars and were only available to rich, quite boring musicians. As the technology got cheaper, it democratised the sampler.
"We phoned up Casio and asked if we could blag some gear off them, and they said "we've made this big sampler, would you like one?"
"Akai was the industry standard sampler, but they were quite expensive. I like Casio as a company because they make stuff that is like toys but you can use them as tools. If you compare the FZ-1 and the Akai S900, there's probably not a lot in it, and I remember that machine affectionately."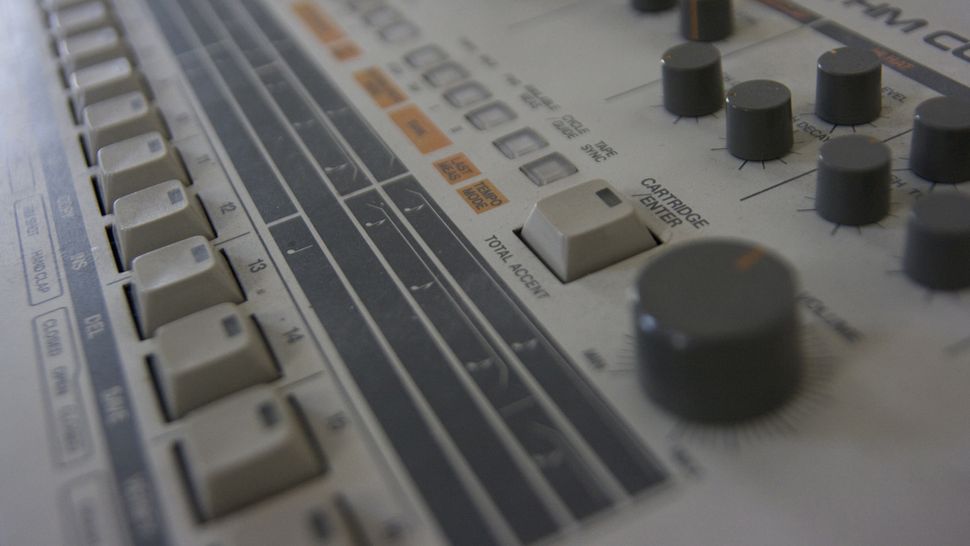 Roland TR-909
"I was working on People Hold On and we'd listened to all these incredible records in the States - The Belleville Three and marvellous house music records from Marshall Jefferson. I didn't have much of a clue really, but knew what records I liked and tried to copy them.
"We'd written the song with Lisa Stansfield, done the bassline on the MC-202, had the piano riff and it was sounding really good. We knew we were onto a winner, but the drums were just not right. Then one day, a guy called Jake who was a tape op at Livingston Studios, was selling a 909. So I bought it and hooked it up to C-Lab Creator's sequencer and straight away it sounded like one of those records.
"It was really obvious, but in my naïve state it was an 'a-ha' moment - if you want to sound like those records, then use the same machine. So the 909 saved our arse and we made an authentic UK house track that sounded as good as the American ones."
Roland MC-202 MicroComposer
"It's basically an SH-101 with a sequencer and shows that you don't need a massive box to get fat sounds. We used the bass on the 202 on Doctor In The House, The Only Way Is Up, People Hold On, and loads more.
"I bought it second hand for £100 but didn't have the manual, and there was no Internet in those days so I couldn't work out how to programme the sequencer and get it to loop properly, which was absolutely driving me round the twist.
"Then, by accident, I got it playing a one-bar sequence. It was only later that I worked out you had to have all the steps adding up to 128 before it would loop properly."
Ableton Live
"We were developing our own software in the '90s called DJamm, which was very much the same idea as Ableton - a loop mixer that made it easy to get things in time and gave you effects. We developed it and used to run it on PC laptops with Windows NT, and actually had a deal with Steinberg to launch it as a commercial product but couldn't get it finished. Then Ableton came along, so we've used that from Version 1.
"I started with C-Lab creator and got into Cubase and Logic, but I find Ableton's the easiest and most powerful to use. Getting away from it just being a non-linear editor, with the Session Mode you can mess around with clips and ideas, record them into an arrangement and then edit the arrangement, so it has a whole dimension to it that its competitors don't have."
Panasonic AVE5 w/Vestax mod
"The Panasonic AVE5 was a video mixer designed for people to edit wedding videos. So you'd have your two VHS decks and use the mixer to crossfade different scenes together. Then in the '90s this new idea of VJing took hold and I saw one of these and realised I could use it like a DJ mixer to mix two video sources together. I started going out to parties and mixing visuals along with the music. I did some great parties with Mixmaster Morris - he was DJing in quite an ambient and abstract way, and I was using the AVE5.
"It could only mix two sources at a time, but I fixed up some input selector boxes to it so I could have an Amiga computer, a camera, three VHS decks and a preview monitor using the RF output of each of those items.
"When we developed our audio-visual software, VJamm, I got a friend to modify the AVE5 by replacing its internal crossfader with an external one and mounting it on the DJ mixer underneath the crossfader. Then I bolted them together so you could control the crossfader on both the video and audio mixer, which was a crude but effective way to have an audio-visual mixer."
EMS VCS4
"In the '90s, I got into collecting synths a little bit - I'd buy Loot every day and there was a guy advertising the VCS4, so I bought it for £300. It looked like the Synthi 100, but was different, so I phoned up EMS and they told me it was a prototype - there was only one like that. So I asked them to overhaul it for me and it's a beast of a machine.
"It requires work to get anything other than a sort of dying synthesizer fly sound out, but it's about using the patch bay to get some unusual configurations.
"I did build a synth in 1975 called the Minisonic 2 using a kit from Practical Electronics - I remember seeing The Human League on the cover of NME and me and my posse of friends thought 'that could be fun'."
MacBook Pro/Laptops
"I think we can claim that we were among the early adopters of laptops for electronic music in the '90s. A computer can be anything that you want, and I just thought it was amazing that you could have a portable studio containing what would be hundreds of thousands of pounds of synths and effects if you bought them as hardware.
"We could also work on our sets at the back of the bus without having to worry about the guys at the airport trashing our flight cases. All the laptops I've had have performed amazingly well considering the way that we cane them. Having said that, I'm hanging on to my last of the 17" MacBook Pros [laughs].
"I'm using the firewire slot, the internet slot, the lightning slot, all three of the USBs and the audio ins and outs with mini-jacks. I've souped it up with a 500GB SSD system drive and replaced the DVD drive with a 2 terabyte hard drive - you cannot buy a machine as good as that now, and it's six years old."
Ninja Jamm App
"It's actually been out for three years, and I regard it as the most advanced music app on the planet. The business plan we had hasn't worked very well, but it's my hobby and I really believe in it.
"Ninja Jamm is an app for Android and iOS. Android is much under catered for in terms of music apps, so if you've got an Android phone I'd suggest you get Ninja Jamm for free because we've taken what we know about studio electronic music production and a lot of what we do live and combined it into something that's really easy to use but powerful.
"I'm not an expert on programming synths, getting a fat sound or that incredible setting on the compressor that really works, my attention span's too short. And I don't necessarily like things that have a lot of controls - I like things that just work. That's what we've tried to do with Ninja Jamm - just use your ears and your direct physical input to tune into the sound you like.
"The biggest criticism was that you can't load your own samples, but on the new version, Ninja Jamm Pro, you'll be able to do that, and loads more."
Check out Matt's live jam on Ninja Jamm...