Summer NAMM 2017: Supro shoots for the low-end with Huntington bass guitars
SUMMER NAMM 2017: After the success of its guitar range - which we dubbed best in show at this year's Winter NAMM - Supro has followed up with the Huntington bass line-up.
Comprising three models, available with one, two or three pickups, each bass packs a 30" short scale length, set neck and looks inspired by Supro's '60s Ozark.
Gold Foil pickups are onboard and promise to be authentic replicas of the original 'Clear-Tone' pups found in vintage Supro Violin, Taurus and Pocket Bass models.
Piezo bridges are also an option, and each model comes in a variety of metallic and transparent finishes over mahogany, swamp ash or alder tonewoods.
Dive into the gallery for a closer look at each bass, and see Supro for more info.
Supro Huntington I
PRESS RELEASE: Although its scale is short, the sound of the Huntington bass is astoundingly large - boasting a tight, confident, buttery low end, articulate midrange and crisp highs. The single-pickup Huntington I model projects a warm, balanced sound with a passive tone control that acts as an "old-school" knob, taming the highs and drawing the bass deeper back into the mix.
A piezo-equipped bridge option adds in an acoustic bass sound via toggle switch.
When the piezo pickups are activated, the tone knob functions as a blender, allowing the player to mix in the acoustic sound to taste.
Supro Huntington II
PRESS RELEASE: The dual-pickup Huntington II model adds a second magnetic pickup in the neck position for ultra-deep bass and huge reggae tones.
The neck pickup is reverse-wound for complete hum rejection when both pickups are used together. The Huntington II features individual volume knobs for each pickup with the piezo option activated by a push/pull switch on the tone knob.
The Huntington II is also offered as a piezo-equipped fretless.
Supro Huntington III
PRESS RELEASE: The three-pickup Huntington III model pulls out all the stops, with a trio of full-sized Gold Foil pickups and a piezo bridge as stock hardware.
The magnetic pickups in the Huntington III are wired with individual volume controls, allowing the player to dial in a tremendous range of tones, from vintage to modern and all points in between.
A push/pull switch on the tone control activates the piezo pickups, which are located in the bridge saddles.
With the piezo activated, the tone control functions as a blender for "acoustic" sounds or enhanced attack (especially effective for pick and slap techniques), unleashing an unprecedented range of sounds from this passive, short-scale bass.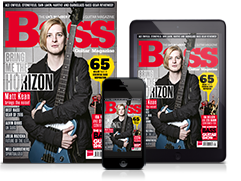 We're the UK's only print publication devoted to bass guitar.
Subscribe for star interviews, essential gear reviews and killer tuition!