Summer NAMM 2017: Positive Grid launches BIAS Mini amp, Twin Pedals and Footswitch
SUMMER NAMM 2017: Positive Grid has downsized most of its product range for SNAMM, yielding the BIAS Mini guitar and bass amps; BIAS Twin Delay, Modulation and Distortion pedals; plus the BIAS Footswitch, to control any BIAS hardware.
Really great news for rack/pedalboard space-conscious players, this. Head on through the gallery for a closer look at each piece of gear, and visit Positive Grid for more.
Positive Grid BIAS Mini Amplifiers
PRESS RELEASE: Following the success of the flagship BIAS Head, the new BIAS Mini amps from Positive Grid are available in two versions - BIAS Mini Guitar and BIAS Mini Bass.
Both models are compact heads and feature many of the same capabilities of the BIAS Head in a compact 300W (BIAS Mini Guitar) and 600W (BIAS Mini Bass) form factor.
Built with first-class components, BIAS Mini amps feature front panel controls, Effects Loop, XLR Balanced Output and MIDI I/O.
BIAS Mini amps come loaded with 8 factory presets that are easily modified thanks to seamless integration with BIAS Amp software allowing musicians to build their dream tone via the built-in Bluetooth and/or USB connections.
Positive Grid BIAS Twin Pedals
PRESS RELEASE: The new BIAS Twin pedals - Distortion, Delay, and Modulation - bring all the sonic excellence of the Award Winning BIAS Pro pedal series to players who most value a compact footprint, lightweight, and great portability.
BIAS Twin pedals are compact 2-button full metal stomp-boxes designed for musicians who want the best possible tone in a pedalboard friendly format.
Each Twin series pedal comes with 9 different preloaded tones that can be easily modified with the 6 tweak knobs, and feature USB and Bluetooth connections that make them compatible with the iPad / PC or Mac BIAS Pedal software.
Weighing only 0.85 kg each, the Twin pedal can be powered with 9V adapters and includes ¼ TRS input and ¼ stereo outputs, making them the perfect addition for any guitar / bass player pedal arsenal in the studio or on the road.
Positive Grid BIAS Footswitch
PRESS RELEASE: BIAS Footswitch is a solidly built metal foot controller that allows Positive Grid hardware owners to control their devices hands free.
Thanks to the power-saving feature and a maximum performance of up to 24 hours continuous use, BIAS Footswitch owners simply need 2 AA batteries and the included ¼ TRS included cable to control their devices onstage or in the studio.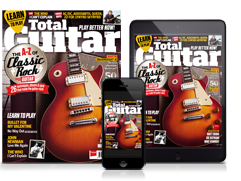 Stay up to date with the latest gear and tuition.
Subscribe and save today!