Steve Stevens: these are the 10 guitarists who blew my mind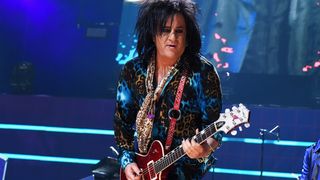 "Matt Sorum is actually one of the first musicians I hung out with when I moved to LA 25 years ago," recalls guitarist Steve Stevens, explaining the roots behind their new band Deadland Ritual - which also features Black Sabbath legend Geezer Butler and singer Franky Perez.
The supergroup will be making their first appearances in Europe this summer, including a visit to the hallowed grounds of Donington for Download Festival, plus headline shows at London's Islington O2 Academy on 13 June and Glasgow's Garage on 15 June.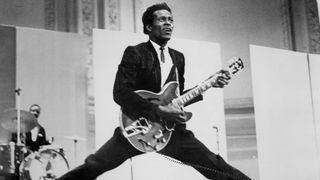 1. Chuck Berry
"I've got to give it up to Chuck Berry! I had an eight-track as a kid which I used to learn every song off his Greatest Hits.
"When you first pick up guitar, you can learn those tunes - they're within your grasp. And everybody knows those songs; there's nothing better than being eight years old and playing Johnny B. Goode to your mates who have come over and it sounding like the real song.
"He really was my first guitar hero! We were adamant that when I did the solo to Rebel Yell it had to start with a Chuck Berry riff. It's fine and dandy to do all that stuff afterwards, but we had to kick it off with some Chuck!"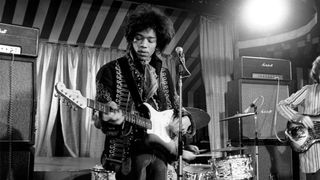 2. Jimi Hendrix
"I remember getting my first guitar, there was Univox guitar and amp package. I also had an Electro-Harmonix Big Muff which could help you sound somewhat like Hendrix on Foxy Lady and all that stuff.
"Hendrix is a bit of an enigma to me, because every time I go away from listening to him and come back, I really do hear different things in his playing.
"What's amazing is how it's so multi-faceted - with a blues bedrock and this psychedelic element over the top of it. I still can't understand how he came up with an approach to guitar in 1967 that is still fascinating to this day."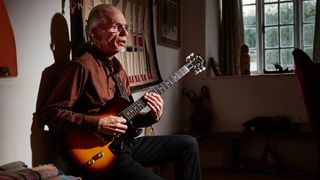 3. Steve Howe
"Around the age of 13, I discovered Steve Howe from Yes. He was the first guy I heard within the context of a rock band playing all these other different styles from jazz to ragtime.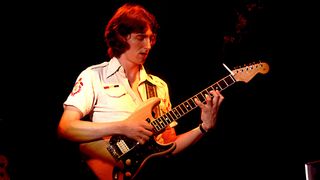 4. Allan Holdsworth
"When I first heard Allan, I was in this covers band, playing all the same clubs as Twisted Sister on the Long Island circuit.
"Someone came in with an album recorded by The New Tony Williams Lifetime. At first he said, 'I'm not going to tell you who this is!' I was thinking it could be Jeff Beck; it had some Beck-isms from records like Blow By Blow and Wired.
"Then when he started soloing, the sound was just incredible. That was the beginning of a long love affair with Allan's playing. He was one of the most original electric guitar players to walk the planet. And what a great tone.
"All of that facility without that beautiful, woody guitar tone might not have worked as well… it fit perfectly. He truly was out of this world."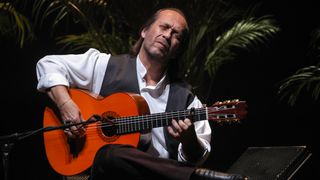 5. Paco de Lucía
"Like a lot of people, I was introduced to him by that Friday Night In San Francisco record with John McLaughlin and Al Di Meola.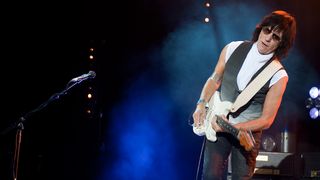 6. Jeff Beck
"Obviously Jeff has to be in this list. From everything he's done, The Yardbirds to his more recent solo stuff, he's always continued to keep challenging himself. It's an important lesson for all guitar players… don't sit on your laurels; there's always a whole lot more to learn.
"Jeff is really good at taking influences outside of guitar and applying them to his playing - whether it's from choirs, classical or Bulgarian chants. He can absorb other forms of music and throw them into his own fiery mix of rock and blues guitar.
"His newer material goes as far as electronica… that's exactly how he's looks for new ways to excite himself and we get to benefit from that!"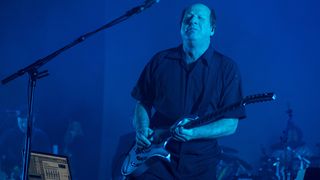 7. Adrian Belew
"I got to see Adrian in New York on that first Lone Rhino solo record tour. He truly was the one guitar player where I couldn't figure out how he was producing what we were hearing.
"He played this intimate club with a whole new set of sounds, not necessarily from the rock 'n' roll lineage, using sonics that felt foreign to me as a guitarist.
"He wrote beautiful tunes wrapped up with great melodies… and he was a great frontman, really entertaining. It was one of those guitar shows that wasn't just for a guitar audience or about playing fast - anyone could get it. I kinda forgot he was guitar player watching him."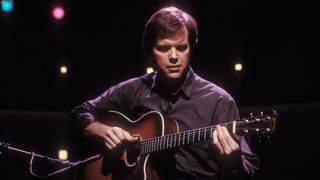 8. Leo Kottke
"Whenever people ask me how I came up with the intro to Rebel Yell, I always have to say it came from those Leo Kottke things that had independent bass and treble lines going.
"I couldn't really play a lot of that stuff, but I started trying on an acoustic guitar. This was at the end of the folk thing that was happening, with James Taylor, Joni Mitchell, Crosby Stills & Nash… then Leo came up with this incredible technique rooted in Americana and folk.
"He was like the speed-metal guy of the acoustic 12-string!"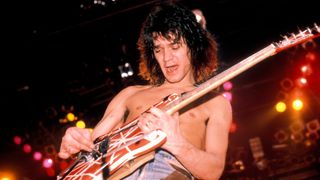 9. Eddie Van Halen
"When I was in that cover band early on, I remember being at a party and feeling quite drunk! The host of the party put on the first Van Halen record and it got to Eruption… I sobered up very quickly. I said, 'Hey man, can you put that back on!' to make sure it definitely was a guitar.
"Anyone that heard him instantly knew it was new and different. The combination of sound and playing was perfect. It's one thing to have the facility, but you need the tone that presents it in the right way. Eddie was the whole package. Those early Van Halen records set the bar really high as far as rock guitar goes.
"I know Eddie is also a big Allan Holdsworth fan like me - he was definitely listening to it and taking influence. It's funny, we guitar players are very incestuous!"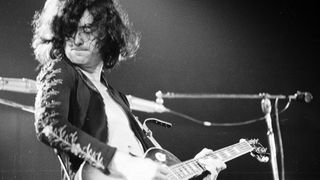 10. Jimmy Page
"Not long after switching from acoustic to electric, I got into Led Zeppelin. Jimmy Page is monumental to guitar players.
"Again, he presented and produced his amazing guitar in such a way that made him this monolithic riff machine. He showed us you need to know your way around the studio, how to produce your guitar, how to write and arrange tunes.
"He'd also present the vocals as the most important thing. That's what was so great about what he did on guitar: he created a plateau for Robert Plant. This bedrock that was unselfish... You don't just like Jimmy Page; you like Led Zeppelin. It wouldn't have been the same without the other three guys.