Introduction
Don't Miss
Whether you believe in a higher power or not, seeing Clutch in full flight in a live setting is an almost religious experience for those lucky enough to be in the audience.
Theirs is a sonic purity unlike any other, a monolithic blues groove that resonates deep within the soul like a lost language that laid dormant in our minds over centuries of evolution.
Singer/guitarist Neil Fallon and main axeman Tim Sult offer TG a rare glimpse of the guitars, amps and pedalboards that help them recognise their musical truth…
Gibson ES-335
Neil Fallon: "This is on loan from Gibson, straight off the shelf. I have one at home, but I refuse to put it in the hands of baggage handlers.
"Gibson was kind enough to provide guitars, though sadly I have to give them back. I started playing these because Les Pauls, even if I don't play much during a set, tend to mess with my neck. After a while, I feel like I'm getting corkscrewed! The 335s don't make a huge difference, but I like how the fretboards fly like an SG.
"I love the sensation of this thing vibrating against my beer belly. It's also great to play it unplugged when I'm practising."
Gibson Les Paul Special
Neil Fallon: "This has a wider neck than the 335 does, which makes it easier for fingerpicking on songs like Regulator, Gravel Road, Electric Worry… I can get my gorilla fingers in between the strings.
"The wider the neck, the better it is for slide and fingers. You have more real estate, they're a little more delicate for the right hand.
"It has stock P-90s and a Dungeons & Dragons modification, which doesn't actually do anything, [the 20-sided die tone knob] I got it drilled in there for shits and giggles."
Fender Super Reverb
Neil Fallon: "This is a brand new reissue. Tim plays through his Marshalls and Oranges, so I feel like it's important to have a different tone. It would be redundant to have the same kinda sound.
"This has more of that Eddie Hazel vibe, I love all that stuff. I'll use it for any song I fingerpick on: A Quick Death In Texas, Your Love Is Incarceration, Regulator, Gravel Road, … I think that kind of twang you can only get from something like this.
"Those songs lend themselves to that slap, it's very percussive sounding. I don't solo, really, so it's more of a rhythm thing."
Orange CR120
"Right now I'm only using this for one or two songs that are more metal-sounding, for lack of a better word, like The Soapmakers and Behold The Colossus.
"I haven't played any death metal on it, though, that's a little out of my skill set. It also serves as a backup. These amps tend to have more girth and get more of an all-encompassing noise, rather than something pokey-sounding.
"I can't ever see myself using an Axe-Fx!"
Neil Fallon's pedalboard
Electro-Harmonix Micro Synth
Neil Fallon: "This is primarily here for me to use on Our Lady Of Electric Light. It has that analogue tone I love, set to a swell mono-synth.
"I'm a big fan of Pink Floyd's early synth sounds, and this is the closest thing I've heard in making a guitar sound like that. There are others out there, but I often find them to be a bit too contemporary for me. You can switch this and make it percussive, with the gate open.
"You can make it really sizzly or really mellow, rolling off frequencies to the point where it doesn't even sound like a guitar at all anymore, really."
Boss TR-2 Tremolo
"I got this here in the UK when I left my Strymon Flint at home, it's just a basic Tremolo. I think people sometimes over-think these things, maybe a Boss pedal might not sound as boutique as others, but it does the job just as good as any."
Custom Audio Line Driver Boost
"We keep this on just about all the time. It comes off for the more dynamic songs, like Son Of Virginia or Regulator. It also gives the Fender some more cajones, it helps with growl. It doesn't colour the sound much.
"Sometimes it's hard to differentiate boost from a distortion. I tend to want the same tone just more in quantity, and that's exactly what this does.
"It's feeding more food into it all, instead of being a glorified distortion pedal."
Keeley C4 Compressor
"It's a killer compressor… I've used a number of them over the years, but this one seems to sound the best. We have a lot of dynamics in our set.
"I never used to appreciate compression because it was less obvious than something like a distortion pedal. As for modulation effects… that's more Tim's world. I won't be doing a psychedelic solo anytime soon.
"That's not in my future, I think."
PRS SC245
Tim Sult: "Okay, so I still love SGs and Les Pauls. I went into a music store with the sole purpose of finding a guitar that wasn't a Gibson.
"So I went to a store called Action Music in Virginia and ended up playing a Custom 24 after trying about 10 guitars. The owner told me he would call the artist rep for me, who was super cool to me, and I ended up with a couple of pretty nice guitars!
"I will use this for the entire set tonight. It sounds comparable to a Les Paul Custom and is super fun to play. PRS are Maryland-based, like us, so I think they're excited about that as well."
Gibson SG
Tim Sult: "I haven't had this one for very long, maybe about five years ago. I've always been especially fond of SGs.
"I bought a few guitars directly from Gibson earlier in the year, a 2016 Custom Shop and the thing feels so great, I absolutely love it.
"The other was a Les Paul Standard, which could be my favourite Les Paul of them all. It's pretty weird how much I really love the new ones…"
Orange OR-50 40th Anniversary
Tim Sult: "This is my favourite modern Orange head. It's probably the closest to a 70s Orange… I love it and wish I had one at home.
"I used to have an actual 70s Orange head, which was the best sounding amp I've ever owned. But it took so much work, it would break down constantly. Within a year, I'd already bought the amp five times.
"I got rid of it a long time ago."
Marshall JCM800
"This is my favourite 800 that I've played, it's a 1986 model. I'm 100 per cent convinced that Marshall and Orange heads sound better through UK or European power.
"They seem to sound so much warmer here than they do back home. It took me 15 years to figure that out. The Matamp cabinets we bought off The Dillinger Escape Plan a long time ago. I've been using them for ages now.
"I feel like the Marshall has a little more high end that cuts through, where the Orange brings the bottom end and heaviness, like a stoner rock sound."
Tim Sult's pedalboard
Vox V845 Wah
"I probably use wah on too many songs, depending on who you ask. I use it for more of a Uni-Vibe sound sometimes.
"Hey, maybe I should just get myself a Uni-Vibe and cut out the middleman? Which is my ankle! [laughs] Maybe using the wah like that is not the best idea for someone in their mid-40s that gets pain their ankles. I probably need to find something different for the next tour."
Line 6 DL4
"For me, the reverse effect this has is one of my favourite delays of all-time. I go back and forth between having just this on reverse as well as a Maxon AD-999, the kinda pinkish one?
"I've probably had this one for about 10 years now. With reverse delay, I tend to crank it all the way up.
"If I have the Maxon, I'll set it at a tempo I think our drummer would jam something funky to. But normally, the delay will end up being totally off when you play live… it's just one of those things."
MXR Micro Flanger
Don't Miss
"I always have some sort of filter up there, either a flanger or a phaser to add a little extra fun to the solos sometimes.
"When my ankle starts getting sore, I can use this instead! I've been trying to work it into the songs a little more. I use it in the third verse of X-Ray Visions and then maybe some solo and jam stuff."
Electro-Harmonix Micro POG
"I use this to make it sound like I'm playing bass as well as playing guitar. I don't have it set too extreme or anything.
"I use it for solos here and there, it's just for fun. I think the tracking is great. Obviously the gigantic POG has more options, with the slidey EQ, but it's too much for me to have on stage."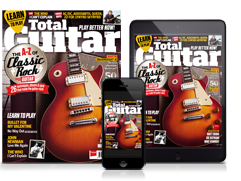 Stay up to date with the latest gear and tuition.
Subscribe and save today!