Adam 'Nergal' Darski is as direct as he is charismatic, and we wouldn't have him any other way. "I'll be straight-up honest here," he says, "I'm not really a geek when it comes to equipment. If it works for me, I don't really fuck around much with it."
Rising up from humble beginnings in Poland to become an ESP signature artist leading one of the world's most respected extreme metal bands speaks volumes of a man with focus and vision. And he sees his gear as the tools to get the job done.
That's why the switch from the EMGs on his LTD Hex-7 electric guitar to the Fishman Fluences on newer his Nergal-6 was no big deal for the Behemoth commander. Back in the day, getting an ESP at all was an achievement...
"Growing up in Poland I was poor, you know? To get a proper instrument back then it wasn't easy. So from 2000 on I started to get nice instruments. I had Ibanez, BC Rich... I've tried most of them and then I came across ESP and it was the best."
Behemoth join Slipknot on the 2019 Knotfest Roadshow across the US from 14 August.
ESP LTD Hex-7
"This is the seven-string, my signature Hex model. The first one. I'm using ESP only in Behemoth onstage; in the studio I fuck around with different guitars. I use ESP as well as other guitars. But when it comes to live axes they are my choice of weapon.
"When we first got to the US they were there to hook us up with plenty of guitars, they've been super generous ever since. I did my first signature model years after our [first cooperation] and in another few years I got another one. When we came to the US we were newcomers, we started from scratch and so it feels like we really earned that. It's not like someone handed us success and a bunch of brand new guitars. I'm really happy with it. Sometimes I have to meet a deadline and I'm not giving them enough time to make me a proper custom or whatever and I'm one or two months short but they say, 'No, we're gonna make it,' and then they make it.
"For The Satanist [album] we did one song that never made it to the record that was written for the seven-string and on the last record [I Loved You At Your Darkest] there's no seven-string songs. So we basically play only two songs in this set that are on the seven-string; sometimes it's three or four."
ESP LTD Nergal-6
"These are production models. My [ESP] custom Nergal-6 is in the US and we have two different rigs for both continents.
"With the shape I felt like I needed a change, I'm not saying the V is immature as it's a classic heavy metal shape but the music became more classic- sounding, more rock-friendly and bluesy so I just decided to go for more of a classy look. It's still evil as fuck. I like my guitars as I like my cars and bikes; all matte black. This is my colour of choice and I love it. It plays great and it looks great - I really pay attention to aesthetics.
"The first two weeks [after switching from a V] were pretty painful, honestly. Your wrist is in a different angle and position so it took me a while for my wrist to get used to the new angle and I actually felt pain for the first couple of weeks when playing. It wasn't a smooth transition but it's fine now.
"I'm using Richter straps too - they're my custom straps and I love them. "The sigil on the inlay is the 18th or 19th alchemy sigil. And we took it and kind of redrew it and gave it our meaning. It's our holy trinity sigil or the flame of illumination - they're the names I came up with. There's three swords pointing down, they represent the three elements of the band - it's Orion [bass], me and Inferno [drums]. The flame just grows upwards and is craving for illumination; for knowledge."
Pedals
MLC pedalboard
"This is made by my friend Marek Laskowski at MLC in Gdańsk; he does custom pedal and amps. He's done stuff for Richie [Faulkner] from Judas Priest, he did stuff for the Dream Theater guys... too many to mention. Every now and again I'll send him that pedal board and say, 'Something is fucked,' and he'll got through everything and clean it up. We spill blood, sweat and water. Our show is like being at war, none of the moves are gentle and delicate. It's all like brutal and we're just out of control. That's what the stage is meant to be, at least if you ask me my opinion. So this is pretty solid.
"I'm busy with singing so even if my parts in the studio are the most complicated I'll always give it away to [touring guitarist] Seth. All the crunchy and clean sounds, it's all his. Even then, he's not using any pedals as his guitar tech is pulling all the strings. He can focus on playing flawlessly and I can focus on high gain and singing. Doing the show, running the show being the frontman here, it sucks out a lot of energy and focus. Truly - by the end of the set you're drained. Maybe we'll get to the point where I won't have anything here. I've been thinking about it lately but then you hit a wah pedal, you really need it under your feet, because the guy who's playing it must feel it. So maybe like Kerry King - he's just got a wah pedal there... or two or three."
ISP Decimator & Boss NS-2 Noise Suppressor
"I use two noise gates; one on the way in and one on the way out. There's a lot of background noises."
Boss DD-7 Delay
"I'll use that on lead parts."
Xotic BB Preamp
"It's a booster but it's always on, I'll tend to use a Tube Screamer in the studio."
Boss TU-2 Tuner
"In between the songs there's hardly any time for improvisation because everything is prearranged and pre-planned for the click and if the click goes we must be ready to go. So I'll have to very quickly tune when I can."
Boss FB-2 Feedbacker/Booster
"This is for solos to give a boost."
Electro-Harmonix Stereo Electric Mistress
"I was using it for some Satanist songs but lately not at all."
Peavey 6505+
"Throughout the years I've been trying out different amps and I still like to try different amps in the studio especially. But I just came back to the most classic setup and the main amps we're using now are Peaveys. I came to the point where it just works the best for my style of playing. That's what I need. "Orion is always rebuilding his rig, always rebuilding his pedals - always fucking around and it seems like he can never stop. Like he's never happy with it. I just need my tone. If the sound just glues nicely and articulation is audible, that's all I need really.
"I've been using Peavey for five years live. Before I was switching between a Mesa/Boogie and Bogner Uberschall. I still like Bogner, and every now and again I'll use it - it's still in our rehearsal room. But the problem with Bogner was it's super sensitive; we'd get on the road and all the bumping and stuff would just fuck it up immediately. This is a Kalashnikov - you throw it into the water, you fucking kick it, you spill on it, spit on it... it goes through the mud, dust, blood... whatever. We use a lot of props onstage that can fuck up the equipment but this one has never let me down.
"Even in these days of using an in-ear system, the stage is still loud - we're still using wedges. I'm cut off but I get the audience mic that captures their reaction, it's in the mix, plus we get the wedges' pulse and vibe. It's more alive. I don't want to cut out the live feeling; using an in-ear system was a gamechanger and I'm never going back but I still want that live feeling. I don't want to feel like I'm playing in a studio. It must be real and I feed on that energy."
Custom Sigil Prop
"It's made by a local blacksmith in Poland - I've been using it since The Satanist era so it's already two album cycles in.
"I think it's awesome and there's a little pipe there so if we go for full pyro we set it on fire. In the UK there's a no fire policy though so you can only rely on the band sadly!"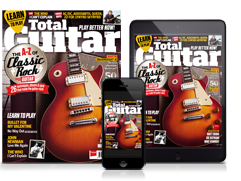 Stay up to date with the latest gear and tuition.
Subscribe and save today!