Review round-up: super-versatile overdrive pedals
Whether it's providing subtle dirt, boosting and thickening a guitar, or smashing the front end of an amp with a clipped, boosted signal, overdrive pedals are the cornerstone of many rock guitar tones.
While the essentials of the circuits haven't changed much in 40 years, that doesn't mean there isn't innovation in the space. We've brought together a few of our favourite modern drives that not only try to do something new by mixing up the overdrive formula, but also offer tons of options for tone-shaping and personalisation.
Whether it's operating voltage, EQ profile, gain level, or even the ability to dial in ghost notes, these pedals think outside of the box, delivering the tools you need to find your perfect drive tone.
Bogner Ecstasy Red Mini
This downsized version of the legendary amp builder's Ecstasy Red has more than enough gain for everything from indie to modern metal.
It's voiced mid-forward, resulting in a thick but somewhat dark tone. Luckily, there's a solid three-band EQ and a couple of different boost profiles to alter the sound to your liking. The treble boost setting brings some sparkle into the drive tone, while the treble and mids boost is a more subtle as it thickens out the sound, especially at higher gain levels.
A built-in variac lowers the headroom and delivers more compression, but we enjoyed he higher headroom setting.
4 out of 5
Friedman BE-OD Deluxe
The only pedal on this list that requires no manual, and no explanation, the Friedman is gloriously simple.
Basically two Friedman BE-OD pedals in a box, with slightly different drive levels, arranged like amp channel strips. Dialling in a fat, boosted rhythm tone on the first channel is easy, with the gain going up to solid break-up and beyond, but it's the ability to toggle between this setting and the wild drive channel that makes the Deluxe worth your time.
Going from raunchy rock tones to the unmistakable chug of djent, it can handle it all while being surprisingly quiet, even at high gain settings.
4.5 out of 5
Origin Effects RevivalDrive
Given that this pedal has 23 controls on the front plate and requires reading a 20-page manual to operate, going into all the features on the RevivalDrive probably isn't that useful.
The long and short is that it claims to be the best overdrive ever made, modelling in discrete circuitry a valve amp's signal path, including its reaction to an attached speaker.
So does it stack up? Well, it might not be the best overdrive ever - it fares less well at modern or metallic tones - but it's certainly very impressive. We were able to get a huge variety of sweet drive tones out of it, from Hendrix to Queen.
4 out of 5
Hamstead Odyssey
Every once in a while, you get your hands on a pedal that just puts a dumb smile on your face and helps you lose an afternoon with your guitar.
The Odyssey is exactly that. It takes a little bit of time to dial in, but once you're there, it's a responsive, feature-rich, and fun pedal. The low-gain settings are decent for hairy blues tones, but it shines when cranked, especially in the cascaded mode for classic rock and modern metal tones.
You can get dramatic tone-shaping and treble sparkle with the EQ set before the drive stage, or place it after for a more pristine, studio feel.
5 out of 5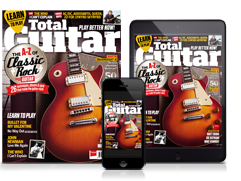 Stay up to date with the latest gear and tuition.
Subscribe and save today!