Naughty Boy: 10 tracks that blew my mind
Awarded a £5,000 grant by The Prince's Trust - a figure later dwarfed by his £44k prize fund for appearing on TV game show Deal Or No Deal - Shahid Khan (aka Naughty Boy) was fast-tracked to stardom in 2010 with the Top 10 UK hit Never Be Your Woman, featuring British rapper Wiley and then unknown vocalist Emile Sandé.
Writing songs from his parents' garden shed in Watford, Khan signed to Virgin EMI and found major success with his debut album Hotel Cabana.
Both as a producer and co-writer, Khan, who runs his own Naughty Boy Recordings, has worked with a host of superstar talent including Ed Sheeran, Gabrielle, Alesha Dixon, Beyonce, Lily Allen, Will.I.Am and Tinie Tempah.
Currently finishing his second album, due for release later this year, Khan's latest Naughty Boy release, Should've Been Me featuring Kyla and Popcaan, is out now.
Click through the gallery to discover the 10 tracks that have had the most influence on Naughty Boy...
Michael Jackson - Black Or White
"I didn't know Michael Jackson albums like Off The Wall or Bad when they came out because I was listening to a lot of Bollywood music when I was young. But I saw the video premier of Black or White on Top Of The Pops and was just in awe of everything, from the music to the visuals.
"It was just like a Hollywood movie. It made me think, how could he do all this and still have this amazing message about race? It was very inspiring. I remember recording the music with a tape recorder and the visuals on my video recorder and playing them simultaneously. In my head, I was probably learning how to become a producer [laughs]."
Amy Winehouse - Back To Black
"The album as a whole is one of my favourites, but I'd never heard a female artist in the UK sing about love in the way she did on Back To Black. It's tragic, but it's also got attitude - sexy, but sad. Amy did that prolifically.
"The way she's talking is not really nice, 'You go back to her and I go back to black', but it is what it is and I just love that lyric.
"She's deserving of her iconic status for her honesty, which is ultimately what destroyed some of the years in between her albums. Because she was putting her whole life out there, I think it came at a price. It's sad, but songs like this will live forever."
Ms. Dynamite - It Takes More
"At the time there were UK garage bands like So Solid Crew, but when it came to her first single Ms. Dynamite reinvented the wheel a bit. I was obsessed with everything that the producer Salaam Remi did with both Amy Winehouse and Ms. Dynamite. I feel that It Takes More was much needed.
"The best songs are the ones that speak to the people rather than wait for the people to speak. It reflected the times we were living in and made her quite iconic and someone to look up to. She really inspired my sister, not to become a musician, but to feel more confident.
"She started the song with, 'The shit that you promote, fighting and fuckin' - no one else would start a song like that. She shut down a lot of things with her lyrics."
Meat Loaf - I'd Do Anything For Love (But I Won't Do That)
"I didn't have a CD player and couldn't buy music, so I only got to hear things for the first time by watching stuff. This is like some kind of take on Beauty And The Beast and it felt very filmic, but musical.
"I like songs that don't just repeat verse/chorus. When you watch the song with the video, it becomes more than just a song, and I was always thinking what would he do for love? I don't think anyone knows.
"I woke up today and was listening to Celine Dion and thought, imagine if a song like that came out now, would people think it's cheesy or was it made just for that era?
"I think when people are a bit more fearful of the world, they tend to look back - art gets better and people are more open to saying and making the music they want to make."
Hall & Oats - I Can't Go For That
"I only heard it for the first time a few years ago. What you can tell from my song choices, I hope, is that I'm definitely a lyrics guy. Obviously, the music is important, but not as much as the lyrics.
"When I was younger, I would always try to make sense of them. I looked into the lyrics for this song because I never understood it, and it's actually about the music business. Not in a rebellious way, but there's certain things that you can't go for, which was quite refreshing to someone like me who was just getting started.
"It was a bit of a 'fuck you' to the business. I know that The XX have just sampled it for their track 'On Hold', which I think is sick."
Aaliyah - Try Again
"This track was from the film Romeo Must Die and I used to go to the listening posts at Virgin Megastore after work because I couldn't afford to buy the film soundtrack. I'd just go every Saturday and listen to the soundtrack for an hour.
"They knew I wasn't going to buy it - I was 'that guy'. I'm glad I got to experience that - it was better than going on the internet where you can just hear whatever you want.
"It's great that people are writing songs in their bedroom and can get them heard in a fast-tracked way, but at the same time, internet fans are whole different kind of fan.
"It's more ruthless now, if someone doesn't like something they'll tweet you or tell you - even my own fans. It's a bit of a dangerous place."
Christine And The Queens - Tilted
"There's something about this song that takes me away. Music should be an escape, and I felt that last year there weren't many songs that really felt like that. I learned the dance moves to the video and everything.
"When you hear a song like that, you can imagine what it was like when they were making it - the simplicity of it and how they'd built it up. It's very artistically driven. But I've stopped over-analysing music now.
"When my own songs came out, I used to think, oh my god I should have changed this or that in the mix, but once it's out it doesn't belong to me anymore. You have to let it go, and I've learned to apply that to the other music I hear too and not be so judgmental."
Emeli Sande - Heaven
"This was the first song we did and we'd pretty much made the album together. I remember writing it with her and talking about what we were trying to say.
"When I heard it last night, it just brought it all back again. It's all about not knowing if you're good enough for a lot of things. The conversations we were having were quite deep, and because I'm so close to the song I had to put it on the list.
"When I was in sixth form, I was obsessed with breakbeats and would listen to a lot of Nitin Sawhney. I like to think that Heaven inspired a whole wave of breakbeat tracks and changed a lot in terms of the sound of UK radio."
Eagles - Hotel California
"When I was making my first album, I used to work in a luxury hotel called The Grove in Hertfordshire, which had lots of celebrities. I was playing with this thought about making an album and imagining this idea about a hotel where the clients were rich but nobody was really happy or had peace of mind.
"When I heard Hotel California for the first time, I felt like this was exactly what I was trying to do. But that was the American version; I needed to do a British take on it. Hotels are very interesting places. A lot of affairs and meetings happen and there's all these different things going on under one roof.
"Hotel California represents that in a very classic way. I've never seen a video for it, is there one? Would be interesting to see how they visualised it."
Lukas Graham - 7 Years
"Of the tracks I've picked, I've focused on how they made me feel the first time I heard them. I feel that's so important. When I heard 7 Years, I think I was in Amsterdam. I don't remember anyone writing a song that covers the whole journey of your life, but in a very contemporary way.
"I know they're European, from Denmark I think, so English would not be their first language, but the lyrics are poetry. The objective is to make songs that stand the test of time, but you don't want to sound like those songs.
"I might go out of the way to take something lyrical from a track in terms of sentiment, but I wouldn't try to recreate that in a track."
Check out the latest single by Naughty Boy 'Should've Been Me' featuring Kyla and Popcaan. For more information, visit Naughty Boy's and pages.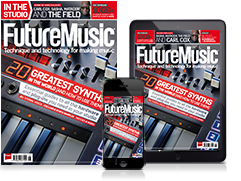 All-access artist interviews, in-depth gear reviews, essential production tutorials and much more.
Get the latest issue now!