NAMM 2019: Ashdown unveils AGM guitar amp range, Pro FX bass pedals and Shavo Odadjian signature head
NAMM 2019: Ashdown have unveiled a huge new list of additions to their product line-up, including a new range of AGM valve-based guitar amps, five Pro FX pedals and a new signature bass head for System Of A Down's Shavo Odadjian, the Head 22.
In addition, the firm has also reinstated the ABM 300 to its flagship range, added a new 3x10 cab - the CL-310DH and a couple of other useful boxes including the Tone Pocket headphone preamp and Phone Box solid-state amp headphone converter.
AGM (Ashdown Guitar Magnifier) amps
Ashdown founder Mark Gooday may have made his name with four-string-focussed noisemakers, but has a history in building guitar amps that dates back to the early 80s. Mark has teamed-up with valve guru Dave Green on the AGM designs in order to create a set of top quality, sustainable and serviceable valve amps.
Browse the gallery for info on the new gear, starting with the AGM range.
AGM-30-Offset
This head is the much-loved Ashdown Mofo 30 in disguise, according to the firm and uses a blend of ECC83s in the pre-amp stage and four EL84s in the power stage. There's also a tube-driven effects loop.
AGM-684C
A 45-watt 1x12" combo, the 684C packages six EL84 valves, two channels, an Accutronics reverb tank and Celestion Creamback speaker.
AGM-484H
As the 30 offset, but smaller and less, err, offset...
AGM-284C
A 15-watt 1x12" combo unit containing, you guessed it, two EL84 valves, plus a Celestion Creamback speaker.
AGM-5C
The 5C is a five-watt practice/recording combo, pairing the range's ubiquitous ECC83 with a single EL84.
Interestingly, there's also a solid-state preamp and Belton digital reverb onboard, plus a Celestion Creamback.
AGM cabinets
AGM-112/212
1x12" and 2x12" [pictured] cabinet options will support the head offerings. Both loaded with the Celestion Creamback speakers found in the combos.
AGM-210
A semi-open back 2x10" speaker cabinet loaded with two Jensen 10" speakers.
HEAD-22
A brand new signature head for System Of A Down bass player Shavo Odadjian, based around the ABM 600 EVO IV. Adds dual VU displays and custom 'Shavo' artwork.
Pro FX Triple Shot
A coffee-themed overdrive offering a huge amount of tone sculpting control.
Includes dark, medium and light 'roast' frequency bands, each with an independent level control before the pedal recombines them at the output.
Pro FX Macchiato Compressor Guy Pratt Signature Pedal
David Gilmour and Madonna man Guy Pratt captures his 'special blend' compression ratio in a box, with added three band EQ and Subsonic filter switch for eliminating unwanted frequencies.
Pro FX Studio Comp
Designed for use, clearly, in the recording environs, including gain, ratio and threshold controls. Can also be used live between a pre- and power-amp.
Pro FX Velvet Compressor
Designed to produce soft and smooth compression tones, the Velvet combines gain, ratio and threshold into a single user-friendly 'Compact' control, leaving separate input and output level controls with helpful LED lighting to indicate correct levels.
Pro FX Type 23
A three-band filter pedal, it can generate funk-laced and speech-like tones from your bass via an envelope filter with high- and low-band options.
CL-310DH
A striking 3x10" speaker column with two additional high-frequency horns mounted at the top, originally developed for Guy Pratt, but now in general production.
ABM-300-EVOIV
Back with a second series, the AM300-EVOIV returns offering a lower-powered option for the flagship bass amp range.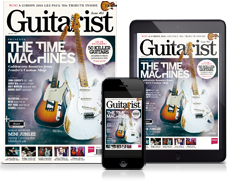 The magazine for serious players
Subscribe and save today!