Welcome
Having previously collaborated with Forest Swords, Ital Tek and Falty DL, Anneka has now put out her debut Life Force EP on Anti Ghost Moon Ray Records (Gazelle Twin's label).
Her music mixes electronic elements with guitars, field recordings and her own vocals which is the focal point of her sound. Anneka's voice is regularly used as an instrument, often with improvised vocals layered on top of each other or sampled through effects pedals.
The Brighton native is also a visual artist, so we asked her to take us on a tour of her studio and take a look at all the gear amongst the ornaments, books and artwork.
UAD Apollo Twin Solo
"My UAD Apollo Twin Solo is an essential part of my studio. It sounds incredible, is powerful, and comes with some awesome UAD plugins which I use on nearly every track.
"It came highly recommended when I was asking around about getting a new sound card and now I know why. The mic preamps sound lush on vocals which is important for me as my voice is my main instrument."
Rode NT1000
"I've had this robust Rode NT1000 for about eight years and recorded every vocal feature with it as well as my solo material.
"The diaphragm has gone on it a couple of times but has a 10 year warranty - and Rode's support team are great at getting it fixed in a quick turn around.
"It's got full frequency response and captures all the nuances of my vocals which is key for me."
Gibson Les Paul Studio
"My first and only electric guitar I saved up to buy as a teen - a Gibson Les Paul Studio.
"I now tend to use it for subtle swathes of atmospherics rather than the focus of my tracks.
"It's a beautiful guitar that sounds great plugged into the Apollo Twin before I put it through Native Instrument's Guitar Rig."

Novation SL 25 MkII
"This Novation SL 25 MkII has proved incredibly handy to gig with. It's packs neatly into a suitcase with my other live gear.
"I assign the knobs and faders in Ableton so that I don't have to touch my MacBook while performing. I then lay the AKAI LPD8 on top of it for more knob controls and trigger pads."

Roland SPD-SX
"I love this Roland SPD-SX and have used it a lot for live performances.
"It's quite fun to improvise beats and rhythmic ideas on when you want to get away from looking at a computer screen."
"My favourite guitar pedal I have is the Electro Harmonix Memory Man.
"I sample my voice while experimenting with the parameters before chopping up the best bits and layering them in Logic Pro X.
"It's a really diverse delay pedal with a lot of warmth and features heavily in my more ambient tracks.
"It loses a bit of high end and punch so it's not suitable for front up vocals - but I love it on backing vocals. It's also great on guitar of course."

TC Helicon Voicelive 3
"TC Helicon's Voicelive 3 is really fun to jam vocals with. I usually sing every layer I harmonise in a track, so this is pedal provides a way of mixing it up by creating extra harmonies for you.
"You can make it sound very natural but I quite like pushing it in a strange, unnatural direction - like I did in the choruses of my track 'Life Force'."
Olympus LS-5
"I was recommended the Olympus LS-5 as a best-on-a-low-budget field recorder by a sound designer I know. He was right, it sounds brilliant considering the cost.
"I used it while travelling around Japan and was really happy with the quality of recordings when I got back.
"A recording I made on the Tokyo subway runs throughout the bed of my song 'A Strange and Distant Town'. Field recordings can really add to the atmosphere of a track even when used in subtle way.
"As for the notebook, have loads of notebooks to write down ideas, lyrics and production notes. There's something about writing stuff down by hand that makes it sink in."
LG 25-inch Ultrawide monitor
"I recently bought LG's 25-inch Ultrawide screen and I don't know how I did without it before.
"I'd been using the 13 inch screen of my MacBook which not only meant a lot of scrolling around but frequent neck ache from looking down.
"My workflow in Logic Pro X is a lot quicker now and it's also a dream to edit video on. I just wish I'd bought one sooner!"
Cactus
"Cacti are the perfect studio plants as they are pretty indestructible. It's nice to have some other life around when you're recording or producing for hours at a time on your own."
Acoustic treatment
"Acoustic tiles are pretty dull to look at so I like to add artwork and all sorts of ephemera.
"A lot of time in the studio is spent staring at grey grids on the monitor so I like to be surrounded by some visual inspiration and colour."
Anneka's debut 'Life Force' EP is out now via Anti-Ghost Moon Ray Records and available on Bandcamp, Spotify and iTunes.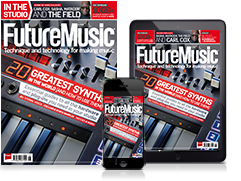 All-access artist interviews, in-depth gear reviews, essential production tutorials and much more.
Get the latest issue now!