King Creosote talks Astronaut Meets Appleman, bluegrass and bagpipes
Introduction
Kenny Anderson, aka King Creosote, is on a roll, and with reviews of his new Astronaut Meets Appleman LP hailing it as a masterpiece, it seems that widespread recognition is finally on the cards.
After speaking to Kenny Anderson for a short while about his superb new Astronaut Meets Appleman album, it is clear that the slightly mischievous Scotsman considers it almost as contrary as the title suggests.
"I think that sonically there was nothing left to chance on the record," he begins, with a customary chuckle. "On the playing side, there definitely was, but only where I felt we could get away with it."
As paradoxical as this sounds, once the listener has gotten their teeth into Astronaut, all becomes clearer and the various nuances of the beautifully put together set can be appreciated.
"On one side of this album, you have a song that is impeccably tight, like You Just Want," he explains. "So you've proven you can record a track that is on point. And then you can have something that is incredibly ramshackle, which on this album is Peter Rabbit Tea." The latter is a gently orchestral arrangement built around a refrain of Anderson's baby daughter repeating the title of the track.
"The band had to play to that recording," he says, with something between awe and an apology in his voice. "There was no sample, and some of the guys didn't get it, but most felt like it was absolutely the song on the album they had to play on."
You Just Want
At the other end of the spectrum is the opening track, which is the 'impeccably tight' You Just Want mentioned above; a wonderfully full song, starting with a simple strummed guitar part and building a tapestry of skilfully coexisting sounds.
"That song is probably twice the length of when it originally arrived in wav form," Anderson says. "It was always going to be the opening track, but it was originally just cello, guitar and voice. But then I decided it should set out the stall for the whole album.
"When I played in a bluegrass skiffle band, one of the tricks was that every instrument would take in turns stepping up to the mic before the vocalist took it. So it was very live and You Just Want was supposed to do that. I don't like to think of the playing as solos, that doesn't feel right, but it does give the listener a flavour of the album with these little musical tangents.
"We did something similar with the bagpipe songs," he continues, after a pause. "We placed them second and penultimate in the set, because if you could get through that second track as a bagpipe-hater - and I'm in both camps on this, I love and loathe the bagpipes - then you'll reach the end of the album."
Anderson comes across as a musician who will always deflect attention from his own talents by claiming that he was a 'passenger' during the recording or feeling that he should 'just shut up and let the band play', but when it comes to the conception of Astronaut, it is clear that he knew what he did and didn't want to come across.
"I'm not sure whether it's because albums don't sell as well, or there's a lot of pressure put on, but it seems that these days every track on a record has to be as close to a single as you can get; there can't be any chaff. But on Astronaut we kept the chaff, because when you're listening to a piece of music for 40 minutes, it's too tiring to have this constant 'Hey, listen to me!' from each track. I'm sure people will skip Peter Rabbit Tea, because they don't understand it, but it's a mistake, because it's there for a reason."
Craftsman's tools
It's this kind of skilled craftsmanship that must have drawn Anderson to electronic composer Jon Hopkins, to create 2011's splendid Diamond Mine album.
"That's it," he says. "Hopkins and I knew that people were skipping through albums, so we purposefully put together a record which demanded you concentrated on it to get anything from it. Some of that bloody-minded 'you're doing yourself and this album a disservice by not giving it your full attention' mentality carried over to this album, for sure."
Also like Diamond Mine, Astronaut is a fine marriage between electronic flourishes and the musical tools of our readership, and Anderson is very much aware of the metaphors this processes.
"With this album and its cyclical style, I wanted a certain flavour of innocence to come back," he says. "It's amazing how many questions have arisen because of the title, but I suppose it is about rebirth and aspiring to do something hi-tech and realising that you've gone full circle. You can read that as technology in our digital age, personal rediscoveries or life cycles; it can be all of that."
In keeping with the contrast of the album, Anderson himself is not entirely decided on how he feels about our digital environment.
"As much as I rail against technology much of the time, there are certain things that it is so good for," he answers diplomatically. "There is the danger of being able to do as many takes as you like these days and absolutely perfecting your voice, but Paul Savage [producer] knows I don't work that way. You can't really get away from the digital onslaught, and much of the subject matter on these songs is about this analogue/digital competition that's forever raging in me.
"In any band going forward, the whole social media devaluing of everything is in our lives constantly. Our current biggest bugbear is that by the end of a gig, somebody has put photos, clips and comments online, before we've even grabbed our bags. I haven't even digested the show myself, so I don't want to see it," he pauses a moment and gives a laugh.
"That's the background to making and performing music these days," he says. "But I wouldn't say the songs are about me hating social media, although it may sneak into the odd lyric. Oh dear, I'm on a rant; you've got me ranting!"
A diamond in the rough
Finally whittling our conversation down to the brass tacks of the acoustic guitar, which is always audible on Anderson's songs and especially apparent in his concerts, the musician is as humble and unassuming as he sounds.
"I would say that I've accidentally become fussier [about guitars] over the years", he laughs.
"When I started out in the bluegrass band, I had a £60 steel-string guitar, which was a bit of cash for me back then! So I ended up painting this battered thing purple, which pretty much destroyed what bad sound it had, and I noticed that in studios I'd play something and the engineer would say 'that's really good, but maybe try it on this guitar!'"
Eventually it took some divine intervention to force Anderson to ditch his guitars and purchase a decent instrument.
"When I was doing Diamond Mine, I had three quite decent workhorse guitars, which I strummed with a light pick, and they all broke around the same time. I remember one being trashed by a roadie and one exploding in a big flash and bang when I was playing a rainy gig at Glastonbury!
"So Jon [Hopkins] said to me to go and get a good guitar. He'd say 'you're recording albums man, what are you thinking? Get yourself a decent guitar!' So I went off to Soho and there they were bringing out the Martins and Taylors and all that, but they all felt the same.
"Eventually we came across this old 1953 Gibson with a passive pickup that sounds almost electric when you plug it in. So I started playing this guitar and even though there was maybe a little fret buzz and the tuners were old, I just had to have it. It sounds amazing through the AER amps, which I love. It's worth a lot now, but I have it because it is my guitar. It felt intuitive as soon as I played it."
Astronaut Meets Appleman is out now on Domino Records.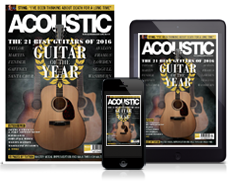 We're the UK's only print publication devoted to acoustic guitar.
Subscribe for star interviews, essential gear reviews and killer tuition!