How Ned Steinberger redesigned the bass world
Introduction
BASS WEEK: In the world of bass guitar design, the name Ned Steinberger conjures up many different images. Some people envision Sting or Jamaaladeen Tacuma jumping around, playing an odd-looking bass with a huge sound and incongruously tiny body.
Others see Tony Levin strutting across Peter Gabriel's stage with an electric upright. Still others picture Grace Chatto bowing an electric cello with pop sensation Clean Bandit.
For those really in the know, the name Ned Steinberger brings to mind not only those images but also pictures of a bass with a curved, ergonomic body - and a huge number of players and fellow instrument builders inspired by that design. Ned's designs are all those things and much more.
His story, at its heart, is one of a true designer - someone inspired by problems, who when he or she gets hold of a good one, won't let go until a solution has been found. In Ned's words,
"I get obsessed with a problem. I say to myself, over and over, 'There has got to be a way to do this!' Finding a new and better solution to something - something that hasn't been done before - is what excites me."
To really make sense of Ned's achievements in electric bass design and understand what makes his new electric bass - the NS Design Radius - special, we will need to go back to the mid 1970s, and a small, communal, woodworker's co-operative in Brooklyn, New York.
Ned's father Jack is a Nobel Prize-winning physicist, who at 96 still holds regular offi ce hours at the CERN nuclear research facility in Geneva. His mother was an artist, best known for her representational paintings. Never one for academia, Ned fused his father's scientific mindset with his mother's artistic vision and as a young man found success designing furniture and cabinets.
Happenstance brought him to that small woodworker's co-op. The cabinetmaker Ned had been working for was closing up shop and selling his gear. A young luthier named Stuart Spector stopped by looking for a bargain: he ended getting a 24-foot belt sander - and Ned Steinberger.
This was 1976, when real innovation was happening in the bass world. Alembic, and other manufacturers, had already had success with neck-through designs and active electronics. Stuart Spector was already making guitars, and had a bass design. Spector's corner of the co-op was opposite Ned's. (Another young guitar builder, Vinny Fodera, worked in the shop too: his first job was cutting pearl for the Spector logos.)
One day, while discussing the challenges of bass guitar building, Ned offered to take a stab at a new design. He had never built a musical instrument, but Spector was game and told him to go for it.
From the outset, Ned approached creating Stuart's bass from a true designer's perspective. Feel, comfort and style were paramount. His first step was to strap on several basses and get a sense of how they felt, not in the hands of a player with preconceived notions of what a bass should be, but in the hands of an innocent, looking at a problem with fresh eyes.
Starting out
Immediately, the bass's disproportionately heavy headstock and the resulting neck dive made no sense to Ned. The instrument was unbalanced, and in the world of furniture and cabinet manufacture an unbalanced design would never fly.
While prototyping what would become the Spector NS-1, Ned experimented with both streamlining the body and headstock and using counterweights to offset the neck dive. He also made the body more comfortable by gluing two 'wings' onto a neck-through structure. Both wings were curved, creating an arch that fit securely and comfortably against the player.
In the end, he solved the balance issue simply and ingeniously. By playing with the size of the top horn and moving the strap endpin further up the body, Ned changed the instrument's centre of gravity. The resulting bass balanced better, distributed the weight evenly across the shoulders and back, and looked great.
The NS-1 was released in 1977 and was an instant hit. Parkash John, Alice Cooper's bassist at the time, was one of the first players to pick one up. Pete Briquette of the Boomtown Rats and Loverboy's Scott Smith soon followed. One of Stuart's fondest early success stories is of Keith Jones, who was playing with Carlos Santana when he got his NS-1. They were recording in the same studio as Bob Marley, and Jones ended up sitting in and recording with that bass on Marley's tune, Jamming.
By 1979, in addition to the NS-1 with its single P-style pickup, Spector had added an NS-2 with a P/J pickup combination. Countless players and recordings feature the Spector NS-2. Forty years later, the design remains the cornerstone of the Spector bass line.
After designing the NS-1, Ned was hooked. Instrument design was fun, rewarding and challenging. Although he had hit a home run on his fi rst swing, the inherent struggles and challenges with bass design, particularly with regard to balance, kept nagging him.
Creative thinkers have a few options. They can think inside the box and refine what already exists; they can think outside the box and use the past to create something new - or they can blow up the box, start from a blank slate and bring something entirely new to life. Ned's next instrument was total blow-up-the-box thinking.
'Ello L2
Once again, unencumbered with a player's past, Ned asked himself, 'Stripped to its very essence, what does an electric bass guitar need?'
The answer was simply a vibrating string and a magnetic field to pick up that vibration. Add to that the need for balance and comfort - and the realisation that there was no need for a new instrument to look like one from the past - and he was off.
"I realised that a headless instrument would never look like a conventional instrument," says Ned. "I needed to create a whole new animal."
His first attempt was a total failure. He carved a small, rectangular body and moved the tuning pegs from the headstock to the body. The instrument was light and balanced, but had uneven, wimpy tone with dead spots all across the neck.
In an attempt to figure out why the instrument failed, he clamped it to a 200lb wooden workbench. Like magic, once clamped to the extremely heavy, dense table, it sounded great! Instantly, Ned realised the bass's sound was a reflection of the relationship between its rigidity and its mass. The more rigid the structure, the less mass would be required for a satisfying bass tone.
At the time, in the late 1970s, fibreglass was the most rigid material Ned could easily access, so he covered that first bass in fibreglass and the results were encouraging. Enter P. Robert Young, who almost singlehandedly created the fibreglass lifeboat industry and was an expert in both fibreglass and carbon fibre construction. Young taught Ned the finer points of the materials and how to mould and finish the product.
Many prototypes, failures and successes later, Ned had produced the Steinberger L2 bass, so named for its two low-impedance pickups. He also made H1 and H2 models, with high-impedance DiMarzios, as well as an L1, but the L2 quickly became the model of choice.
Everything about the L2 was new, but three features made it exceptional. First, the carbon fibre graphite material: the entire bass was constructed from this fibre and resin composite and was incredibly rigid. Early demos had featured Ned's sales partner Hap Kuffner standing on the bass suspended between two chairs, then picking it up and playing it, still perfectly in tune. Rigidity gave it tone and extraordinary sustain. It was impervious to heat, humidity and climate changes - the perfect instrument for travelling pros.
A pivot
The next revolutionary feature was Ned's headless design, with his straight-pull, bridgemounted tuning system.
Traditional bass tuners average an 18:1 gear ratio, which means that you need to turn the tuning knob 18 times to get one complete revolution. The higher the number of turns, the finer and subtler the tuning possibilities. Ned's tuners had a 40:1 ratio.
Also, the string pulled straight from the neck's end through the bridge with no bends or twists around a tuning peg, resulting in an exceedingly stable string which stayed in tune like nothing that had come before.
While those two features were great on their own, the secret to the Steinberger's balance and comfort was Ned's 'pivot plate'. Contoured like the back of the Spector NS-1, the bass's strap attached to either end of the plate.
The plate then attached to the instrument's back at the bass's absolute centre of gravity. The result was an instrument that hung in perfect balance, with completely even weight distribution that could be adjusted to any height or playing angle.
"The pivot was key to the ergonomics of the bass," says Ned, "but it was a radical departure from what players were expecting. In my youth I was pushing boundaries that, after 40 years of making instruments, I would no doubt shy away from today.
"After all, what self-respecting bassist would want a plastic instrument with the head chopped off, suspended on a prosthetic device? It was a lot to ask of musicians who are naturally loyal to the instruments they play and love."
EMG's Rob Turner built custom pickups for the L2. He added steel into the pickup, which gave them a natural mid-range boost. While most bass pickups roll off the mids, the active EMGs in the Steinbergers added them.
On its own, the rigid carbon-fibre provided highs and lows. By adding the mids, the overall frequency response was unparalleled, consistent from instrument to instrument and uniform all over the neck.
Even when played today, it's amazing how the frequency response and volume remain consistent from the very highest notes to the very lowest. It's almost as if there's a naturally built-in compression, smoothing and rounding out the tone.
NS Design
Once they heard the bass, players were sold on the L2. Tony Levin bought the very first commercially available bass - an unlined fretless. John Entwistle and the Dixie Dregs' Andy West were next in line and purchased prototypes before Steinberger officially went into business.
In 1980, Ned, along with Robert Young, Hap Kuffner and Stanley Jay, founded the Steinberger Sound Corporation, working from their shop in the Red Hook district of Brooklyn. From the outset, production couldn't keep up with demand.
Popularity peaked in 1982 with Sting being featured on the cover of Guitar World magazine holding his L2. In 1983, the company relocated to Newburgh, New York. Shortly after that, guitars with the L2 body shape - but minus the pivot plate - were introduced, followed by guitars and basses with more traditional body shapes.
The 1980s were a perfect storm for both Steinberger basses and guitars. Not only did the basses sound and play like nothing else, they also fit the bill visually. MTV fell in love with the sleek, futuristic look of the instrument, as did bass players who were moving out from the back of the stage to take more prominent roles in their bands.
However, Ned had never intended to be a businessman. The original plan was to license his design to a major manufacturer, as he had done with his design for Spector. In 1987, as the demands of the business grew and running it became less enjoyable, Ned sold Steinberger Sound to Gibson. Gibson kept the original designs alive until 1997. Two years later, Gibson reintroduced the Steinberger line but with new shapes and electronics and without a fully graphite-composite body.
After selling the company, Ned stayed with Gibson for a couple of years, working on new designs and consulting on both Steinbergers and other products. However, company life wasn't for him.
In 1990, he started a new instrument design company under the name NS Design. The first NS Design instrument was an electric upright bass. Enamoured with the sonic potential of upright acoustic bass's 42-" string length, Ned created an electric upright that stood out from the crowd with an equally useful pizzicato and bowed sound.
Creating the NS Design upright bass led to a whole family of bowed electric instruments. Inspired by the piezo pickups in the bowed instruments and a new self-clamping tuning system designed for the NS Design violin, in 2013 Ned decided to design a bass that would be a significant improvement on his earlier designs. The result was the NS Design Radius.
Drawing the Radius
From his Spector design, Ned developed a new, wooden, curved, ergonomic and streamlined body. From the Steinberger, he took the headless and straight-pull tuning concepts and a refined active EMG pickup system. From NS Design, Ned added a piezo transducer under the bridge, the selfclamping tuning system and, in the CR models, graphite reinforced necks.
Each of these features was a natural progression from earlier designs. It's almost like the Steinberger bass's sound and response was re-envisioned into a body design that naturally fit the player.
Nowadays, the bass marketplace is going through a phase where vintage - and vintage-looking - instruments dominate. Still, there are many top bassists finding their way to Ned's Radius basses. Bakithi Kumalo, best known as Paul Simon's Graceland bassist, plays both NS Design uprights and Radius basses.
So does Michael Thurber, best known for his work on the Stephen Colbert Show and the musical collective CDZA. Originally an acoustic upright bassist, Thurber had an NS Design electric upright, but really got excited when the Radius came out.
At the age of 68, Ned shows no signs of slowing down. Bowed instrument sales are going well, the Radius basses are finding a home and he's about to release a new guitar design for NS Design.
The original gangster of love, Steve Miller himself, has ordered a half dozen. In addition, Ned is staying true to his designer roots and his original aspirations. NS Design is far less stressful than Steinberger Sound was, and he's able to collaborate with other builders, designers and companies. Whenever you see an 'NS' in a music store these days, whether it's on an acoustic bass pickup, a guitar tuner or a new strap-lock system, it stands for Ned Steinberger.
As he reflects on his contribution to bass design, Ned says, "With my first design for Stuart, I took the essentials of traditional electric bass design as a given, and worked within this framework. This work led me to the headless concept, which by its radical nature catapulted me into outer space, resulting in the Steinberger bass. The NS Radius combines the best features of these earlier instruments with more recent innovations in tuner and pickup technology. For me, it's a continuing quest."
Time will tell whether the Radius electric basses achieve the iconic status of the Spector NS and the Steinberger L2. Regardless, Ned's place as one of the most significant and important electric bass guitar innovators of his generation is securely in place. After all, he has redefined the instrument three times over.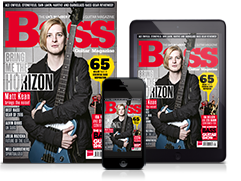 We're the UK's only print publication devoted to bass guitar.
Subscribe for star interviews, essential gear reviews and killer tuition!