Justin Hawkins discusses Marshalls, solos and Last Of Our Kind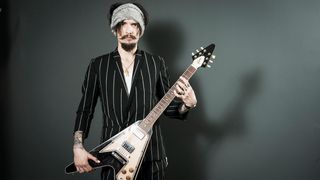 Introduction
We chew the fat with The Darkness's Justin Hawkins and hear all about the band's new album, his love for Marshall stacks and the downsides of taking barbarians on the road.
When we hook up with Justin Hawkins - The Darkness's ever-eccentrically attired front man - at Gibson Guitars in London's Oxford Circus, we find him in characteristically effusive mood.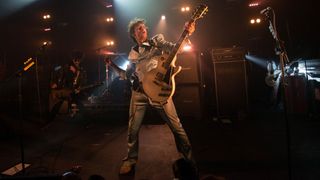 Call it a comeback
How do you feel about Last Of Our Kind now it's all finished and mixed?
"I'm quite realistic about albums. I wouldn't have been able to say that I was really proud of the last one [Hot Cakes, 2012], but I think the last one did a job. We had to get something out in a timely fashion because we had some live opportunities that we couldn't turn down.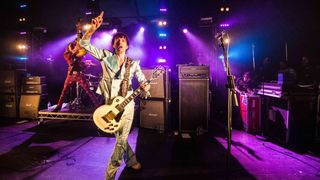 Different strokes
And how would you define those differences in your roles as guitarists?
"Well, if there's a song that requires a sort of a filthy edge-of-the-seat rock 'n' roll solo that doesn't adhere to traditional scales and is just a guy expressing himself, then that's Dan.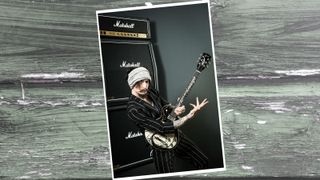 Marshall man
Which amps did you and Dan plug into during the sessions?
"For me, it was all Marshall, but my brother experimented a lot with different stuff because he's got to do a lot more of the textures. My role in the recording process is just to make sure the solos kick ass!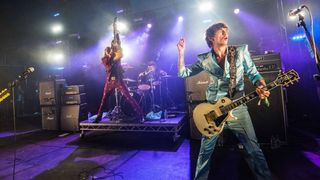 Brothers in arms
Dan produced the record at his old studio, Leeders Farm. How does it feel having him as producer?
"Well, we wanted him to do it. We were doing the demos and were just really enjoying the process of recording them. He's got the experience, too. We have done it before. On the first album, Dan was sort of co-producing, but it interfered with the band relationships a little bit and made things strained between Dan and the band, you know.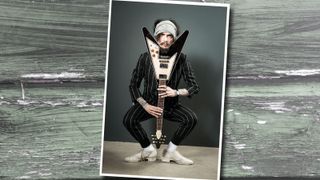 Taming the beast
Justin on how to wring the most from Marshall stacks...
"When I first started playing, I used combos because I couldn't afford stacks, but I used to look longingly at them through the music shop windows in Lowestoft! I've actually only recently got back into the Marshall stacks and now I'm playing the Mark II Super Leads. I actually have two so I'm living my childhood dream now... in stereo!
"Going back, I didn't want a Marshall stack because of the guitarists that used them, actually, although I am aware that everybody that I like plays through them, or at least pretends to!