Inglorious guitarist Andreas Eriksson talks receiving praise from rock legends and the band's unstoppable rise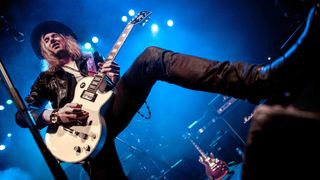 Introduction
Queen's Brian May has likened them to "a really potent, young Deep Purple". Glenn Hughes has openly stated he loves their songs and videos. Toto guitarist Steve Lukather invited them to meet up with him backstage.
For a band that have barely begun their journey into the wonderfully wild world of heavy rock, you could say things have gotten off to a fairly good start for Inglorious.
Formed in February 2014 by singer Nathan James, who rose to fame with appearances on BBC's The Voice and ITV's Superstar, followed by stints with Uli Jon Roth and US progressive rock heavyweights Trans-Siberian Orchestra, there's certainly a strong sense of pedigree surrounding the quintet.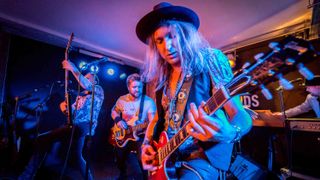 Classic pedigree
As for the other names that have contributed to the rich, velvety sounds heard on the debut, it's very much the best of the best in rock, the gods that built heavy music into what it is today. Eriksson is quick to point out that, at least on his part, there was always one influence that reigned supreme…
"There's been one band that have inspired me more than anything else ever since I was a kid, and that's Aerosmith. Despite being a guitarist, the main reason is actually Steven Tyler, though I love Joe Perry's riffs, too.
"Other players that have really influenced me would be Joe Bonamassa, Mark Knopfler, Ritchie Blackmore, Jimi Hendrix, Jimmy Page… all of those guys. And for Nathan it's the same bands; we both love Deep Purple, Led Zeppelin, Guns N' Roses, Whitesnake… Nathan worships David Coverdale. I think you can hear the inspiration in our music. It's what comes out out naturally for us because that's just what we like."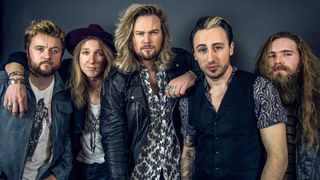 Long-distance relationship
They may wear their influences on their sleeves but unlike so many other bands who go wrong in forgetting what year they themselves exist in when paying dues, Inglorious sound like a band you could hear on the radio today.
Part of that could be down to self-producing their debut, though current and ex-members of Alice Cooper, Whitesnake and Queen are credited as guest writers – which, in fairness, can only be a good thing.
You almost get the impression landing a record deal wasn't especially hard, not for this band. Eriksson, the only member of the band to live outside the UK, sees easily enough potential to outweigh any geographical setbacks…
"I live in Malmö, but I don't see it as a problem and neither does anyone else in the band. It actually takes me less time to get to London and be at band HQ than it does our other guitarist Wil, who lives up north!
"I take my bike, with my guitar on my back, and get to the train station in minutes. Then it's 90 minutes to Copenhagen airport and I'm in London an hour-and-a-half later. So door-to-door, we're talking about less than four hours!
"When I'm over, I usually stay for a week; I love England, and then I come back home to work in my studio for a little while. So, it's not a problem."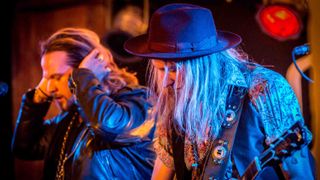 Future prospects
Who knows: maybe the distance begins to shorten as the line of rock stars welcoming the newcomers with open arms continues to grow.
The lead guitarist admits their ever-growing list of friends in high places is something quite extraordinary indeed – but also brings a sense of caution. As many rising stars are often told, it's very important not to believe your own hype…
"It's mind-blowing for us to hear that guys of that stature dig our music and think what we're doing is cool," he reasons. "It's been hard to grasp, but it's important not to see it as pressure. I try to only see it as a compliment.