Review round up: mini guitar amps
While some mini guitar amps may have started life as toys, competition means they haven't been able to stay that way.
Don't Miss
• The 15 best guitar amps
• The best guitar amps under $1,000/£1,000
• The 11 best guitar amps under $/£500
• The best high-end guitar amps
Today, the choice includes serious go-anywhere combos with battery and mains power, dual speakers, dual channels and effects, mp3 inputs and more. Specially-developed loudspeakers have helped some brands achieve a leap in sound quality, too. The modern mini amp is an important addition to any player's arsenal, letting you plug in literally anywhere.
They're ideal for occasions when even a small practice amp is either too big or perhaps needs mains power where there isn't any.
Get your choice right and you'll be able to plug in whenever creative inspiration strikes you, or if you just want to impress your mates at the BBQ.
Here are four of the best mini amps on the market for you to plug in…
Blackstar Fly 3
Blackstar's Fly 3 is the combo that's responsible for making mini amps into proper tools, rather than mere toys. It features two channels with gain, volume and ISF tone control knobs, which combine for a huge tonal range, from crystal cleans to massive overdrive.
There's also a built-in tape delay with adjustable time and level, a headphones socket and an all-purpose line in. Best of all, if you combine it with the Fly 103 extension cabinet, you can have a total of six watts in glorious stereo. With a surprisingly full sound from such a small enclosure, you can take the Fly 3 anywhere and get great tone. Superb.
5 out of 5
Fender Mini '65 Twin
Fender's miniaturised version of its '65 Twin Reverb has two speakers and a kick-back stand just like the real thing, which means it can put out a healthy volume even though it's rated at one watt.
The mini Twin is a single- channel amp, with controls for volume gain and tone - the fourth knob is the on/off switch. The Mini Twin is good-looking, but compared with some of the competition it's somewhat short on features; all you get is a headphones jack and a belt clip, which isn't so useful for non-belt wearers.
Nevertheless, good looks and a respectable clean sound make Fender's Mini Twin a handy desktop companion.
3 out of 5
Laney Mini-Lion
Laney's new Mini-Lion is one of a series of mini amps that have recently been unleashed onto an unsuspecting public; all of which feature the same circuit, but offer different visuals, based on the Ironheart, Supergroup and Lionheart, as seen here.
The coloured plastic enclosure mimics that amp's blue vinyl, while the speaker grill is the same as the bigger amps. The Mini-Lion offers clean and drive channels, with knobs for gain, tone and master volume.
There's an aux in and headphones socket plus LSI (for Laney Smart Insert), intended to work with smartphone apps. Best of all, though, is the price.
5 out of 5
Orange Crush Mini
Orange's update on the Crush 3 is full of surprises, all of them good. Even at these small dimensions, you get proper Orange vinyl and a white powder-coated steel chassis, not to mention a whopping (for this size!) 4" loudspeaker.
The circuit is based on the Micro Dark, but done in solid-state. The cool 'pics only' panel includes controls for gain, volume and shape, which scoops or boosts midrange relative to treble and bass frequencies for a wide range of tone.
There's an mp3 input and an external speaker jack so you can actually plug the Mini into a 4x12 if you want. There's also a headphones socket and a built-in tuner.
5 out of 5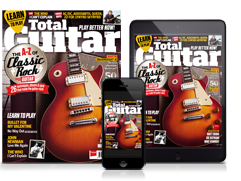 Stay up to date with the latest gear and tuition.
Subscribe and save today!